This Duck Cassoulet recipe with fennel is an ideal comfort food dish for chilly winter days.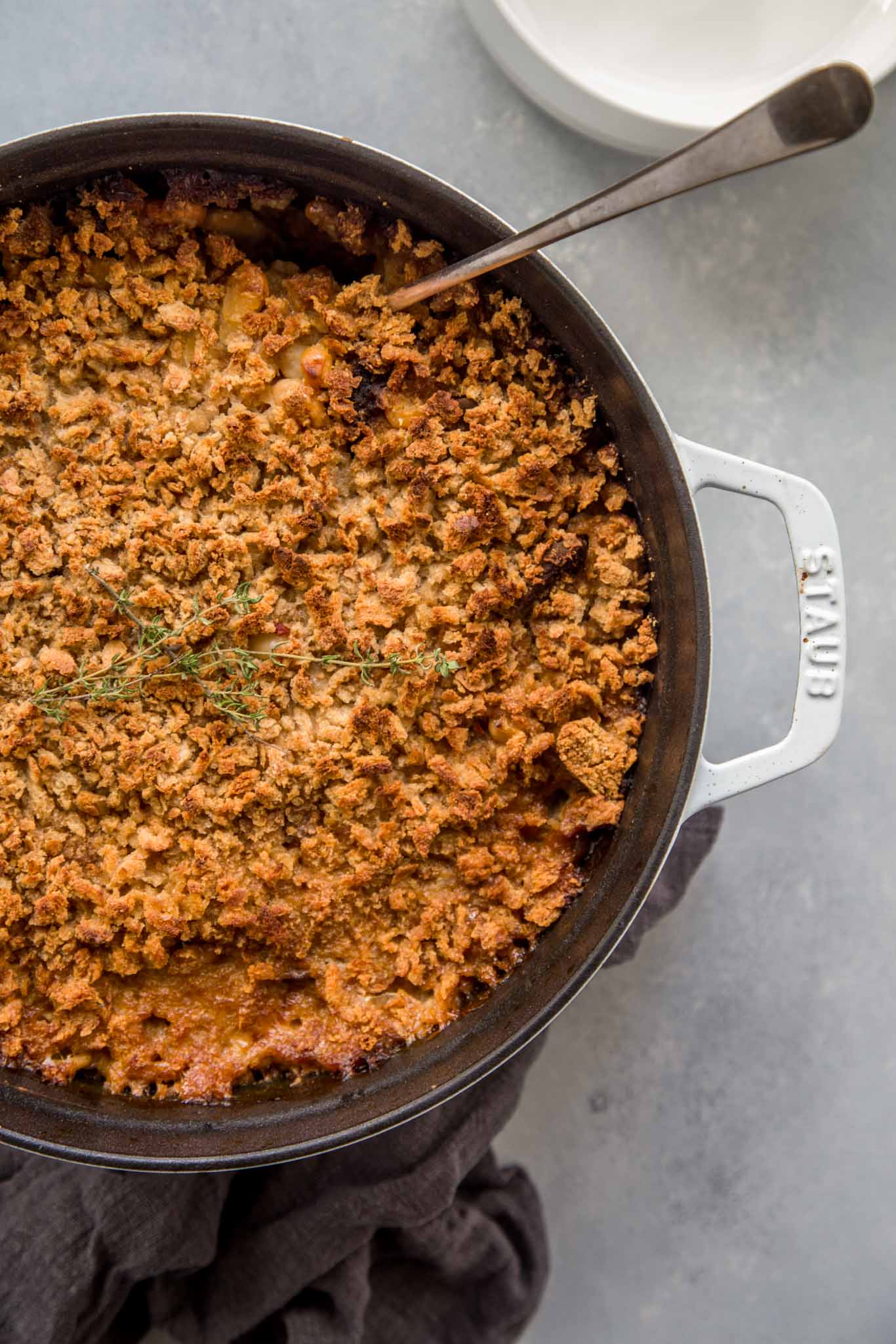 While so many of my friends and other bloggers seem to be behaving themselves and starting the New Year off with Whole 30 or the Keto Diet, I'm finding myself in full comfort food mode, and one of my favorite comfort foods is Cassoulet.
What is Cassoulet?
Cassoulet is a traditional french slow-cooked casserole, generally containing white beans and a mixture of rich meats like duck and pork. Cassoulet gets its name from its traditional cooking vessel, the cassole, a deep, round, ceramic pot. However, I just use my enameled cast iron dutch oven.
How to Make Cassoulet
I'm going to be honest with you now. Cassoulet takes some planning. Not only do the beans need to soak overnight, but the ingredients can be a bit difficult to locate too. I recently found this amazing website, D'Artagnan Foods, where you can basically buy every amazing French ingredient that your heart could desire – Quail Eggs, Fresh Truffles, Pate – You can also find the ingredients for this Duck & Fennel Cassoulet there – I ordered the traditional variety of beans for cassoulet, Tarbais, Duck Confit, Ventreche (French pancetta), and Garlic Sausage and they arrived to my door in just a couple days, right in time for a Friday date-night at home…
I think this Duck & Fennel Cassoulet is perfect for date night. First, because cassoulet is special. This is not a dish that you're going to make every day (but you're going to want to eat it every day). Second, it's a fun dish to cook as a couple because there's a lot going on the beginning – Slicing the veggies, browning the meats, stirring the pots. But then, once that's all done, it slow simmers in the oven for a few hours, meaning that you can just open up some good wine and veg in front of the TV with a good moving, soaking in all those yummy cassoulet aromas until the timer goes off.
To pair with Duck & Fennel Cassoulet date night, I chose a few red wines from the Languedoc region of France, near where the traditional dish of cassoulet originated. I figured that we could have fun and do a blind tasting, experimenting and picking a favorite bottle from the mix. Because these wines are so affordable, around $12 a bottle, all three bottles still come in cheaper than a bottle of our usual Oregon Pinot Noir, plus it's fun to experiment and pair regional dishes with the wines that come from that area as well. We opened up a Sentinelle de Massiac AOC Minervois, Chateau de la Liquière Vielles Vignes AOC Faugères, and a Chateau Jouclary Cuvée Tradition AOC Cabardès.
I found myself reaching over and over for the Chateau Jouclary, bold but not overpowering, and just the right balance to stand up to the rich Cassoulet. Rick on the other hand preferred the Chateau de la Liquière – It was a bit more hearty and masculine, with a nice minerality to it.
What to Serve with Duck Cassoulet
I like to serve cassoulet with dishes that have a bit of acidity to them. It helps to cut down on the richness of the dish. Here are some great options:
If you loved this Duck Cassoulet I would appreciate it so much if you would give this recipe a star review! Also, be sure to snap a picture of your finished dish and share it with me onInstagram using the hashtag #platingsandpairings and tagging me @platingsandpairings.
For more great Platings & Pairings recipes, be sure to follow me on Pinterest, Facebook, YouTube and Twitter.
Duck Cassoulet Recipe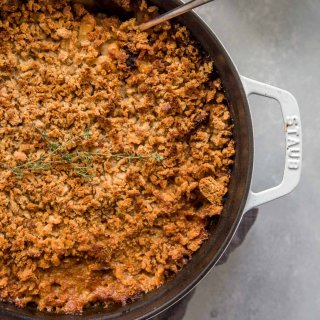 Duck & Fennel Cassoulet
This Duck & Fennel Cassoulet is an ideal comfort food for chilly winter days.

Print
Pin
Ingredients
1

pound

D'Artagnan Haricot Tarbais

(rinsed and picked over)

Water as needed

10

tbsp.

olive oil

(divided)

10

cloves

garlic

(smashed (divided))

2

onions

(peeled and cut in half (divided))

2

carrots

(peeled and chopped (divided))

12

ounces

D'Artagnan Ventrèche

(thin plastic casing removed, cut in half)

1

medium fennel bulb—halved

(cored and sliced ¼ inch thick)

1 14.5

oz.

can petite diced tomatoes with juice

1

cup

white wine or dry vermouth

2

cups

bone broth or chicken broth

(preferably homemade)

1

bouquet garni made of: 4 sprigs parsley

(4 sprigs thyme, 2 bay leaves, 10 peppercorns, 3 whole cloves, wrapped in cheesecloth and tied)

1

pound

D'Artagnan French Garlic Sausage

(cut into 12 slices)

2

cups

bread crumbs

(preferably homemade)

Salt and pepper

(to taste)

Equipment: Cheesecloth & Kitchen Twine
Instructions
Soak beans in a in 7 1⁄2 cups water overnight. Drain.

Heat 2 tbsp. olive oil in a 6-qt. pot over medium-high heat. Add half the onions and carrots and cook until lightly browned, about 5 minutes. Add garlic and cook until lightly browned, about 1 minute longer. Add ventreche and beans. Add enough water to cover at least 3 inches above beans. Bring to a boil over medium-high heat then reduce heat to low and simmer, stirring often, until beans are barely tender, about 1 hour.

Drain beans (reserving the broth), leave onion, carrot & garlic with beans. Remove Ventrèche, cut into ½ inch dice, set aside.

Meanwhile, heat 2 tbsp. olive oil in a 5-qt. dutch oven over medium heat. Add remaining garlic, onions, and carrots along with the fennel; cook until lightly browned, about 10 minutes. Add tomatoes and cook until liquid thickens, 8–10 minutes. Add wine; reduce by half. Add broth and bouquet garni. Bring to a boil, then reduce heat to medium-low; cook, uncovered, until liquid has thickened, about 45 minutes. Discard bouquet garni. Purée tomato mixture with immersion blender or in a blender. Set dutch oven aside.

Meanwhile, sear duck legs in 2 tbsp. olive oil in a 12" skillet over medium-high heat for 8 minutes; transfer to a plate. Brown sausage in the fat, about 5 minutes; transfer to plate. Pull duck meat off bones. Discard fat and bones.

Heat oven to 300˚.

Stir beans, ventreche, duck and sausages into the tomato mixture. Cover with bread crumbs; drizzle with remaining olive oil. Bake, uncovered, for 3 hours, adding 1/2 cup of your reserved bean broth every hour. Raise oven temperature to 500˚; cook cassoulet until crust is golden, about 5 minutes.
Notes
After your beans are done cooking, be sure to reserve the broth. It will be drizzled over the cassoulet as it bakes in the oven, but you can also use it to make soups. 
Nutrition
Calories:
699
kcal
|
Carbohydrates:
40
g
|
Protein:
23
g
|
Fat:
46
g
|
Saturated Fat:
11
g
|
Cholesterol:
71
mg
|
Sodium:
842
mg
|
Potassium:
644
mg
|
Fiber:
8
g
|
Sugar:
4
g
|
Vitamin A:
2620
IU
|
Vitamin C:
5.3
mg
|
Calcium:
118
mg
|
Iron:
4.1
mg