Hamachi is a type of flavorful yellowtail fish that is often served raw as nigiri and sashimi-style sushi. Keep reading to learn about this delicate Japanese fish, including its traditional preparation, serving, and wine pairings.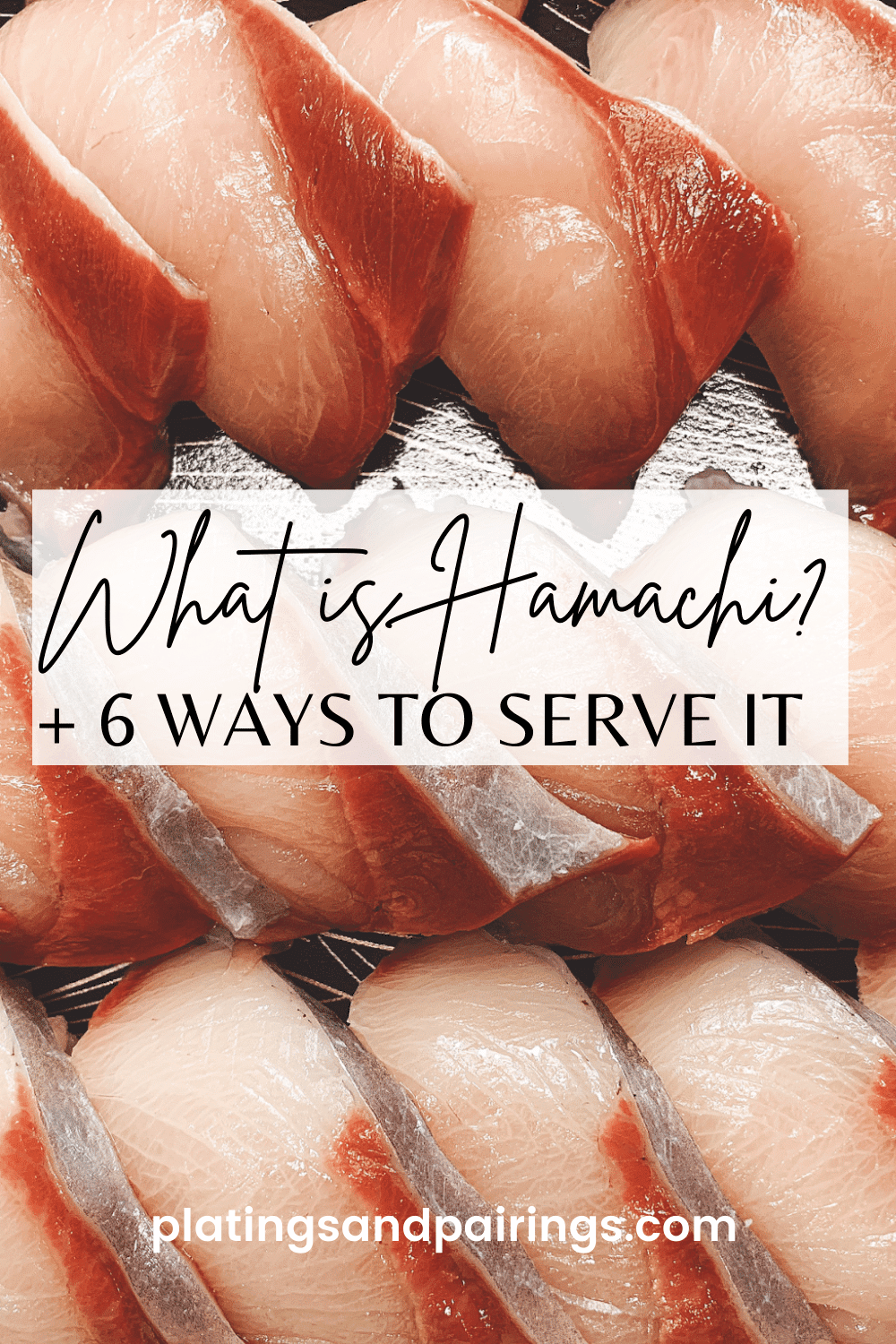 Have you seen "hamachi" (or "buri") on a sushi menu lately? If you don't know what it is, you've come to the right place!
This helpful guide about hamachi will teach you everything you need to know about this bright, buttery, and flavorful Japanese fish. It's a staple in Japanese cuisine and often featured in sushi restaurants. Here, you'll learn the different terms used to describe hamachi, all about its tasty qualities, how it's traditionally served, and where to buy it yourself.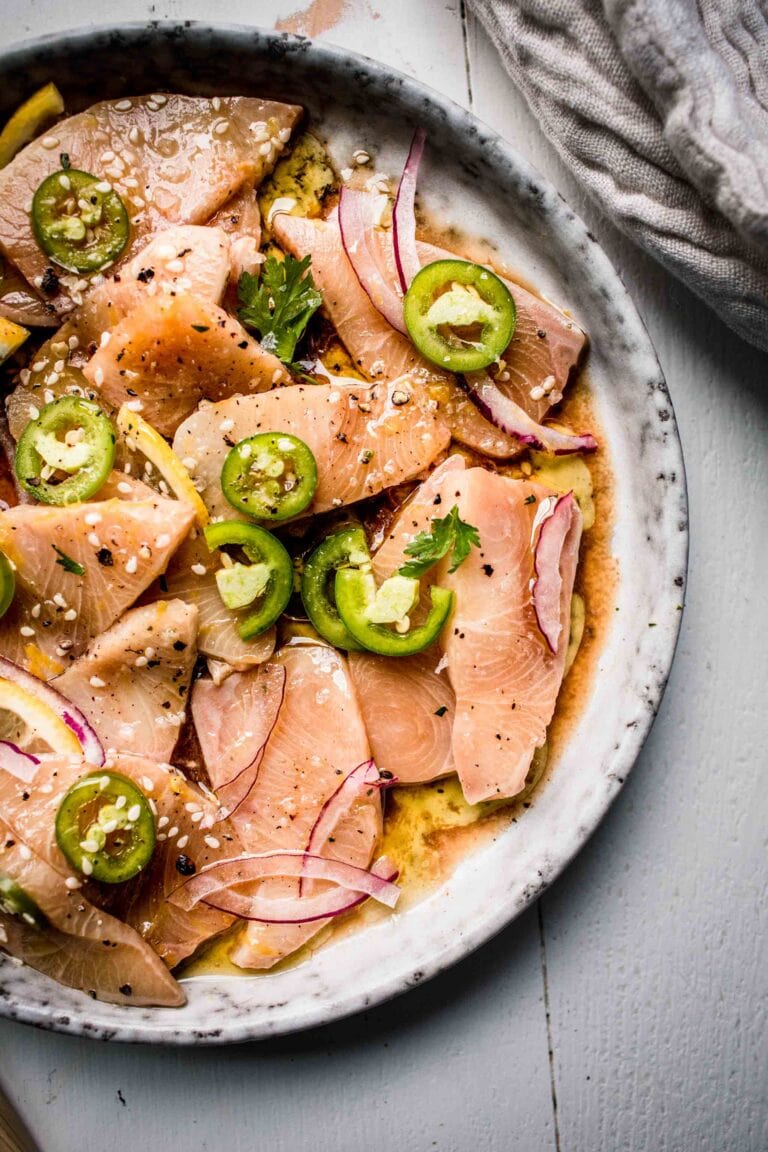 🐟 What kind of fish is hamachi?
Hamachi is the Japanese term for "yellowtail," AKA "amberjack" fish. The species (Seriola Quinqueradiata) belongs to the carangid fish family and is one of the best fish you can order in sushi and seafood restaurants.
Yellowtail has different terms depending on its age and when it's caught:
Yellowtail – A general term for both wild-caught and farmed fish.
Buri – A fully mature yellowtail that's longer than 80 centimeters/31 inches.
Hamachi – Younger yellowtail weighing less than 6 pounds.
Kanpachi – Often confused with yellowtail because it's so close in texture and flavor.
🎣 Farm-raised vs. wild-caught
The color and quality of the fish will change if it's farm-raised or caught in the wild:
Farm-raised hamachi: This is the kind you'll see in most restaurants because it's easiest to source. You'll notice that farm-raised hamachi has a pinkish, almost opaque color. The higher fat content gives the fish an irresistibly rich buttery flavor in addition to its natural pleasantly sour taste. The texture is nice and firm, making it an excellent choice for sashimi and nigiri sushi.
Wild-caught hamachi: Wild yellowtail is more active, which means it isn't as fatty as farm-raised. It's also lighter in color, very firm, and has a prominent umami flavor profile. Wild-caught yellowtail is available year-round, but it's tastiest in the winter.
🛒 Where to buy yellowtail
Farm-raised yellowtail or amberjack is available year-round through online wholesalers. As for buying it in stores, it's typically easier to find in fish markets and Asian grocery stores, and sometimes Whole Foods.
These wholesalers often carry it:
🍣 How to prepare hamachi
Seared hamachi recipes pop up on restaurant menus from time to time, but for the most authentic experience, treat yourself to raw slices of the sushi-grade fish. These are some of the standard ways hamachi is prepared:
Hamachi Crudo – Sliced thin and soaked in citrus juice and soy sauce.
Hamachi sashimi – Served thinly sliced with grated ginger, wasabi, soy, and sometimes shredded daikon, radishes, cucumbers, and shiso leaf on the side.
Hamachi nigiri – Thinly sliced and served on top of a rice ball.
Hamachi maki rolls – Hand-rolled with rice in nori sheets and cut into bite-sized pieces.
Hamachi donburi – In a rice bowl with various veggies.
Nobu-style – Hot oil and sauce are poured over the top of the fish.
To explore more ways hamachi sushi is prepared, scroll through this Sushi and Sashimi Guide from The Japanese Bar.
🥢 Serving suggestions
Whether you go with nigiri, sashimi, maki, Crudo, or another popular preparation, hamachi is guaranteed to impress your dinner guests!
It is fantastic served alongside dipping sauces and any of these small plates and main courses:
ℹ️ FAQs
Is it safe to eat raw yellowtail?
Yes, sashimi-grade yellowtail is safe to eat raw. It's traditionally served this way, after all! 
Many restaurants remove the dark red flesh before serving as it has a more metallic taste. This way, you can enjoy nothing but buttery fish. If you're still unsure, ask the fishmonger about eating yellowtail raw.
What type of fish is hamachi most similar to?
Hamachi is most similar to tuna. The two are often mixed up, but hamachi refers specifically to Japanese amberjack. If you're a fan of tuna, you'll love hamachi, and in most hamachi recipes, you can use the two interchangeably. 
What is hamachi kama?
The hamachi kama or hamachi collar is the collar portion of the amberjack located directly behind the head and gills. It's the fattiest section of the fish, which means it's naturally the most flavorful. Hamachi kama is often cooked before being served. 
🍷 Wine pairings for hamachi
Hamachi is an oily, fatty fish, so it's lovely with sweet and citrusy white wines like Chenin Blanc, Sauvignon Blanc, and Pinot Grigio.
Alternately, buttery hamachi pairs nicely with a light and oaky Chardonnay.
For tradition's sake, pair your hamachi with sake! Dry and fruity sake, like Daiginjo, make a great pairing.
For more suggestions, check out my complete list of wines to pair with sushi.
​​Did you enjoy this guide?
If you loved this guide, I would appreciate it if you gave it a starred review! Also, be sure to snap a picture of your finished dish and share it with me on Instagram using the hashtag #platingsandpairings and tagging me @platingsandpairings.
For more great Platings and Pairings recipes, be sure to follow me on Instagram, TikTok, Pinterest and Facebook.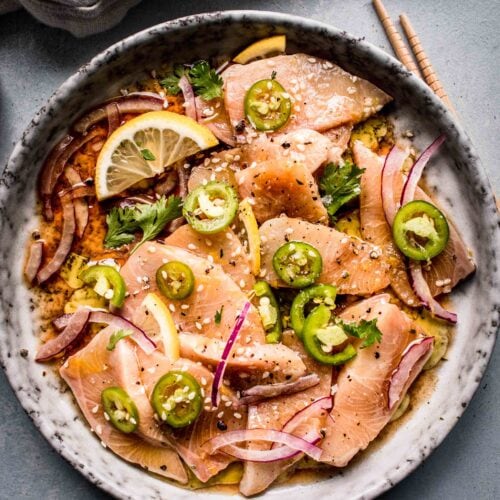 Hamachi Crudo Recipe
Hamachi is a type of flavorful yellowtail fish that is often served raw as nigiri and sashimi-style sushi. Use it to make this simple Hamachi Crudo appetizer.
Print
Pin
Ingredients
4

ounces

sushi-grade yellowtail

2

Tablespoons

yuzu juice

(or lemon juice)

1

Tablespoon

soy sauce

2

teaspoons

lemon zest

½

serrano pepper

(thinly sliced (optional))

Flaky sea salt
Instructions
Place yellowtail in freezer for 15-30 minutes. This makes it easier to slice thinly.

Thinly slice and arrange on a plate.

Drizzle with yuzu juice and soy sauce, then sprinkle with lemon zest, serrano and sea salt. Garnish, if desired, with sesame seeds, red onion and cilantro. Serve immediately.
Nutrition
Calories:
133
kcal
|
Carbohydrates:
1
g
|
Protein:
6
g
|
Fat:
1
g
|
Saturated Fat:
1
g
|
Polyunsaturated Fat:
1
g
|
Monounsaturated Fat:
1
g
|
Cholesterol:
10
mg
|
Sodium:
270
mg
|
Potassium:
147
mg
|
Fiber:
1
g
|
Sugar:
1
g
|
Vitamin A:
38
IU
|
Vitamin C:
5
mg
|
Calcium:
13
mg
|
Iron:
1
mg
🍥 More Japanese-inspired sushi recipes
If you're craving sushi after all of this hamachi talk, then you'll love these sushi recipes: