Friends, did you know that May is Oregon Wine Month? That means it's time to start planning now… Pick out the Pinots, invite some friends over and make a night out of discovering some of the best bottles that Oregon has to offer.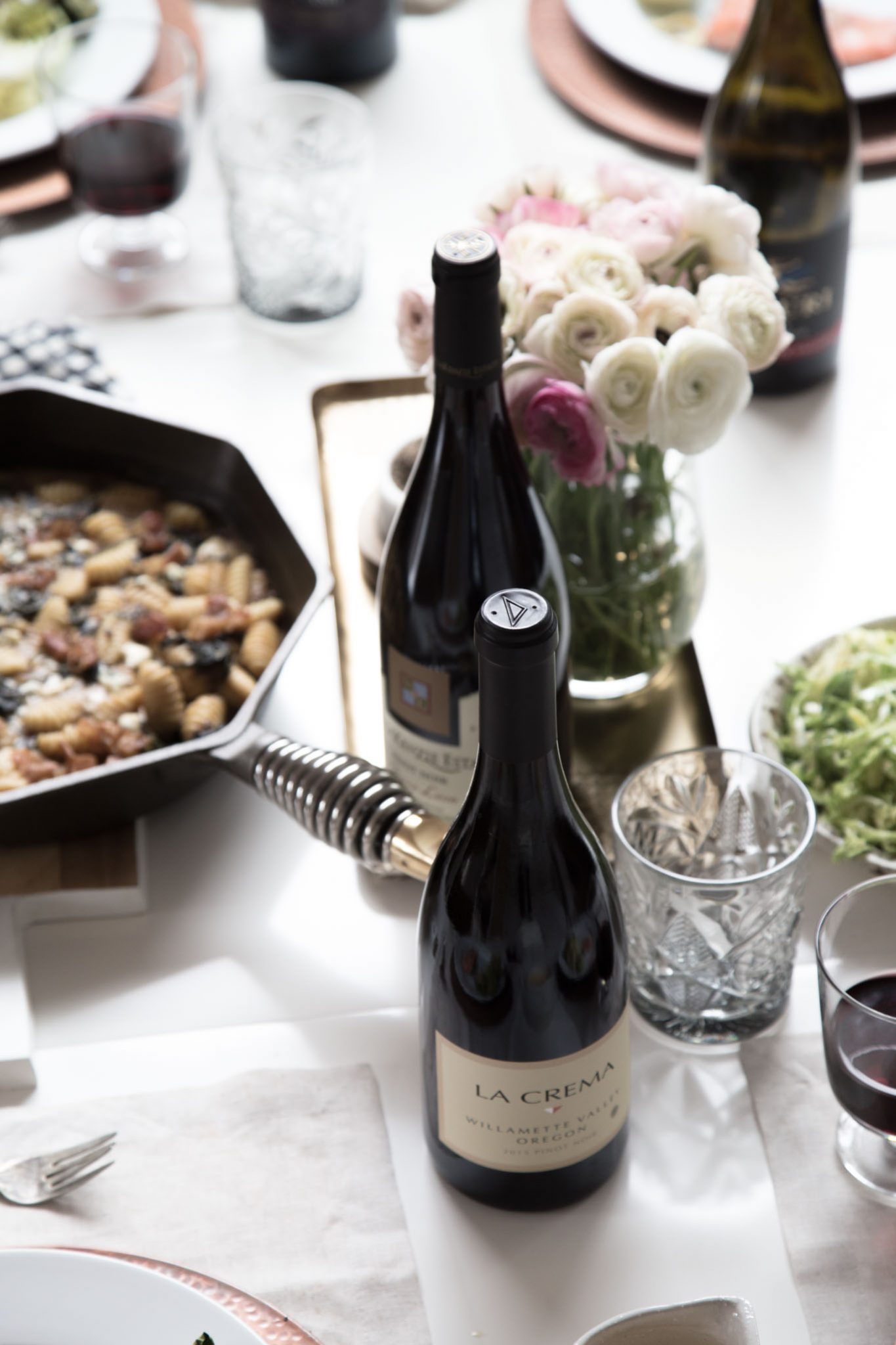 To make things easy for you, I've put together a four-course dinner menu that you can make at home, with each course paired with an amazing bottle of Oregon Pinot Noir. While you can tackle the entire dinner yourself (I chose quick and easy recipes just for that reason), may I suggest hosting a upscale potluck of sorts and inviting some friends to share in the fun of creating these recipes with you?
Pinot Noir Wine Pairing Menu: 
To each friend, delegate a recipe from the four-course meal plan. I'd suggest tackling the Salmon with Pickled Ginger Butter yourself, since it's best eaten straight out of the oven. You can also have each guest pick out an Oregon Pinot Noir to bring along that will pair well with their dish.
In preparation for the occasion, Rick and I put ourselves to the tough task of opening up a few of our favorite bottles, making some tasting notes, and deciding which Oregon Pinot would pair best with each of our four courses. One of my favorite things about Oregon Pinot Noir is how versatile it is. You can pair it with fish, chicken, red meat, and even with vegetables and desserts. Some are extremely light and delicate, showing notes of cherry, vanilla, and cola, while others are more "masculine" with flavors of leather, tobacco, and cedar.
As the starter, I chose a vegetable that can traditionally be tough to pair with wine – brussels sprouts. Pinot Noir tackles the challenge of pairing with this veggie because its earthy characteristics don't overpower the brussels sprouts, while the Pinot's savory notes play nicely with the nutty parmesan cheese and the tangy mustard. Siduri's 2015 Willamette Valley Pinot Noir ($25) was our favorite pairing for this Shaved Brussels Sprouts Salad with Mustard & Parmesan. With hints of dried berries, earthy notes and a bright acidity, it was the perfect match for this tangy, umami-filled salad.
For our second course, I went straight for the pasta – Gnocchi with Frizzled Prosciutto & Blue Cheese. It's salty, rich and creamy, all the qualities you'd look for in a "dive-right-in" pasta dish. You'll be drawn in by the aroma of the blue cheese, but you'll be hooked on the crispy frizzled prosciutto that tops this dish. This gnocchi was just begging for an Oregon Pinot Noir with a good amount of acidity to it, to counteract it's unctuousness. The 2015 Pierre Leon Pinot Noir ($55) from WillaKenzie which really complimented the funky blue cheese and salty prosciutto nicely.
You'll often find savory notes in Oregon Pinot Noir – hints of mushroom, sage and coffee. Some almost have a "meaty" characteristic to them. The 2015 Willamette Valley Pinot Noir ($30) from La Crema definitely showed those qualities. It also had aromas of star anise, bay and orange zest. I thought that it would be the perfect wine to pair with our main course, Sheet Pan Salmon with Pickled Ginger Butter. The hint of star anise was amazing with the pickled ginger, and it's warm citrus notes worked so well with the delicate salmon, but more hearty mushrooms. For me, it was the showstopper of this four-course meal.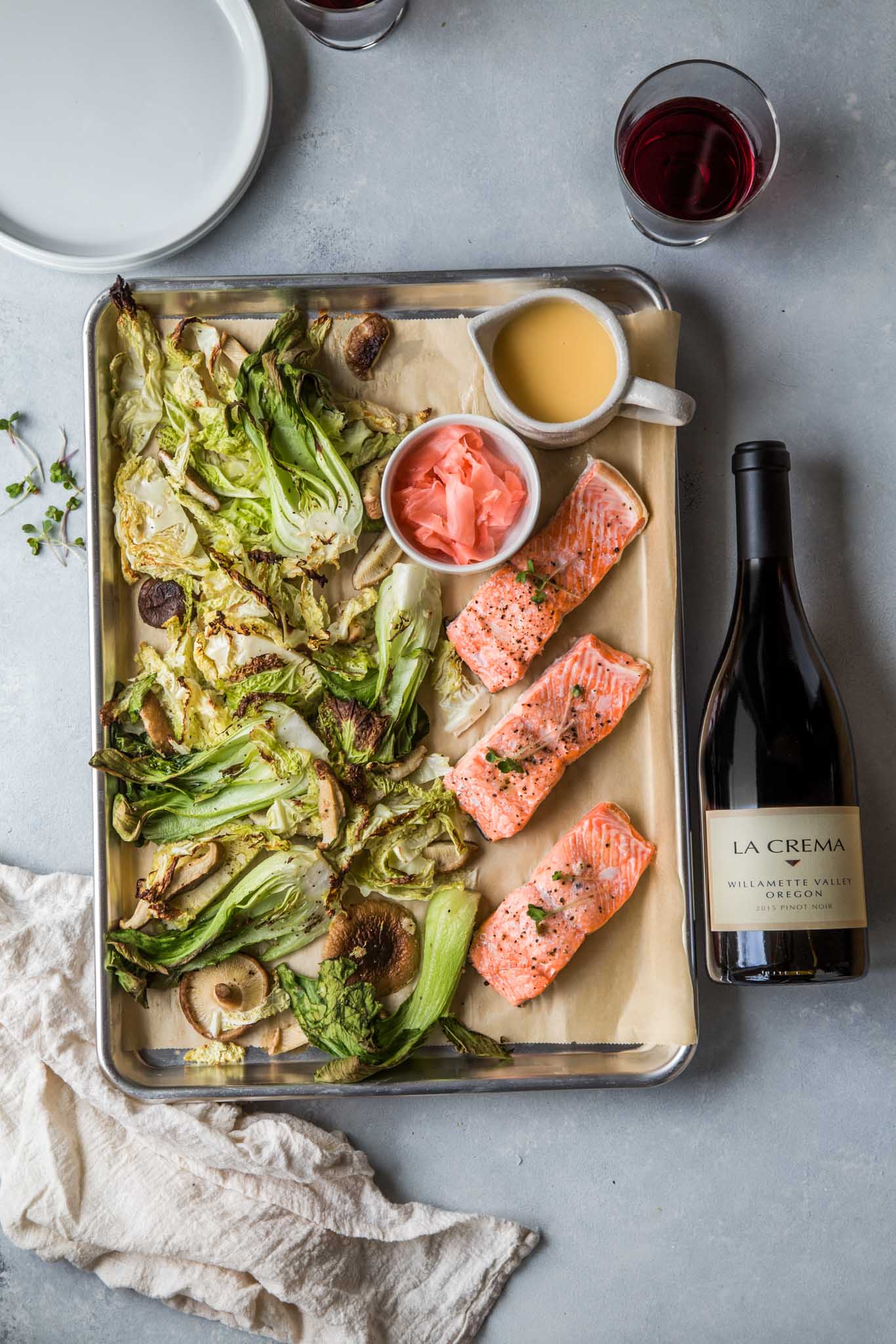 Unless, of course, you're a dessert person. In that case, I have something extra special in store for you! This Blackberry Galette. I love this dessert for so many reasons – Not only is it simple to make (read – it'll take you about 10 minutes to assemble), but it's amazingly delicious and a bit of a showstopper if I do say so myself. The ingredients are kept simple – just a bit of sugar, some lemon zest and those beautiful blackberries. And it's those blackberries that make this recipe perfect for pairing with a berry-forward Pinot Noir like Penner-Ash's 2015 Willamette Valley Pinot Noir ($40). With aromas of dark berries, a smooth body and hint of vanilla it is absolute perfection when paired with this galette.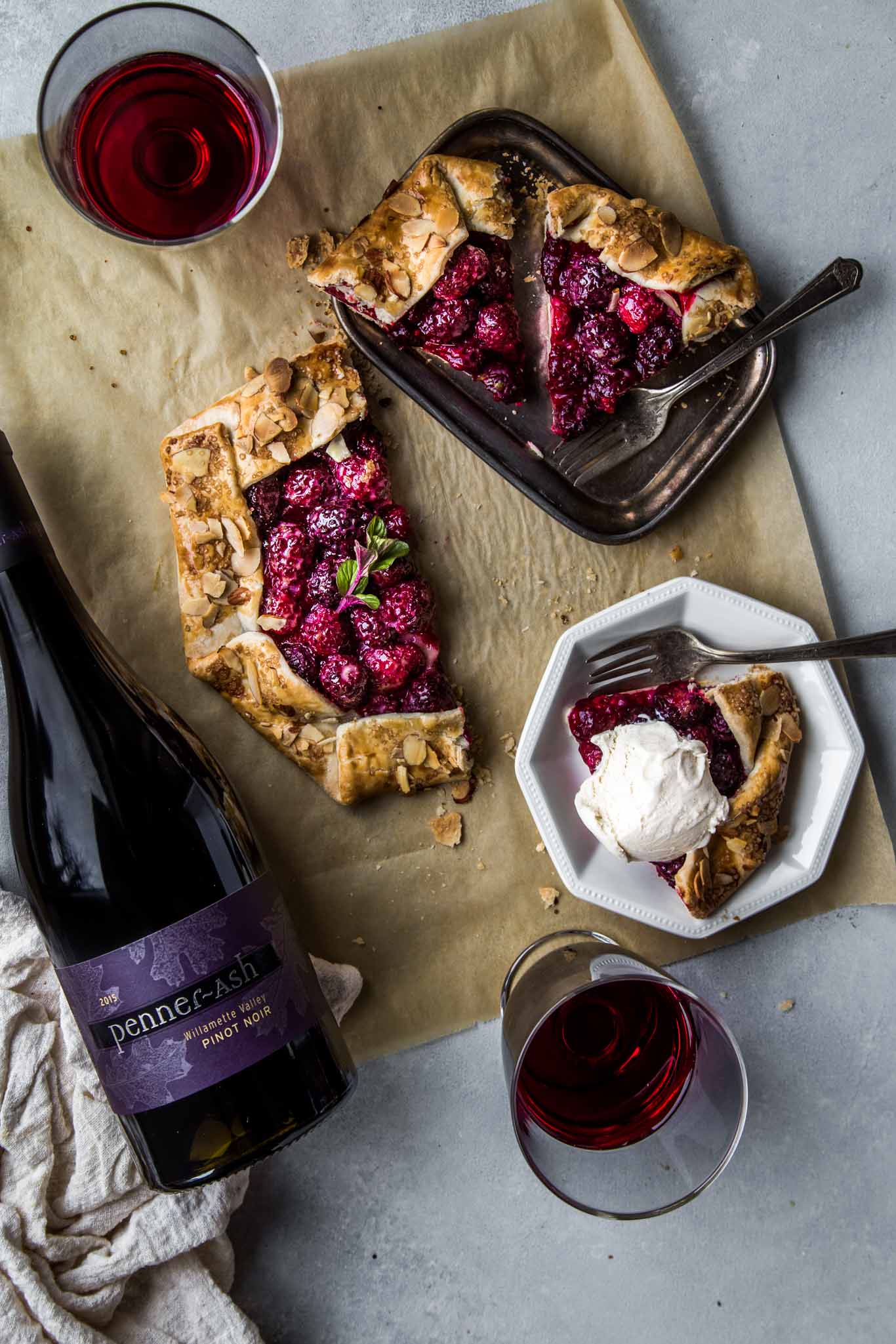 With all these amazing bottles of Oregon Pinot Noir flowing, you're guaranteed to have an amazing night, and the most fun part is discovering new wines that you may not have sampled yet.
Do you have a favorite Oregon Pinot Noir that you'd bring to share? I'd love to hear in the comments below!
Disclosure: I teamed up with Jackson Family Wines to bring you this post. As always, all opinions are my own. 
Main Dishes to Pair with Pinot Noir 
Side Dishes to Pair with Pinot Noir
Appetizers to Pair with Pinot Noir