This Crostini Lasagna Appetizer is a perfect make ahead party snack. The Italian meat sauce, creamy ricotta and melty mozzarella cheese are irresistible.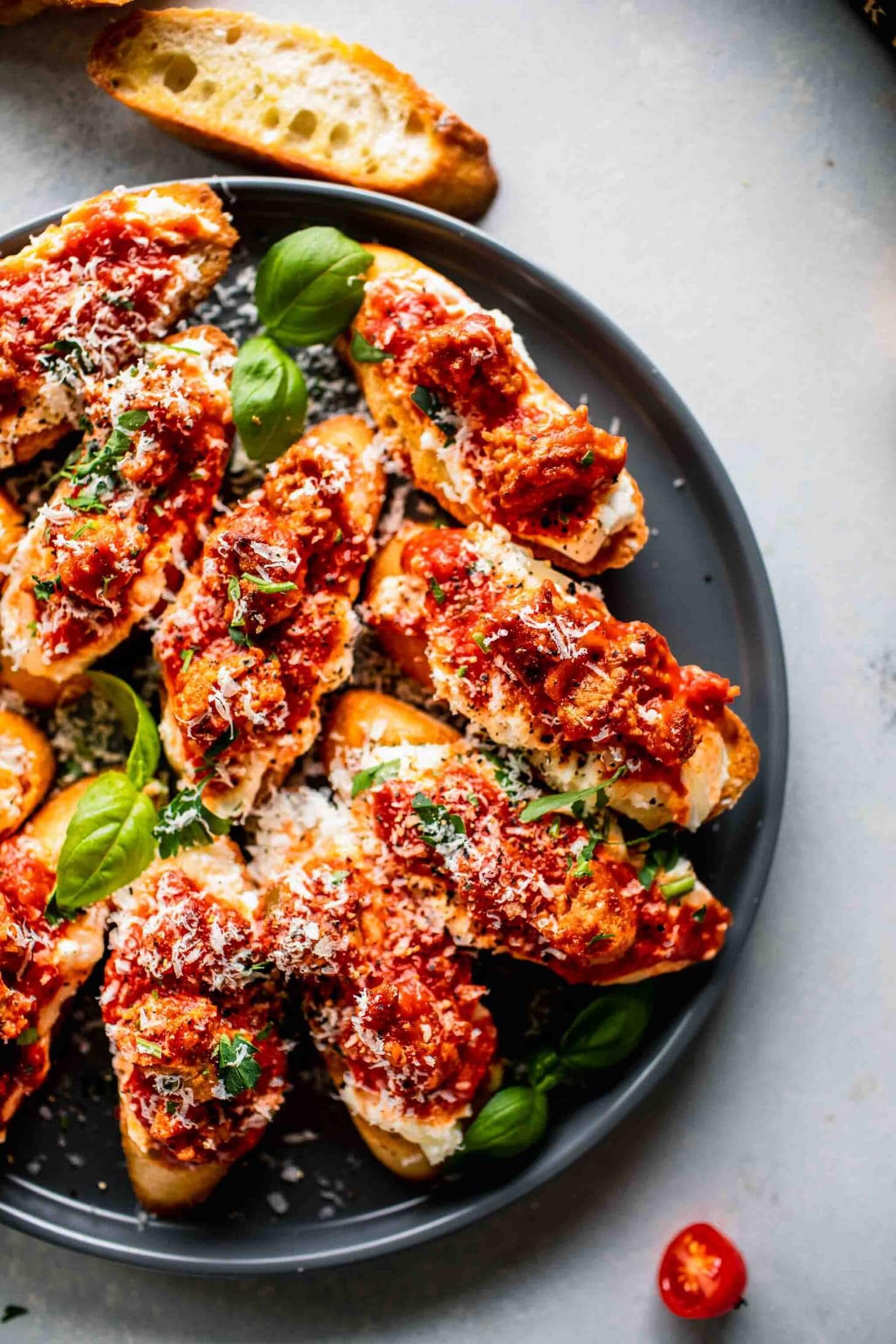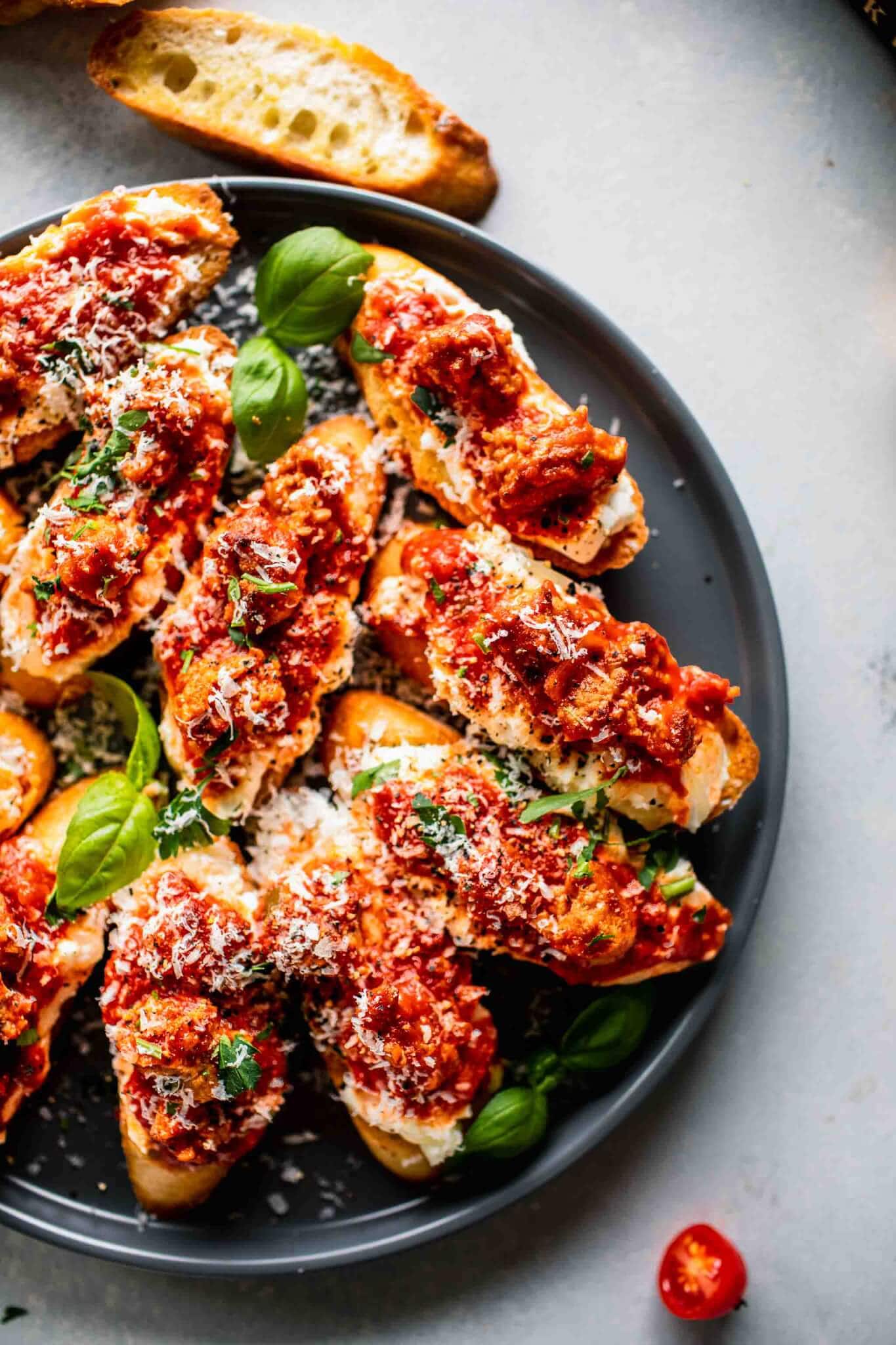 Who are my lasagna fans out there? I'm a die hard…
Whether it be in the form of this Lasagna Soup, this Tortellini Skillet Lasagna or these Vegetarian Zucchini Lasagna Roll Ups – I'll take that combination of cheesy and saucy any way I can get it! I'm thinking there are lots of people that agree with me, right? Which is why I thought that some sort of lasagna-type-thing would make a great party appetizer.
Enter Lasagna Crostini. It's like lasagna that you can eat with your hands! Crostini after lasagna crostini, you can just shovel these things right in… And, trust me… You're going to want to! Meaty tomato sauce that's laced with Italian sausage, dollops of ricotta cheese, and that melty cheesy topping of parmesan and mozzarella… Let's just take a second to gander…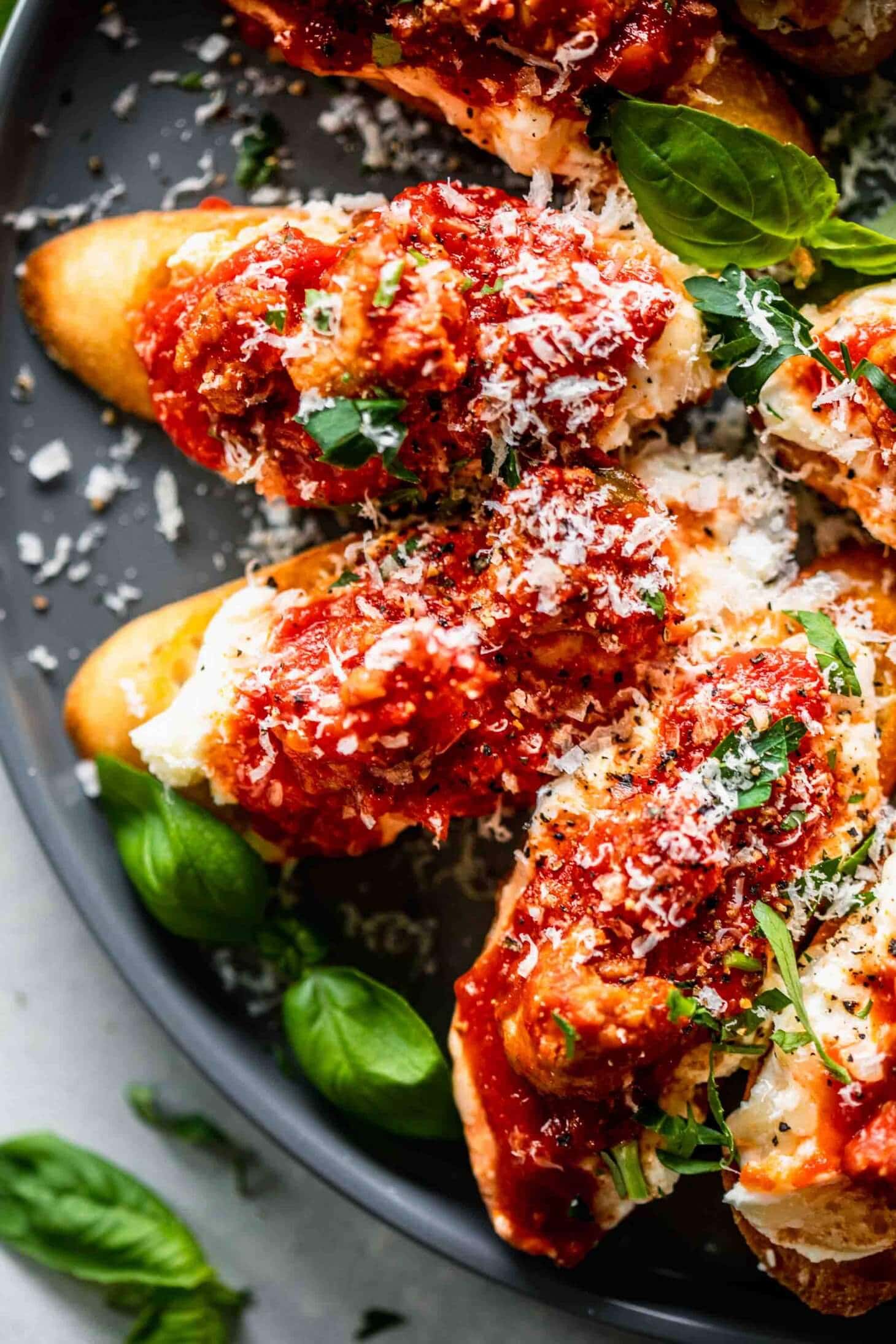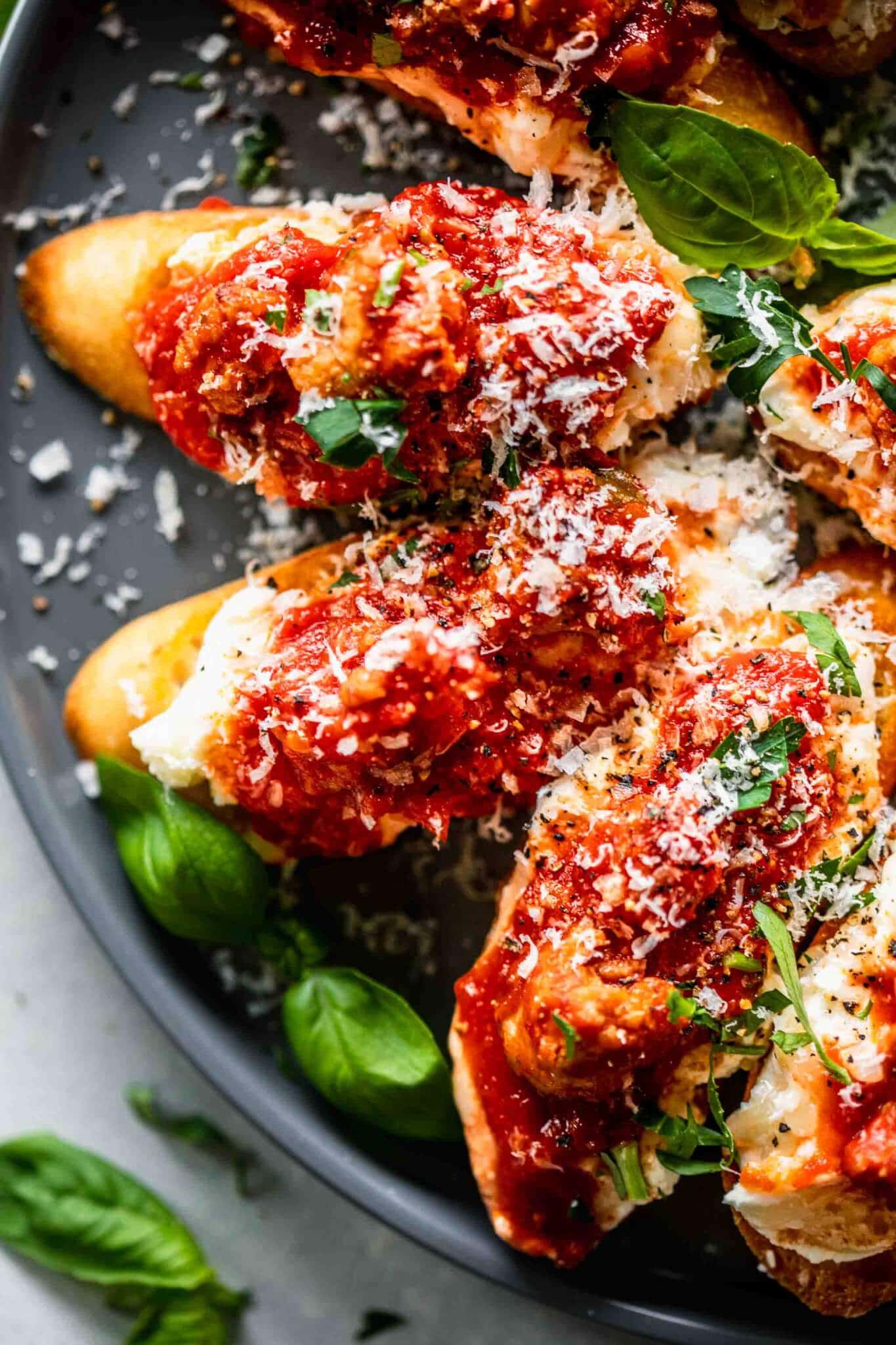 And of course, since it's a party there's going to need to be wine! Although even if it weren't a party, and you were just snacking on these for dinner while wearing your PJs and camping out in front of the TV – there would still need to be wine…
Enter that bottle of Chianti.
What pairs better with lasagna (or any Italian dish for that matter) than Chianti? It's a well-balanced wine with flavors of red fruit, juicy plums and cherries. And, because it's not an overly heavy wine, Chianti is perfect for pairing with a wide variety of foods. It would also be great with this Hearty Sausage & Kale Lentil Soup or this White Bolognese Meat Sauce.
But today it's all about these Lasagna Crostini.
Crostini Lasagna Appetizer
Can I just say that these are perfect for a party? The reason is that you can prepare almost the entire recipe ahead of time. Toast the crostini, make the sauce, shred the cheese – that's it! When you're ready to serve these up, just spread each crostini with a bit of ricotta cheese, top it with your meaty tomato sauce, sprinkle some cheese on top and pop these guys into the oven for a few minutes until that cheese gets nice and melty. You can even line your baking sheet with tin foil, making clean up super easy too!
Invite the friends, pour the wine, and take it easy (without anyone knowing it) by fixing these Lasagna Crostini. Cheers!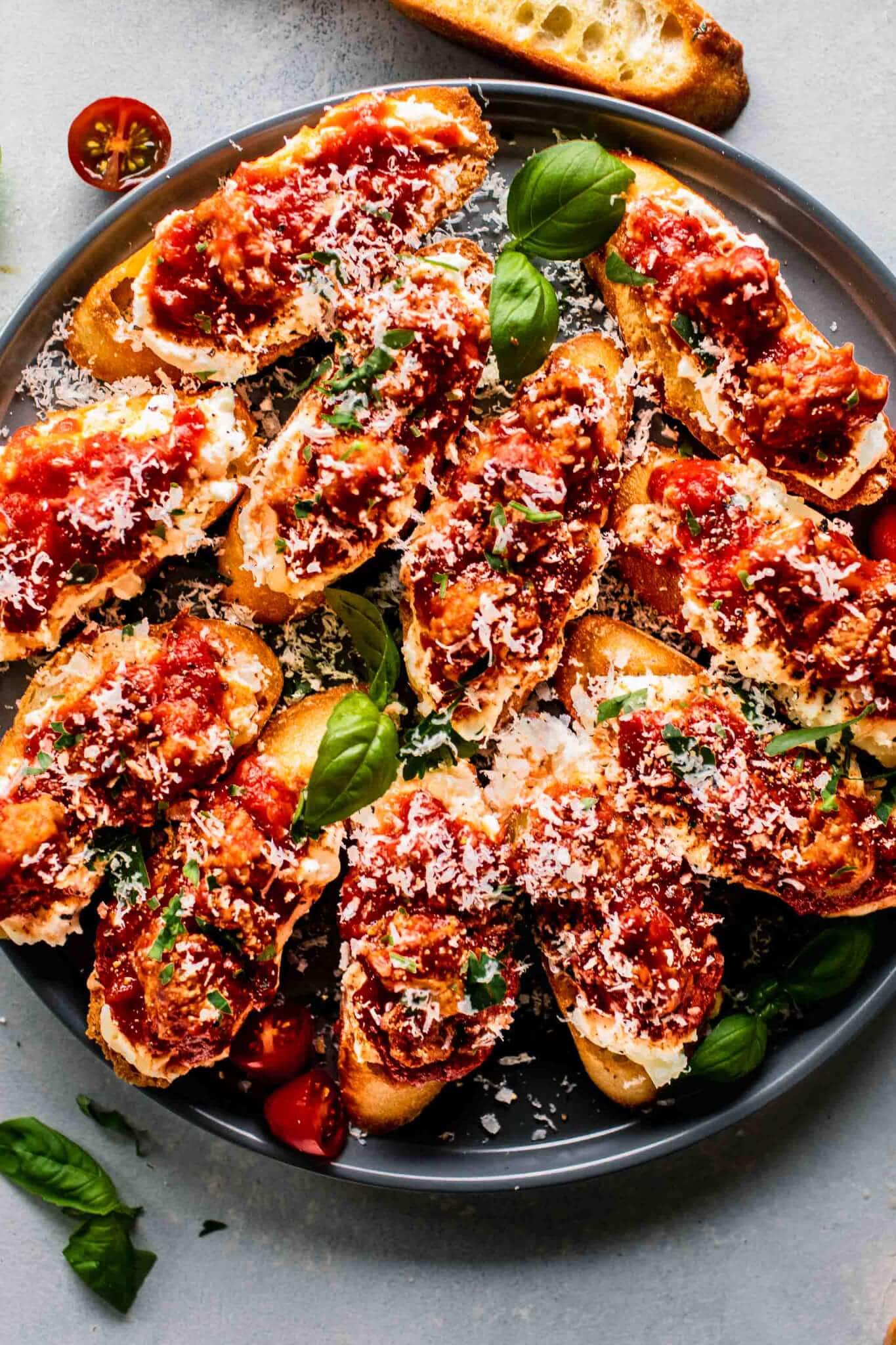 Wine Pairings for Lasagna Crostini:
• Look for a lighter-bodied red wine such as an Italian Chianti.
More ricotta recipes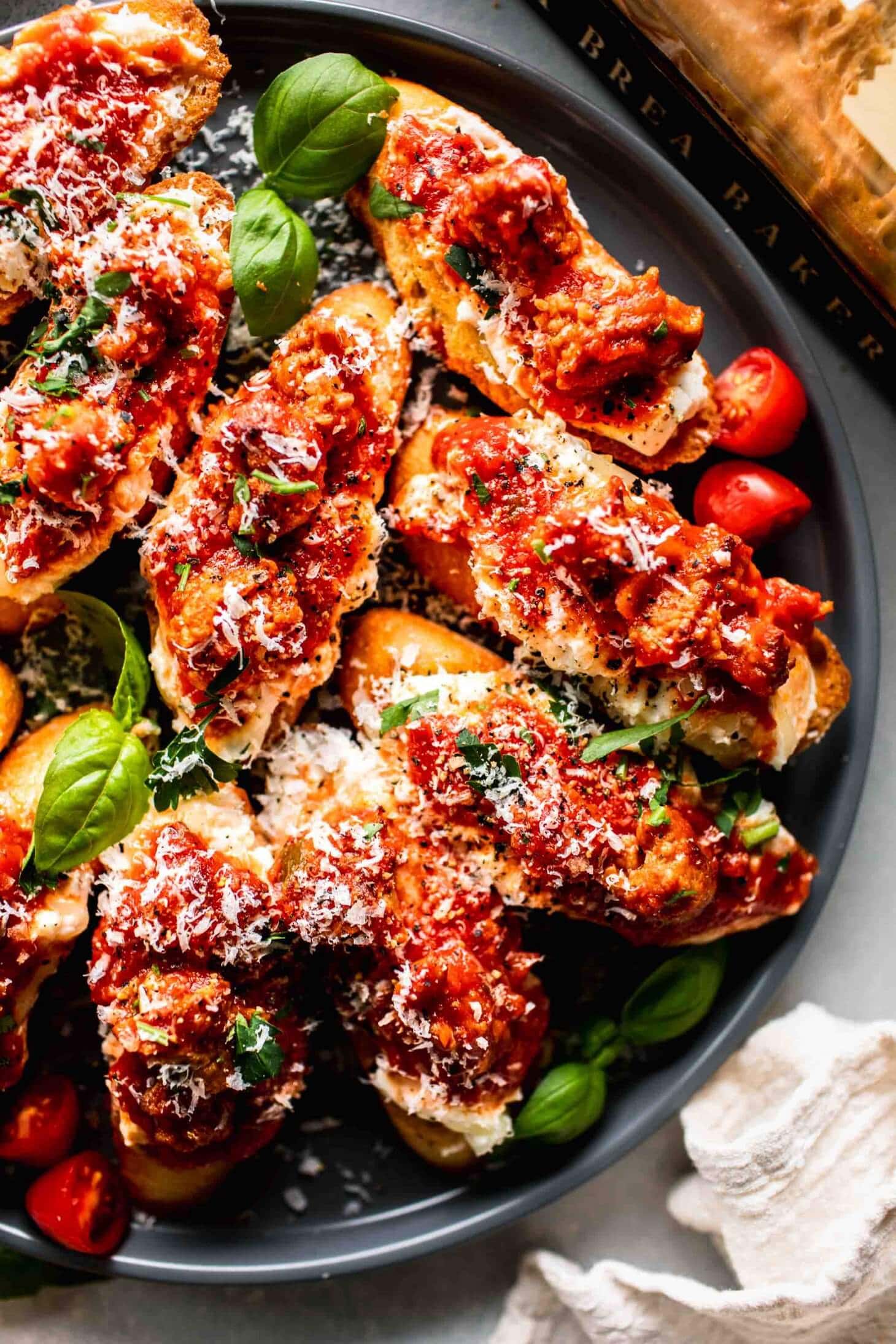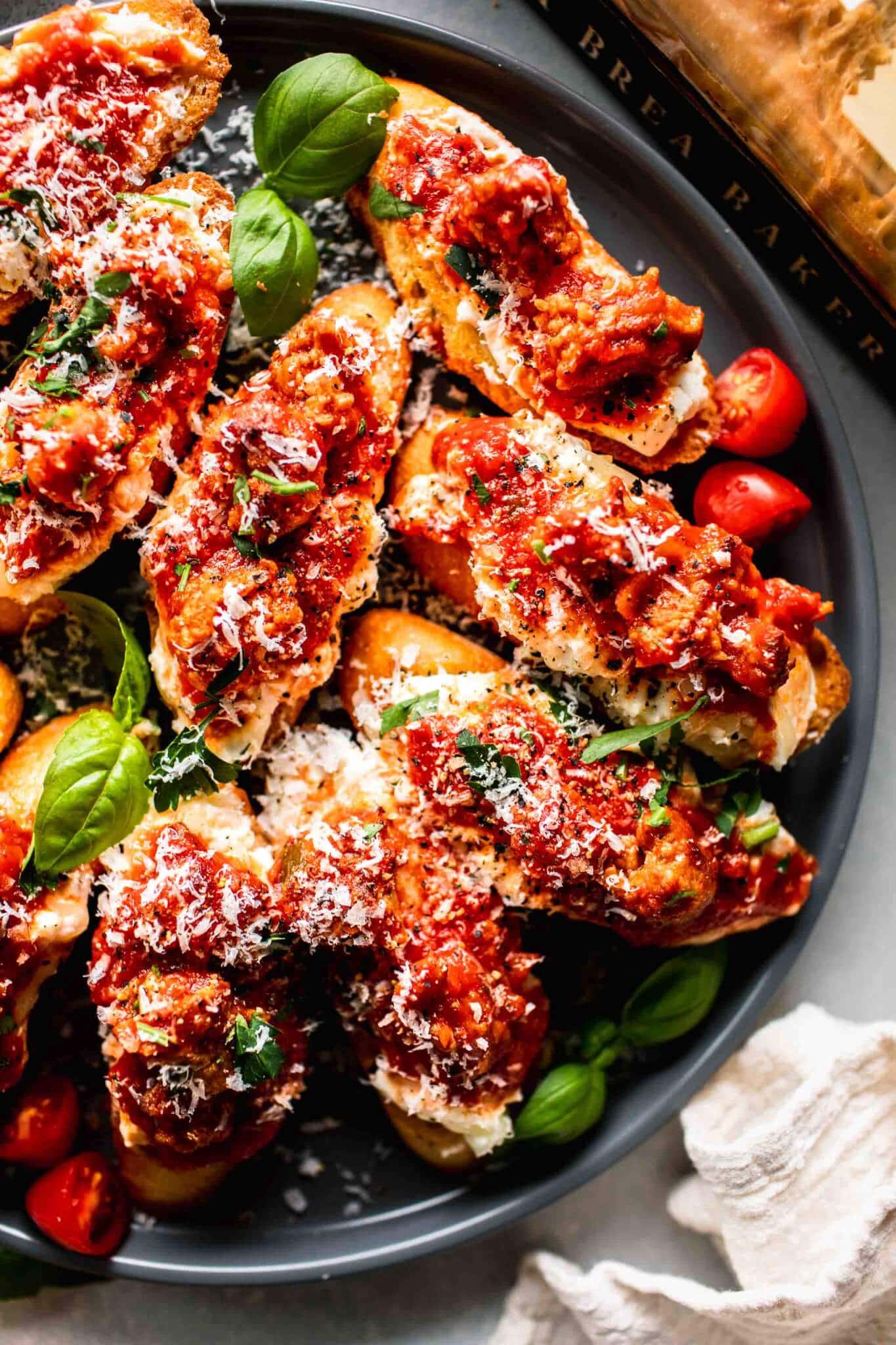 • Prosciutto Wrapped Avocado Bites
• Short Rib Crostini with Cambozola Cheese and Cherry Jam
• Prosciutto, Brie & Honey Crostini
• Fennel & Salami Bites
• Filet Mignon Bites with Creamy Horseradish Sauce
Lasagna Recipes:
Crostini Lasagna Appetizer Recipe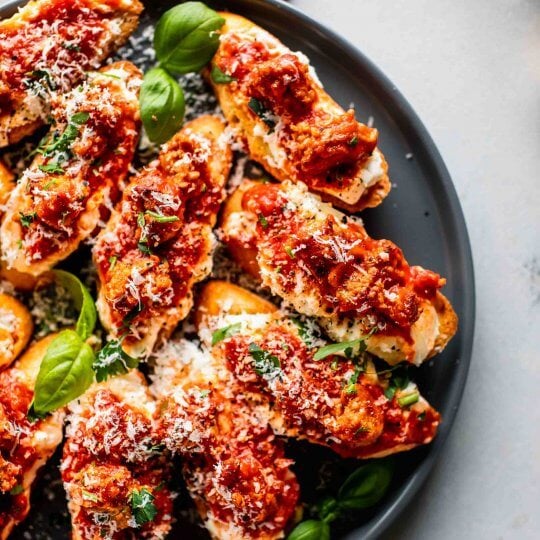 Lasagna Crostini
These Lasagna Crostini are a perfect make ahead party appetizer. The Italian meat sauce, creamy ricotta and melty mozzarella cheese are irresistible.
Print
Pin
Instructions
Preheat oven to 375 degrees F.

Arrange baguette slices in a single layer on a large baking sheet. Bake 8-10 minutes, until lightly toasted. Remove from oven.

In a large skillet, brown the sausage, breaking it up as it cooks. Add the tomato sauce and bring to a simmer. Cook over low heat for 15 minutes.

Mix together ½ cup parmesan cheese and ricotta cheese. Evenly spread cheese mixture on crostini, about ½ tablespoon per slice. Top with sauce mixture and sprinkle with remaining parmesan and mozzarella cheese.

Return to oven and bake for 3-5 minutes, until the cheese starts to melt. Arrange on serving plate, garnishing with basil, if desired. Serve immediately.
Nutrition
This recipe was originally published in May 2017. It was updated in December 2019 to add new photographs. The original recipe remains the same. Enjoy!