This original Espresso Martini recipe is a delicious pre- or post-dinner pick me up for coffee lovers. An easy cocktail recipe, made with just 4-ingredients and shaken until deliciously frothy with a beautiful foam top and a little creaminess.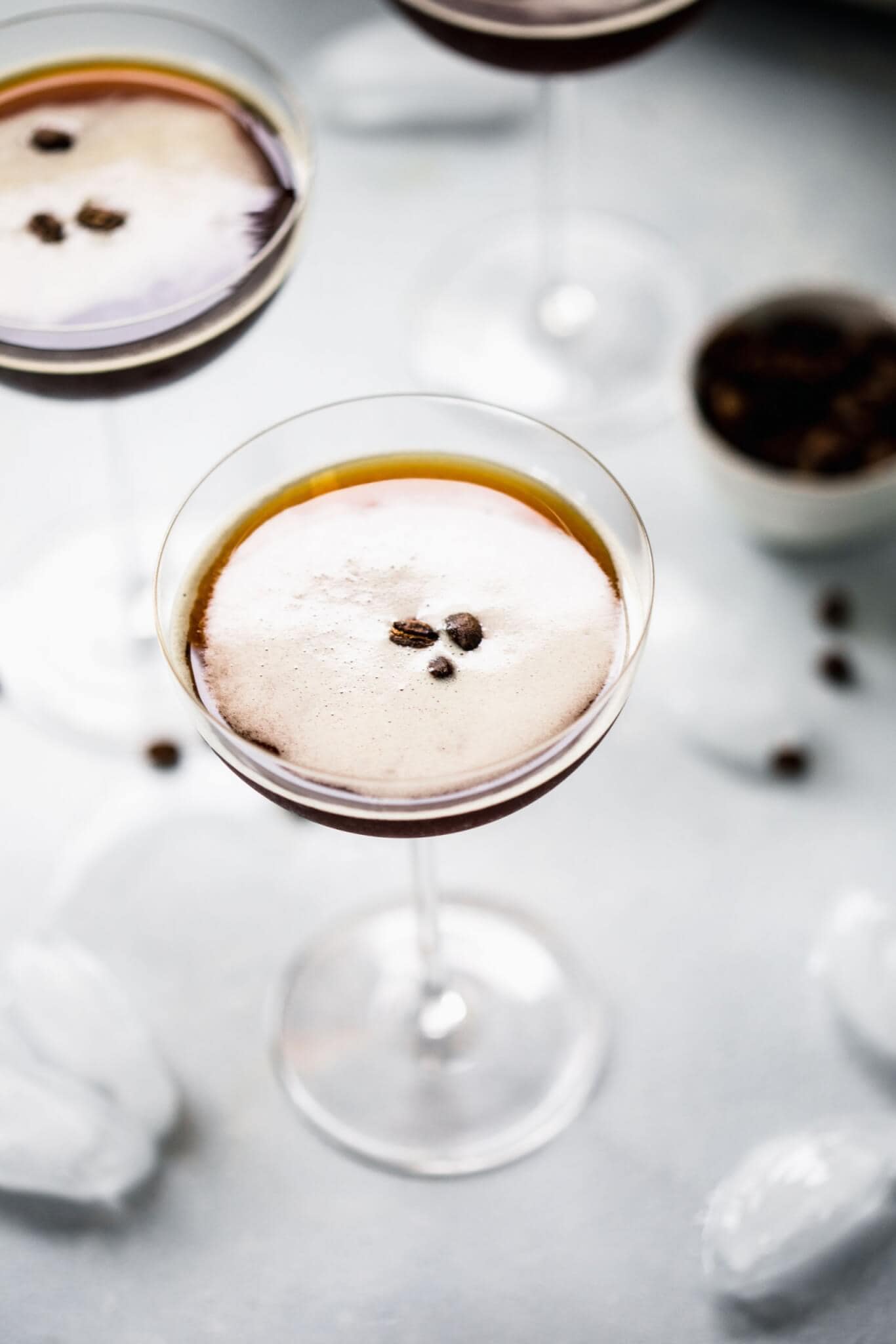 I don't know about you, but I've been experimenting with more and more cocktail recipes at home lately. You may have caught some of them on my Instagram stories. From my favorite Aviation Cocktail, to the deliciously sweet Bee's Knees, to fun, bubbly cocktails like the French 75 or Aperol Spritz, when the clock hits 5pm, I'm whipping out that cocktail shaker. 
Fun Fact: I used to be a bartender.
But at the dive bar I worked at in Eugene, Oregon, it was more about pouring beers than mixing up fancy cocktails.
I had my crew of regulars – a group of about 5 or so men in their 60's who would stand at the end of the bar after a day of work.
I was taught early on that these guys expected their beers without me even asking what they wanted. When they walked in – I would pour and deliver. Each had their preferred brand (Coors Light, Bud, Miller) and each wanted a different amount of "head" (or foam) on their beer. 
Bobby liked his Bud Light with about a ½" head on it.
Guy liked his Coors Light with nothing more than a ¼" head – He wanted his money's worth!
Etc.
How times have changed.
Now I'm at home, making fancy cocktails in my kitchen. But the best part is, I've been able to explore so many classic drink recipes. And I've definitely discovered some new favorites.
Today I'm sharing with you this amazing classic Espresso Martini recipe and giving you tips on how to get the perfect "head" on your cocktail – aka that light layer of foam on top of your glass that contrasts beautifully with the dark coffee cocktail and those three espresso beans sprinkled on top.
Here's another fun fact for you:
There's a reason that Espresso Martinis are served with three coffee beans on top. The beans are meant to represent: health, wealth and happiness. So cheers friends – to all those things! And hopefully getting out of the house one of these days soon and sharing some of these Espresso Martinis with friends, in person. 
Where Did the Original Espresso Martini Come From?
The Espresso Martini is believed to have originated in the late 1980s in London, England. According to popular legend, it was created by bartender Dick Bradsell who was working at the Soho Brasserie at the time.
The story goes that a famous model came into the bar and asked for a drink that would "wake me up and then f*** me up." Bradsell mixed vodka, coffee liqueur, freshly brewed espresso, and simple syrup together and served it in a martini glass. The model loved the drink, and soon it became a hit with customers at the bar.
The Espresso Martini quickly gained popularity in London and spread to other cities around the world. Today, it is a classic cocktail that is enjoyed by many coffee and cocktail lovers alike.
Ingredients Needed
Vodka
Simple Syrup (sugar syrup)
Coffee Liqueur – Use that bottle to make these yummy kahlua cocktails too!
Espresso Coffee – Don't have espresso? See my suggestions below for how to make one with coffee instead.
How to Make an Espresso Martini without Espresso
If you don't have an espresso machine, you can substitute strong coffee in this recipe. Brew it at 2x its normal strength in your coffee machine. This works with cold brew or fresh brewed coffee. You can also substitute cold brew concentrate.
Kahlua Substitutes
If you don't have Kahlua on hand, you can also use any coffee liquor, like Tia Maria or Sheridan's coffee liqueur. You can also substitute it with crème de cacao, a chocolate flavored liqueur.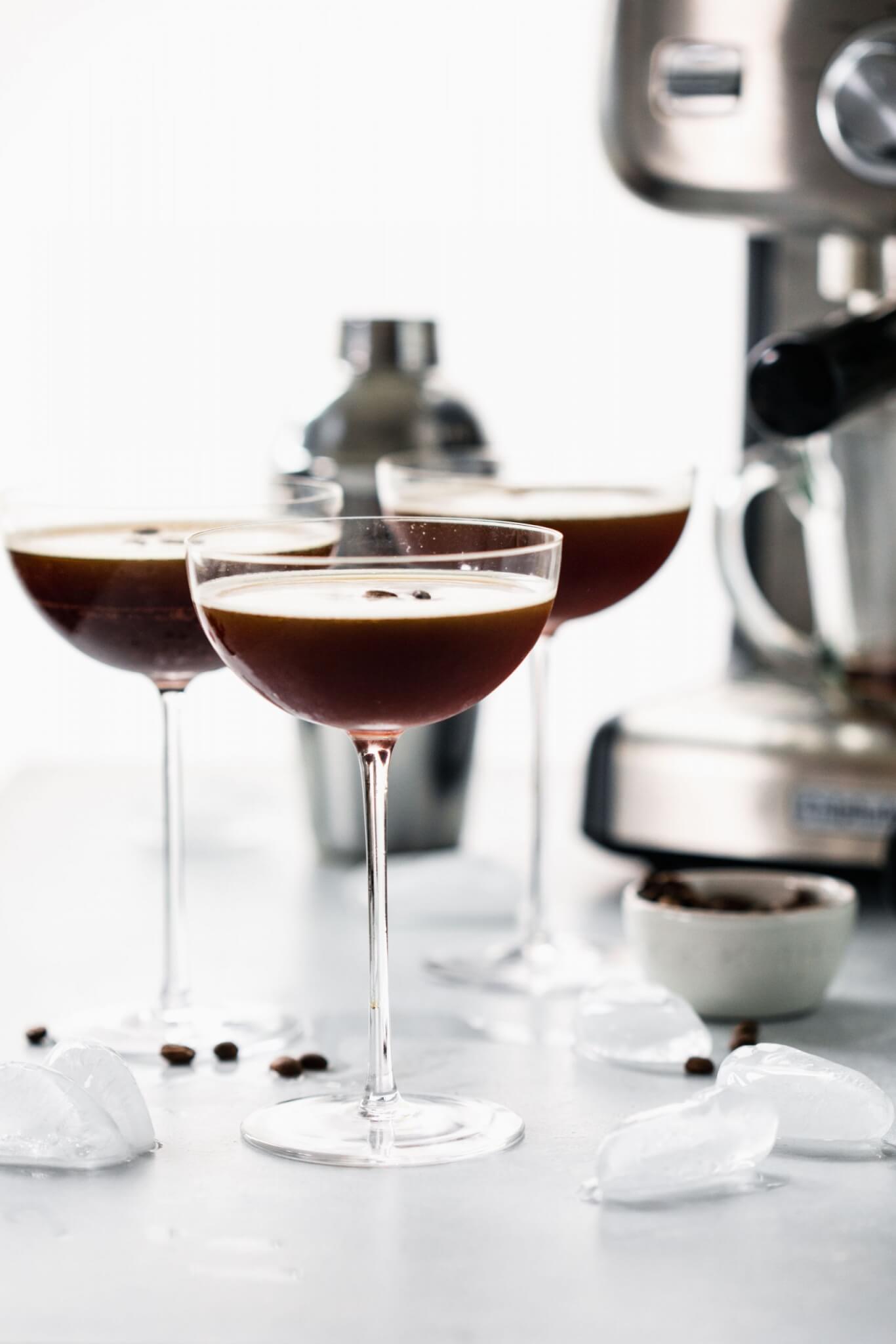 How to Make It
Add vodka, simple syrup, coffee liqueur and a shot of espresso to an ice-filled cocktail shaker.
Shake vigorously for at least 20 seconds.
Strain into a chilled martini glass, spooning extra foam from the cocktail shaker on top.
Garnish with 3 coffee beans.
How to Get the Perfect Frothy Top
To ensure you get frothy top on your espresso martini, be sure to use fresh espresso. Also use plenty of ice in your cocktail shaker and shake vigorously for at least 20 seconds.
After pouring your cocktail, spoon any foam that remains in the shaker on top of your martini glasses.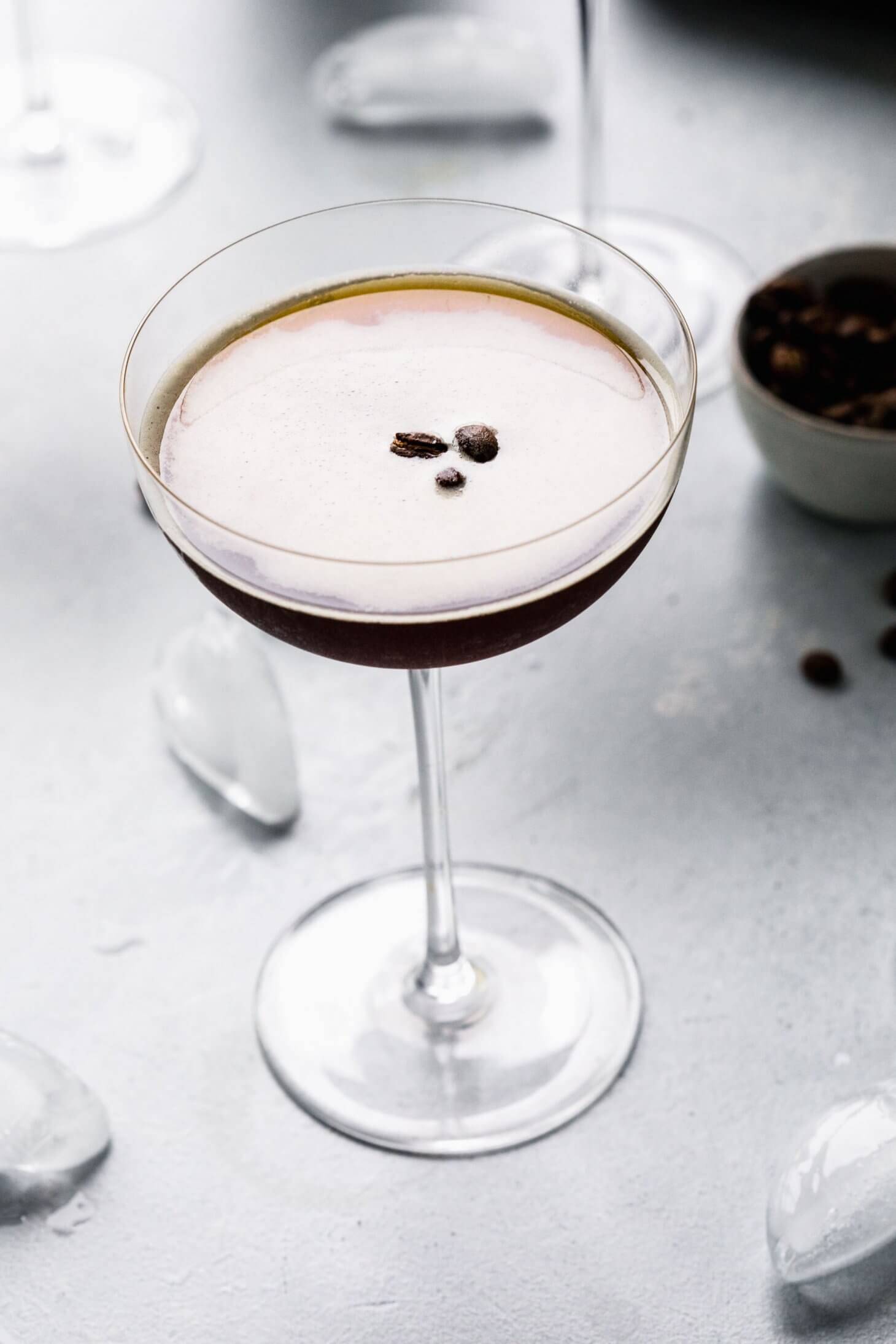 Feel free to play around with this original Espresso Martini recipe to suit your tastes. Want a creamier martini? Use Bailey's Irish Cream in place of the coffee liqueur. Don't like your cocktail so sweet? Reduce the amount of simple syrup, or leave it out entirely. Want to add extra flavor? Try swapping in vanilla vodka or hazelnut flavored vodka. Enjoy! 
What Food Goes with an Espresso Martini
Sweet Options
Savory Options
More

Cocktail Recipes
More → 17+ BEST Kahlua Drinks.
Did you try this espresso martini recipe with simple syrup?
If you loved this dark espresso martini I would appreciate it so much if you would give this recipe a star review! Also, be sure to snap a picture of your finished dish and share it with me on Instagram using the hashtag #platingsandpairings and tagging me @platingsandpairings.
For more great Platings and Pairings recipes, be sure to follow me on Instagram, TikTok, Pinterest and Facebook.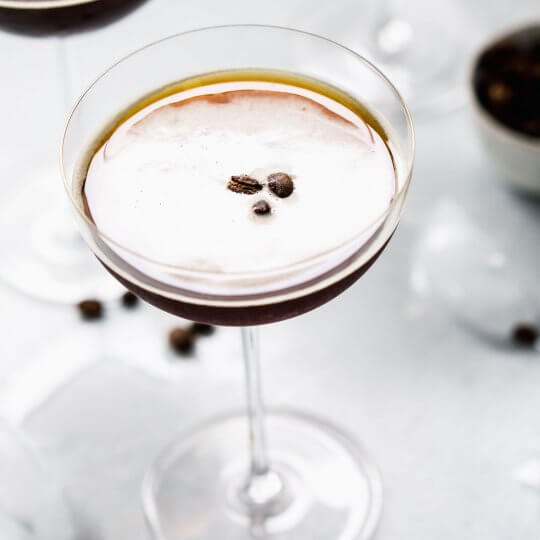 Original Espresso Martini Recipe
This Espresso Martini is a delicious pre- or post-dinner pick me up cocktail. An easy cocktail recipe, made with just 4-ingredients and shaken until deliciously frothy. 
Print
Pin
Ingredients
2

ounces

vodka

1

ounce

freshly brewed espresso

1/2

ounce

simple syrup

1/2

ounce

coffee liqueur

(Kahlua, Tia Maria, or similar)

3

coffee beans

(to garnish)
Instructions
Add ingredients into a cocktail shaker filled with ice and shake vigorously for at least 20 seconds.

Strain into a martini glass, spooning extra foam from the cocktail shaker on top.

Garnish with coffee beans.
Nutrition
Calories:
220
kcal
|
Carbohydrates:
17
g
|
Protein:
1
g
|
Fat:
1
g
|
Saturated Fat:
1
g
|
Sodium:
14
mg
|
Sugar:
17
g
|
Iron:
1
mg
Check out the web story here.
This post was originally published in 2020. It was updated in 2023 to add new content. The original espresso martini recipe remains the same. Enjoy!