This 15-minute cold Peanut Noodle Salad features a Thai-style creamy peanut sauce, crunchy red cabbage and quick-pickled cucumbers. (Vegetarian)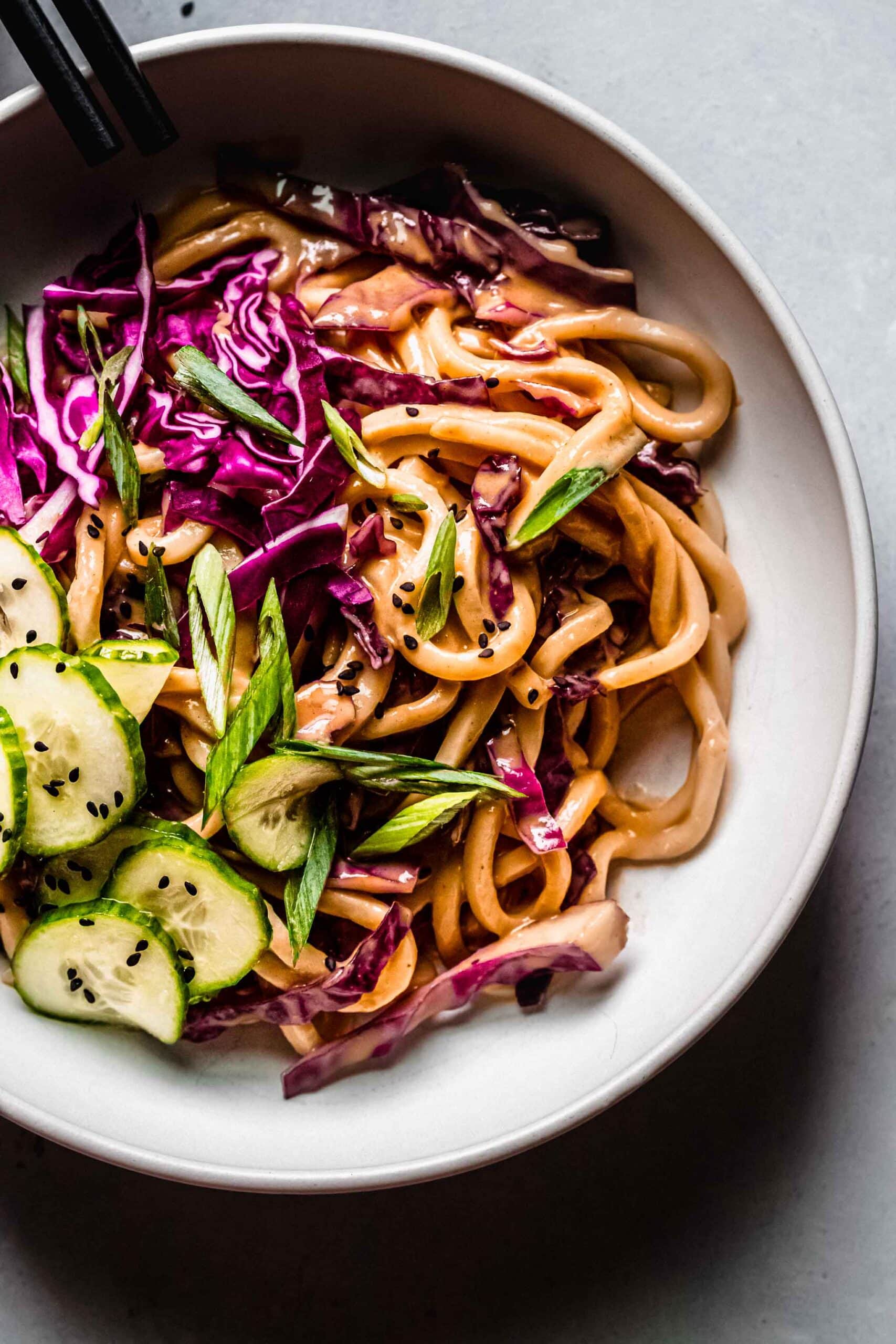 I'm always on the hunt for easy recipes that take 30 minutes or less. And here's a delicious cold peanut salad recipe that takes just 15 minutes.
This salad is crunchy, creamy, a little spicy, and delicious!
It's the perfect compliment to a simple grilled chicken breast dinner. It's also perfect for meal prep, since you can make it ahead of time and keep it on hand for up to three days in the fridge.
Or, try bringing it along to your next potluck. This salad is a guaranteed crowd pleaser! Just take note, you may want to double the recipe, because it's going to be gobbled up immediately!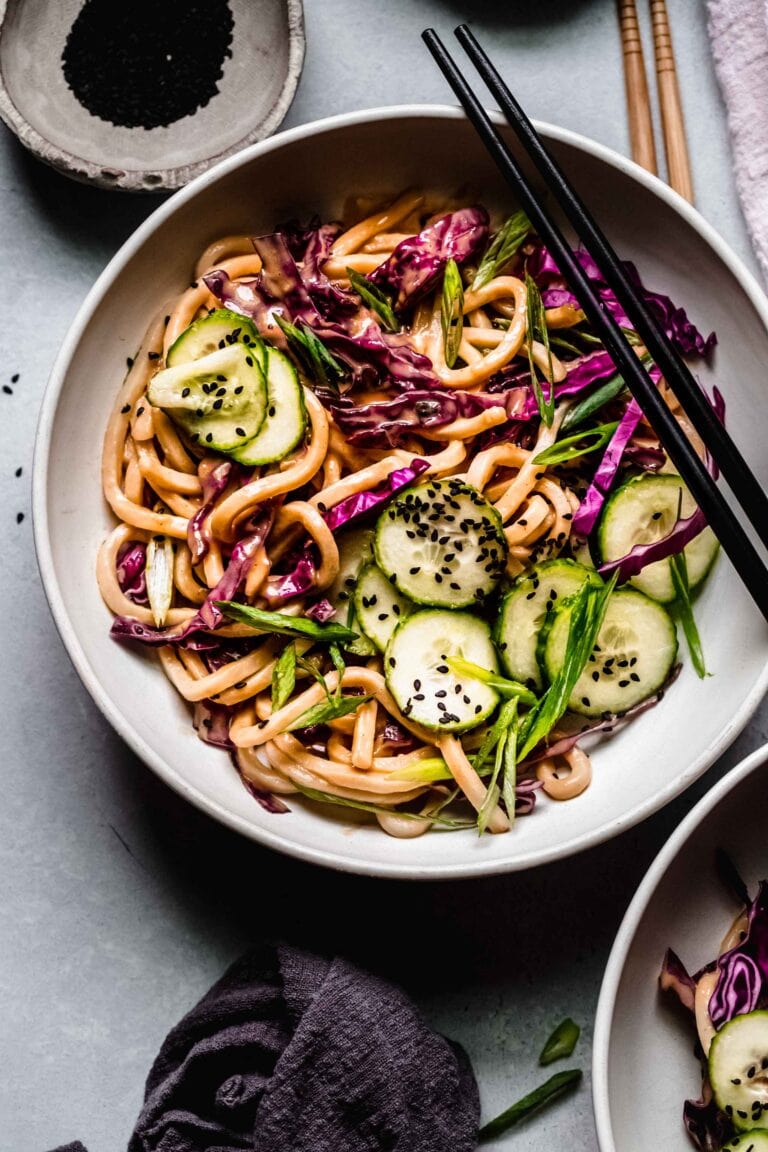 Things couldn't be easier with this dish. While your noodles boil away, you'll quick-pickle some cucumbers and make a delicious, creamy peanut sauce.
Let's talk about those noodles…
I went with udon noodles for this recipe.
Why?
They're perfectly chewy, with just the right texture and they're just so irresistibly slurpable! I love that they cook up quick + easy, so I keep them on hand at all times for recipes like my Ginger Veggie Stir Fry and Kung Pao Noodles. 
You'll find them in your grocery store's produce section.
And what about that peanut sauce?
It's tangy, creamy and can be made with ingredients you likely may already have in your cupboard. A bit of red wine vinegar, soy sauce, sesame oil, honey, peanut butter, and just a bit of hot chili oil for some heat.
I kept things on the mild side here. However, if you like things extra spicy (like me) feel free to customize your bowl by drizzling a bit of extra chili oil over the top at the end.
What is Peanut Dressing Made Of?
Garlic
Peanut butter
Red wine vinegar
Sesame oil
Soy sauce
Hot chili oil
Honey
Vegetable oil
How to Make Thai Peanut Noodle Salad
Make the pickled cucumbers. Thin slice cucumbers and place in a simple brine while you prepare the rest of the salad ingredients.
Cook the noodles until al dente, about 3 minutes. Rinse with cold water.
Make the peanut sauce. Whisk together all the ingredients until smooth and combined.
Slice the cabbage.
Toss the noodles and cabbage with the spicy peanut sauce.
Garnish with pickled cucumbers, green onions, sesame seeds + additional hot chili oil.
Enjoy!
Variations
Tofu: This spicy peanut tofu is delicious on top of this udon noodle salad.
Chicken: Slice up a cooked chicken breast and add it to the top of your noodles.
Shrimp: Sauteed shrimp would be delicious on top.
What to Serve with It
Wine Pairings
Riesling, Gewürztraminer: Look for a white wine with just a hint of sweetness to it – It's a great way to tame down the heat in this peanut pasta salad.
Rosé is another great match – It's acidity, and light body will pair nicely with the peanut sauce. (Here are some great rosé wines under $10)
More Recipes Featuring Peanut Sauce
More Flavorful Noodles to Try
Did you make these cold peanut noodles?
If you loved this peanut udon noodle salad I would appreciate it so much if you would give it a star review! Also, be sure to snap a picture of your finished dish and share it with me on Instagram using the hashtag #platingsandpairings and tagging me @platingsandpairings.
For more great Platings and Pairings recipes, be sure to follow me on Pinterest, Facebook, YouTube and TikTok.
Cold Peanut Noodle Salad Recipe
This 15-minute cold Peanut Noodle Salad features a Thai-style creamy peanut sauce, crunchy red cabbage and quick-pickled cucumbers.
Print
Pin
Instructions
Pickled Cucumbers:
In a medium bowl, whisk together the rice vinegar, sugar, sesame oil, garlic and salt. Add the cucumber slices and toss to combine. Set aside in the refrigerator while you prepare the noodles. Note: These can be prepared up to 2 days ahead.
Noodles:
Bring a large pot of water to a boil.

Cook noodles in boiling water for about 3 minutes, until al dente.

Meanwhile, combine peanut butter, garlic, soy sauce, vinegar, sesame oil, chili oil, honey, vegetable oil and ¼ cup water in a large bowl. Whisk until combined.

Drain noodles and rinse with cold water to cool them down. Add the noodles and cabbage to the bowl with the sauce and toss to combine. Serve garnished with pickled cucumbers, green onions, sesame seeds and additional hot chili oil, if desired.

Enjoy!
Nutrition
Calories:
394
kcal
|
Carbohydrates:
36
g
|
Protein:
14
g
|
Fat:
24
g
|
Saturated Fat:
4
g
|
Polyunsaturated Fat:
6
g
|
Monounsaturated Fat:
11
g
|
Sodium:
1756
mg
|
Potassium:
465
mg
|
Fiber:
4
g
|
Sugar:
15
g
|
Vitamin A:
656
IU
|
Vitamin C:
29
mg
|
Calcium:
64
mg
|
Iron:
2
mg