Skip the jar of store bought salsa and make ​​Salsa Taquera instead! It's a smoky and vibrant condiment that's perfect for tacos, carnitas, grilled meats, and more. The ingredients are simple, but the flavor is extravagant!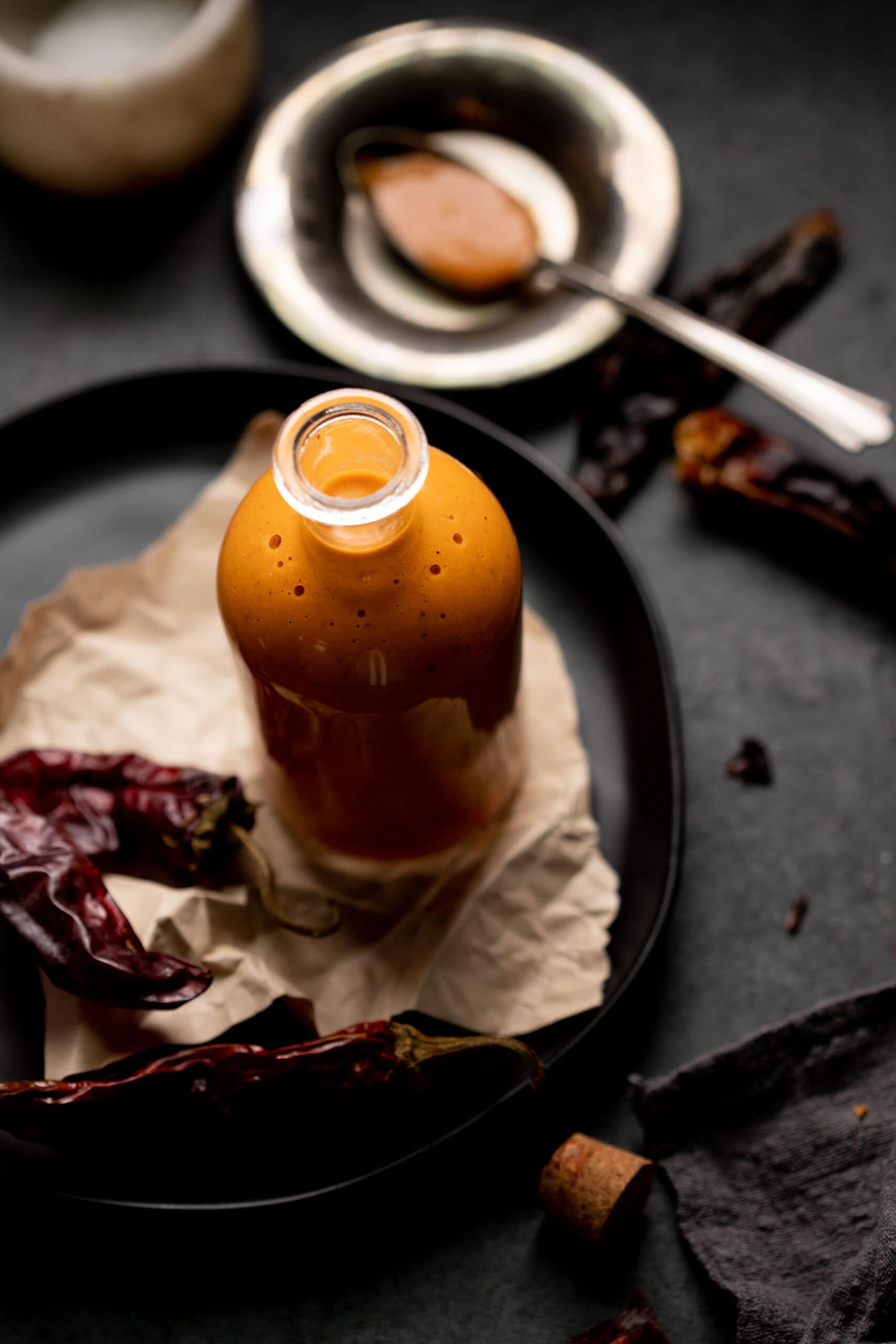 Ready to elevate your usual Taco Tuesday spread? Then you need taqueria style salsa on the table! It's a tangy, smoky, and extra fiery blended salsa you can drizzle over carnitas tacos, birria de borrego, or enjoy with tortilla chips.
Whenever I stop by a taco food cart, or my favorite Mexican restaurant, I'm always on hunt for the "orange sauce." It's my absolute favorite. It's super spicy (so you only need a little bit), but it packs so much flavor!
I've been hosting a lot of taco nights lately, and once I started making this sauce, it was always requested. People who love heat just can't get enough of it. Once, I skipped making it, and people were so disappointed.
So now, this salsa taquera is an absolute must.
Which is good with me. Because it's so easy to make!
Today I'm sharing the recipe with you. So you, too, can upgrade taco night!
Salsa taquera (meaning "taco sauce" in Spanish) isn't your typical red salsa. It's popular on restaurant and food cart menus throughout central Mexico and is the quintessential sauce for Mexican street tacos.
You'll love drizzling it over sweet potato tacos, fajitas, burrito bowls, and quesadillas. You can even use it to simmer fish, poach eggs, and marinate chicken! The sky is truly the limit when it comes to taqueria-style salsa.
What makes salsa taquera truly unique is the chili peppers. Arbol chili peppers are the chili of choice here, which are six times hotter than jalapenos. It's a spicy condiment, but the heat is toned down with simple ingredients like tomatoes and garlic.
If you love chile de arbol salsa, then you'll surely love my 5-Minute Chipotle Salsa as well. For a tropical twist on Taco Tuesday, add Pineapple Salsa or Mango Salsa to the spread.
Ingredients needed
If you've ever made salsa at home, then most of these ingredients should look familiar. There are, however, a few unique items that are must-haves in any salsa taquera recipe:
Roma tomatoes – These are the best choice for salsa because they're meaty and don't have as much water. Your salsa should be thick and smooth when you make it with romas. If you use another type of tomato, scoop out the excess seeds and juice before charring.
Yellow onion
Oil
Garlic – Fresh garlic is a non-negotiable in taquera salsa.
Arbol chili peppers – Or "tree chilis" in Spanish. You can use fresh or dried peppers in the salsa. If dried, soak the peppers in hot water until they soften. Dry them well before sauteing. More on these peppers below!
Water
Apple cider vinegar – The tang helps balance the spice here and adds another layer of complexity.
Kosher salt
About chile de árbol peppers
Chili de arbol is the signature pepper of salsa taquera. It's a small red pepper with 15,000 and 30,000 Scoville Heat Units. In other words, they're spicy!
If you can't find arbol chili peppers, replace them with almost as spicy serrano peppers or cayenne peppers. If you're worried about the spice level, use Guajillo peppers or New Mexico chili peppers instead.
How to make it
Start by charbroiling the vegetables. Place the halved tomatoes and onion onto a baking sheet (cut side down) and broil until they begin to char.
Meanwhile, saute the aromatics. Cook the garlic cloves in an oiled skillet until fragrant. Add the chili peppers (with the stems removed) and cook until they're fragrant and begin to darken.
Now it's time to blend. Transfer the garlic and chilies to a blender along with the water and vinegar. Let the chilies soften for a few minutes, then blend. Slowly pour in the oil and keep blending until smooth.
Enjoy the salsa right away on tacos or with baked tortilla chips, or store it away for later.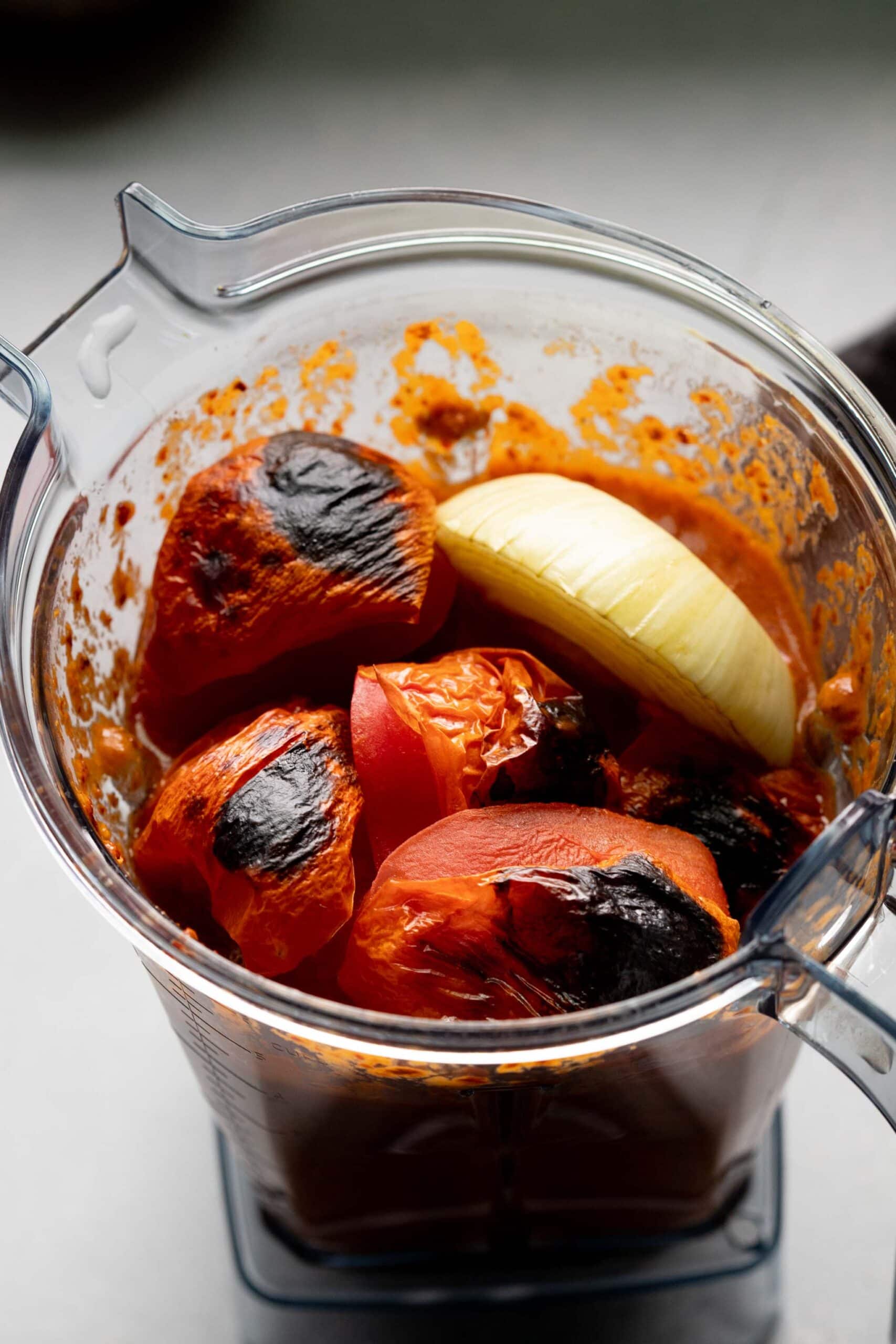 Tips and variations
Instead of charring the tomato and onion under a hot broiler, you can sear them in a hot cast-iron skillet or on the grill to achieve the char.
Be careful while handling spicy chili peppers! Wear gloves if you can and wash your hands as soon as you're done handling them.
Add 1 to 2 chipotle peppers in adobo sauce to the mixture to enrich the salsa with an irresistibly smoky flavor.
To make salsa verde (green restaurant-style salsa), use tomatillos instead of Roma tomatoes and swap the red arbol chile peppers for green serrano peppers or jalapenos.
How long does salsa taquera last?
After cooling, pour your blended red salsa into an airtight container and refrigerate it for 6 to 7 days.
Alternatively, you can freeze the homemade salsa by pouring it into a freezer-safe container or jar. Freeze for up to 4 months.
Serving suggestions
This is the perfect salsa for topping your favorite Mexican dishes. Try it on these:
More sauce & salsa recipes
Did you make this Salsa Taquera recipe?
If you loved this Mexican taqueria-style salsa, I would appreciate it so much if you would give it a star review! Also, be sure to snap a picture of your finished dish and share it with me on Instagram using the hashtag #platingsandpairing and tag me @platingsandpairings.
For more great Platings and Pairings recipes, be sure to follow me on Pinterest, Facebook, YouTube and Twitter.
Salsa Taquera
Skip the jar of store bought salsa and make ​​Salsa Taquera instead! It's a smoky and vibrant condiment that's perfect for tacos, carnitas, grilled meats, and more. The ingredients are simple, but the flavor is extravagant!
Print
Pin
Instructions
Preheat broiler to high.

Arrange onion slices and tomatoes (cut side down) on a baking sheet. Broil, about 4-inches from the heating element, for about 10 minutes, until beginning to char.

Meanwhile, heat 1 TBSP oil in a large skillet over medium heat. Add the garlic and saute for 1-2 minutes, until fragrant. Add the chiles and cook 1-2 minutes longer, until fragrant and beginning to darken.

Transfer chiles and garlic to a blender or food processor. Add the water and vinegar, and let sit for 5 minutes to soften.

Process on high, 10 to 20 seconds. Then, turn the speed to low and stream in the remaining vegetable oil.

Add the tomatoes, onion and salt and process until smooth.

Enjoy immediately or store in the fridge for up to 2 weeks.
Notes
Instead of charring the tomato and onion under a hot broiler, you can sear them in a hot cast iron pan or on the grill to achieve the char.
Nutrition
Calories:
136
kcal
|
Carbohydrates:
3
g
|
Protein:
0.4
g
|
Fat:
14
g
|
Saturated Fat:
1
g
|
Polyunsaturated Fat:
4
g
|
Monounsaturated Fat:
9
g
|
Trans Fat:
0.1
g
|
Sodium:
439
mg
|
Potassium:
79
mg
|
Fiber:
1
g
|
Sugar:
1
g
|
Vitamin A:
436
IU
|
Vitamin C:
3
mg
|
Calcium:
6
mg
|
Iron:
0.2
mg
Watch the web story here.
This post was originally posted in 2022. It was updated in 2023 to add new content. The salsa taquera recipe remains the same. Enjoy!