Sun Dried Tomato Pesto (Pesto Rosso) is a delicious pasta sauce. Or, try it tossed with gnocchi, spread on crostini, or dolloped on chicken breasts, steak or pork. This easy recipe is made with just a handful of simple ingredients in 5 minutes!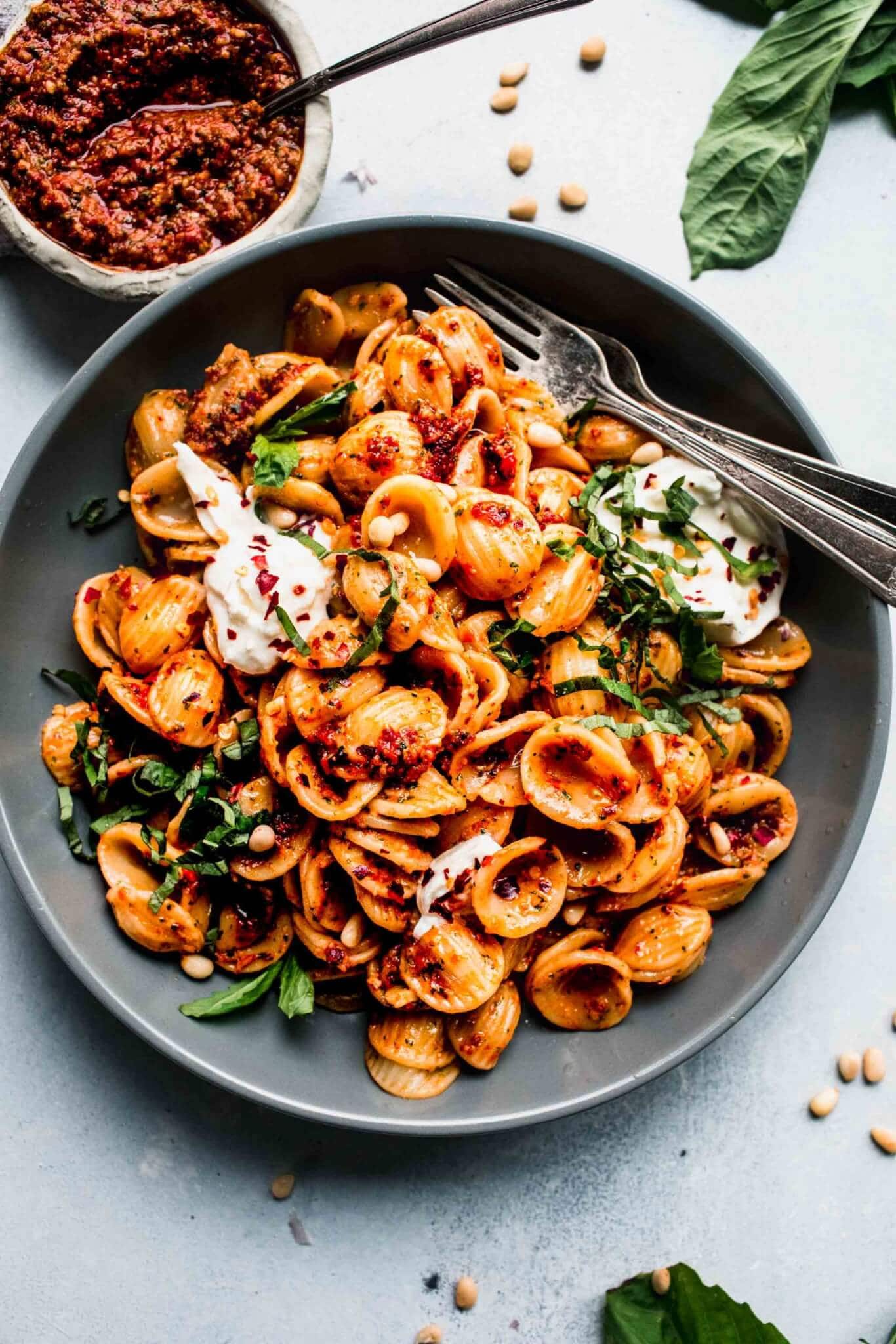 This summer I shared with you a post on how to make homemade sun dried tomatoes. And while you don't need to make your own to make this recipe, I've had lots on my hands, so I've been brainstorming more and more recipes on what to do with a jar of sun dried tomatoes.
The first recipe I shared was for this Creamy Sun Dried Tomato Pasta. And today I'm back with another recipe for sun-dried tomato pesto, that can be swirled into a bowl of warm pasta, or put to use in so many other ways.
I've always been a huge fan of homemade pesto.
From Kale Pesto to Broccoli Pesto to Arugula Pesto, I'll take it in any form it comes.
But I have to say that this Pesto Rosso may be one of my all time favorites.
🍅 What is Pesto Rosso?
Pesto Rosso, Italian for "Red Pesto" is a variety of pesto made with sun dried tomatoes to give it that beautiful red color and a sweet & tangy flavor that's filled with umami.
🛒 What is Sun-Dried Tomato Pesto Made Of?
Sun Dried Tomatoes – Dry-packed or oil-packed. Or, try making your own!
Fresh Basil Leaves
Garlic Cloves
Pine Nuts – Or, substitute walnuts or almonds.
Extra Virgin Olive Oil – Using a high-quality olive oil is preferred here.
Parmesan – Or, pecorino romano. For a dairy-free version, try adding in some nutritional yeast.
Lemon Juice – Adds a nice tang to the finished pesto.
Salt
Note: You can use dry-packed or oil-packed sun dried tomatoes in this recipe. However, you will need to add additional olive oil when working with dry-packed tomatoes.
📋 How Do You Make Sun Dried Tomato Pesto?
Simply add all of the ingredients (except olive oil and parmesan) to a food processor or high powered blender. Pulse to finely chop the ingredients, then stream in the olive oil. Add the parmesan cheese and pulses a few more times to combine and serve.
🌟 Sun Dried Tomato Pesto Variations
Swap out the basil leaves for another fresh green like arugula, parsley or spinach.
Add in other flavors like kalamata olives, artichoke hearts, or roasted red peppers.
Substitute walnuts, almonds, pecans or pistachios for the pine nuts.
Swap out the lemon juice for another acid like balsamic vinegar, red wine, white or apple cider vinegar. Or, for even more lemon flavor, add in some lemon zest.
For a vegan pesto, try swapping in nutritional yeast for the parmesan.
For a spicy version, add in a pinch of red pepper flakes.
ℹ️ FAQ
Does Pesto Contain Nuts?
This red pesto recipe does contain pine nuts. If you have a nut allergy, you can leave them out.
How Long Does Pesto Last?
Leftover pesto will keep in the refrigerator stored in an airtight container for up to five days. If you would like to store it for longer, it can be frozen for up to three months.
❄️ How to Freeze
I like to make a double batch and freeze my basil pesto in ice cube trays. Once frozen, I pop the cubes into a ziploc bag. The smaller portions thaw quicker in the fridge, and are super convenient.
🍝 Uses for Sun Dried Tomato Pesto
Use it to dress up a turkey sandwich.
Stir it into hummus or homemade ranch for a delicious dip.
Drizzle it over some grilled chicken skewers or shrimp skewers.
Toss this delicious sauce with a bowl of freshly cooked gnocchi, pasta or zucchini noodles for a sun-dried tomato pesto pasta.
Combine it with some olive oil and red wine vinegar (or lemon juice) for an amazing salad dressing. Or, toss it with cold pasta and veggies to make a pasta salad.
Use it as a dip for grilled or roasted vegetables.
More → 30+ Ways to Use Pesto!
I tossed pasta with my pesto and served it up with some burrata cheese – absolutely delicious!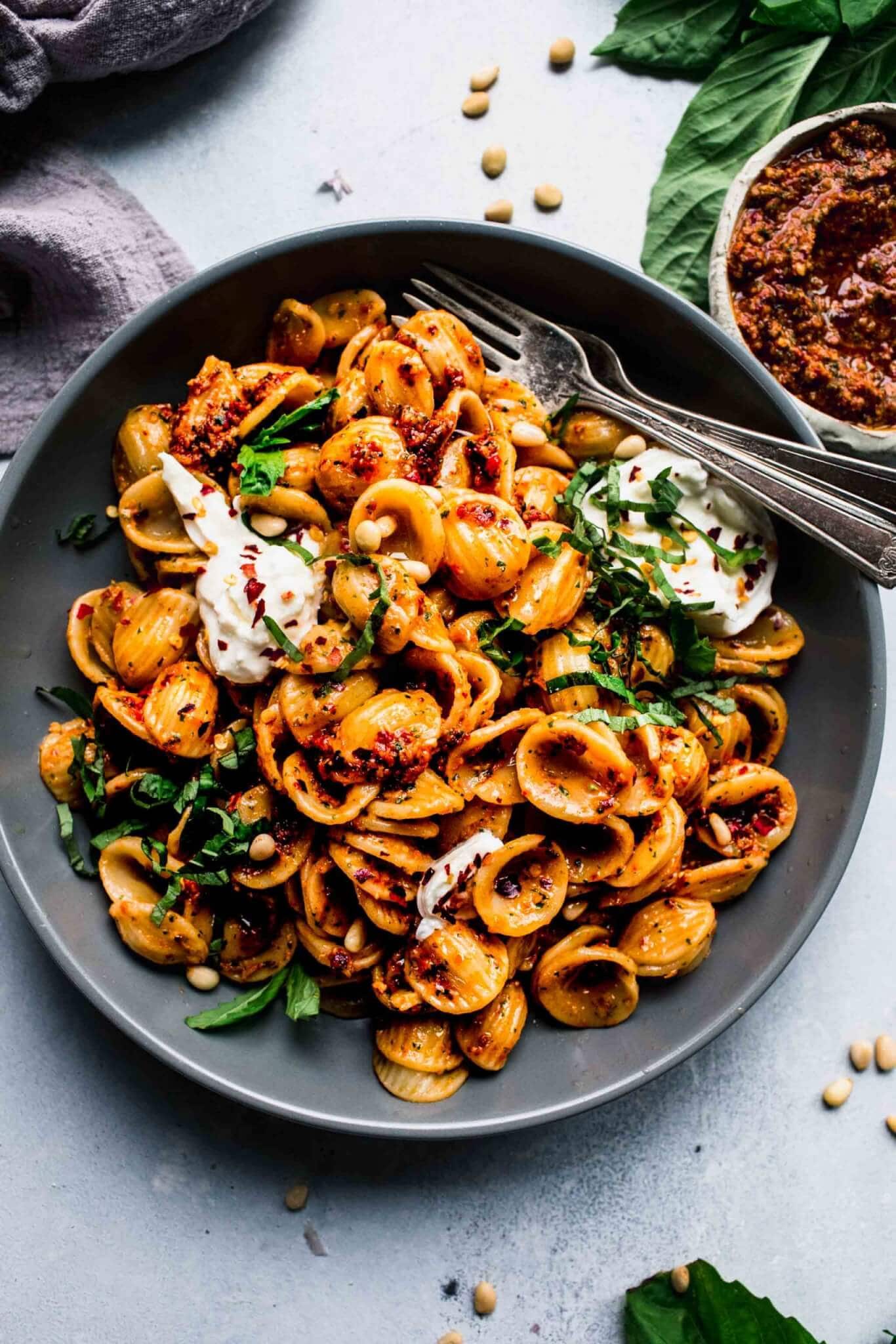 🍷 Wine Pairings for Sun Dried Tomato Pesto
More Pesto Recipes:
MORE —> 40+ Sun Dried Tomato Recipes!
Sun Dried Tomato Pesto Recipe
Sun Dried Tomato Pesto (Pesto Rosso) is delicious tossed with pasta or gnocchi, spread on crostini, or dolloped on chicken, steak or pork. Made with just a handful of simple ingredients in 5 minutes! 
Print
Pin
Ingredients
1

8.5 ounce jar

sun-dried tomatoes packed in oil

((or 1 cup dry packed sun dried tomatoes*))

3

cloves

garlic

1/2

teaspoons

kosher salt

1

cup

basil leaves

1/4

cup

pine nuts

1/3

cup

extra virgin olive oil

(up to ½ cup)

1/2

cup

parmesan cheese

1

Tablespoon

lemon juice
Instructions
Combine sun dried tomatoes and their oil, garlic, salt, basil and pine nuts in a food processor, and process until finely chopped.

With the machine running, drizzle in the oil and process until the mixture is smooth.

Add the parmesan and lemon juice and pulse a few times to combine. Store in refrigerator or freezer.
Notes
*When using dry packed sun dried tomatoes, you will need to use additional olive oil to reach your desired consistency.
Nutrition
Calories:
180
kcal
|
Carbohydrates:
2
g
|
Protein:
4
g
|
Fat:
18
g
|
Saturated Fat:
3
g
|
Cholesterol:
6
mg
|
Sodium:
329
mg
|
Potassium:
59
mg
|
Fiber:
1
g
|
Sugar:
1
g
|
Vitamin A:
276
IU
|
Vitamin C:
1
mg
|
Calcium:
108
mg
|
Iron:
1
mg