This Butter Roasted Tomato Sauce comes together easily, with no chopping or constant stove monitoring. Just pop it in the oven and let the roasting process intensify the flavor of canned tomatoes.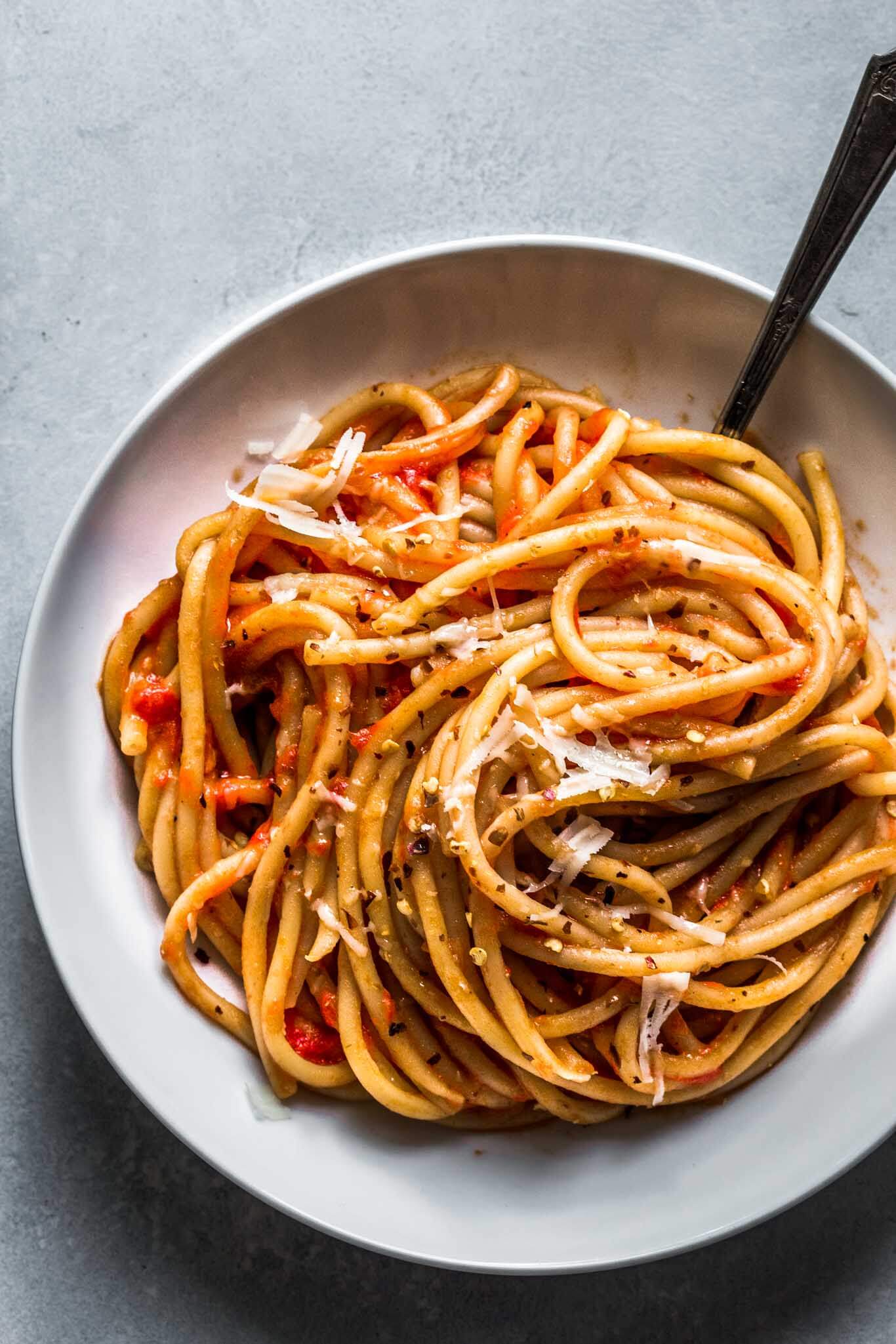 If I could have a stockpile of something in my cupboards – It would be canned tomatoes.
Like, it would be my dream if I could be one of those extreme couponers who has some magical way of leaving the grocery with three carts full of free tomatoes in tow… I'm not normally a hoarder, but I could make an exception.
There are so many things you can make with canned tomatoes – Lasagna Soup, Quick 5-Minute Avocado Salsa, Turkey Meatballs in Chipotle Sauce, Shrimp Fra Diavolo – The list goes on and on.
Plus, of course, there's always pasta sauce!
My standard go-to recipe my Nana's Sunday Gravy. I absolutely love this sauce – Tomatoes slow-simmered with all kinds of cuts of meat, until they're tender and falling off the bone, finished with some fresh basil. It just brings back food memories – You know? When you taste one bite of something and you're whisked away to some random point in your life?
As much as I adore Sunday Gravy, it really is a bit time intensive – Hence the name "Sunday" gravy. It really needs to simmer all day to get that great flavor.
So, I've been on the hunt for a great sauce recipe that's more suitable for everyday cooking. I found this recipe for butter roasted tomato sauce in Bon Appétit and thought I'd give it a whirl.
The first thing I loved about this recipe – No chopping.
The second thing, stress reliever – You get to crush the tomatoes with your hands, smash the garlic cloves, and pop it all into the oven while you drink wine… That's a winner in my book!
What Ingredients are in Roasted Tomato Sauce?
Canned Whole Tomatoes

Garlic

Anchovies

Red Pepper Flakes

Butter
That's it.
Do not let the anchovies throw you into a panic attack. These 'lil guys lend such an extra element of flavor to this dish – I can't imagine it without them. Nutty, salty, umami-ness. Plus, I guarantee you – They dissolve by the end of the roasting process. You won't even know they were there.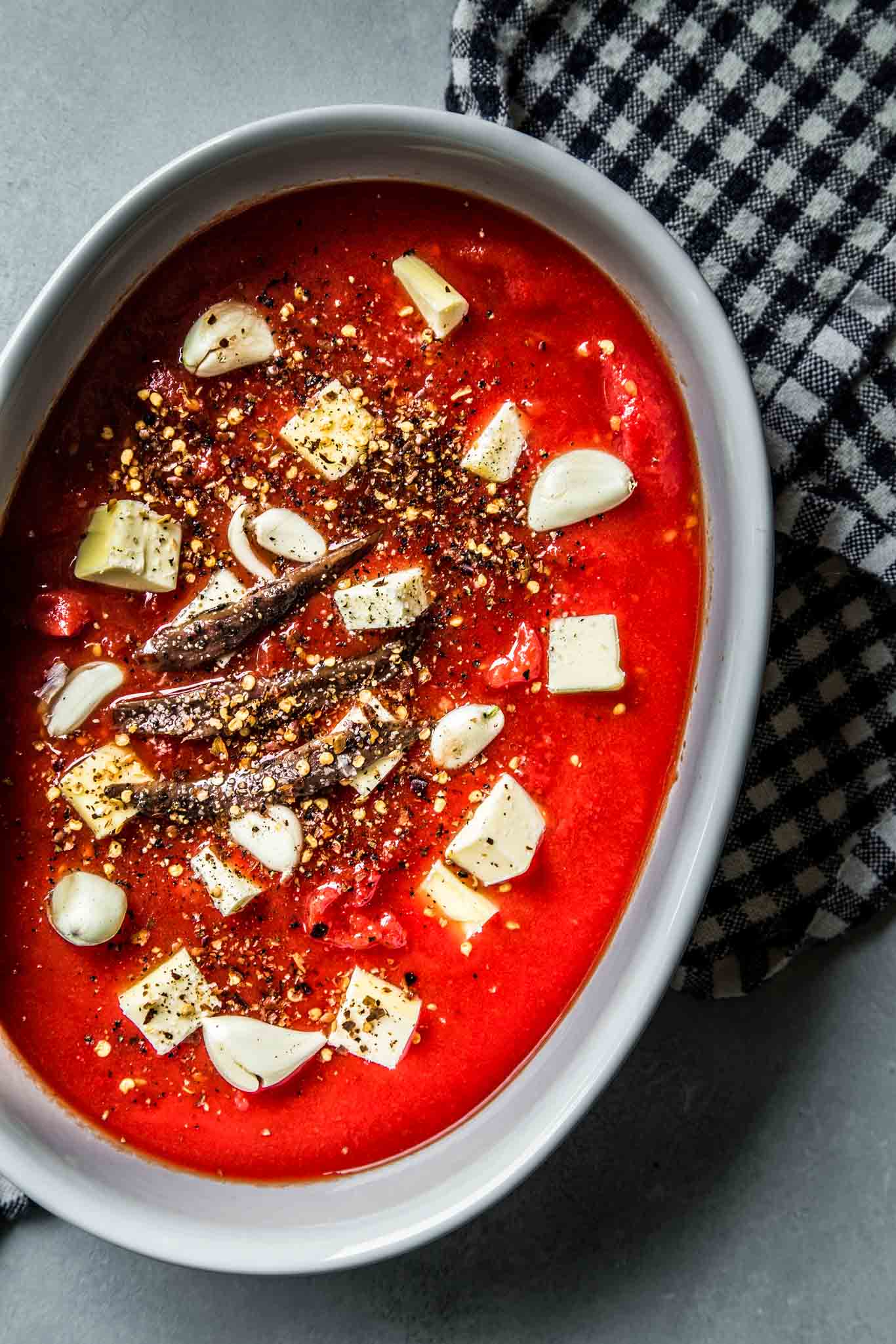 Before Roasting ⬆ – Hello Mr. & Mrs. Anchovy.
After Roasting ⬇ – Anchovies gone!
What I was a bit skeptical about was the butter – Why do I need all that extra fat in an otherwise healthy tomato sauce? The butter lends a sweetness, the dairy helps to tenderize the tomatoes, and when it all condenses together, it really helps the sauce to coat those noodles perfectly.
I think of it this way – there's no meat in the sauce, so I can spare a few extra calories for the butter. It really is worth it!
What Tomatoes are Best for Roasted Tomato Sauce?
I like to use canned tomatoes for my roasted tomato sauce. I love that they're already peeled and ready toss in the roasting pan.
How Do you Make Roasted Tomato Sauce?
Just toss all the ingredients into a large baking dish. Let it roast in the oven for about 45-minutes and then mash it all together. The garlic becomes like butter itself, and the flavor of the tomatoes really concentrates and becomes extra delicious.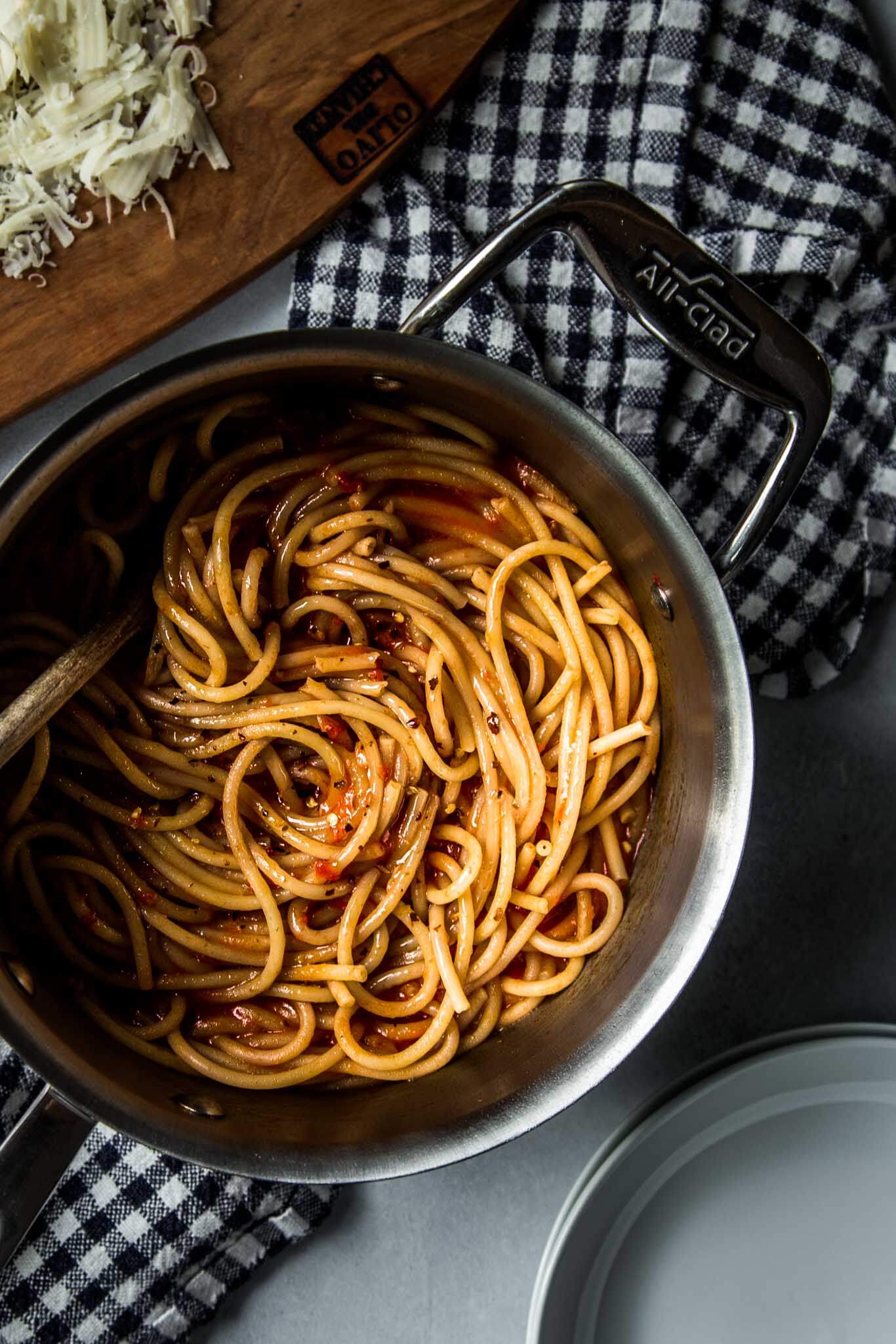 Be sure to save your pasta cooking liquid once the cooking time is up. You'll want to add a splash of that in when you're tossing your pasta with the roasted tomato sauce.
Do you have a go-to tomato sauce recipe that you love? I'd love to hear in the comments below.
If you loved this Roasted Tomato Sauce I would appreciate it so much if you would give this recipe a star review! Also, be sure to snap a picture of your finished dish and share it with me on Instagram using the hashtag #platingsandpairings and tagging me @platingsandpairings.
Tips for Making Roasted Tomato Sauce:
The sauce can be made up to four days ahead, and kept covered in the refrigerator. Just reheat before mixing with the pasta.

If you are sensitive to heat, or serving this dish to children, feel free to omit the red pepper flakes, and just sprinkle on the finished dish.
Wine Pairings for Pasta with Tomato Sauce:
Because this sauce (like all tomato sauces) is high in acid, you're going to want to pick a wine that can match that acidity. Stay away from heavy, tannic wines, and those flavors will clash with the tomatoes.
A light-bodied

Pinot Noir, Barbera or Dolcetto

will pair well with this dish.

Pinot Grigio

has a crisp, vibrant flavor that will work also if you're looking for a white wine option.
Butter Roasted Tomato Sauce
This Butter Roasted Tomato Sauce comes together easily, with no chopping or constant stove monitoring. Just pop it in the oven and let the roasting process intensify the flavor of canned tomatoes.
Print
Pin
Instructions
Preheat oven to 425°F.

Crush the tomatoes with your hands and add them, and their juices to a 13×9" baking dish, along with the garlic, anchovies, butter, and ½ teaspoon red pepper flakes. Season with salt and pepper. Roast, tossing halfway through, until the garlic has softened, and the liquid has reduced, approximately 40-45 minutes.

Use a fork, or potato masher, to break up the tomatoes and garlic.

Cook pasta in a large pot of boiling, salted water, until al dente. Drain, reserving ½ cup of the pasta coking water. Return pasta to pot and add tomato sauce, and reserved cooking water. Cook over medium-high heat, tossing the pasta and sauce, until pasta is well coated, about 3 minutes.

Serve topped with parmesan cheese, and additional red pepper flakes, if desired.
Nutrition
Calories:
531
kcal
|
Carbohydrates:
66
g
|
Protein:
12
g
|
Fat:
24
g
|
Saturated Fat:
14
g
|
Cholesterol:
62
mg
|
Sodium:
12
mg
|
Potassium:
231
mg
|
Fiber:
2
g
|
Sugar:
2
g
|
Vitamin A:
700
IU
|
Vitamin C:
2.3
mg
|
Calcium:
43
mg
|
Iron:
1.3
mg
More Tomato Recipes: