Mexican Stuffed Poblano Peppers loaded with a mixture of beef & rice and topped with a zesty cilantro lime crema. This healthy recipe will be on your table in 30 minutes.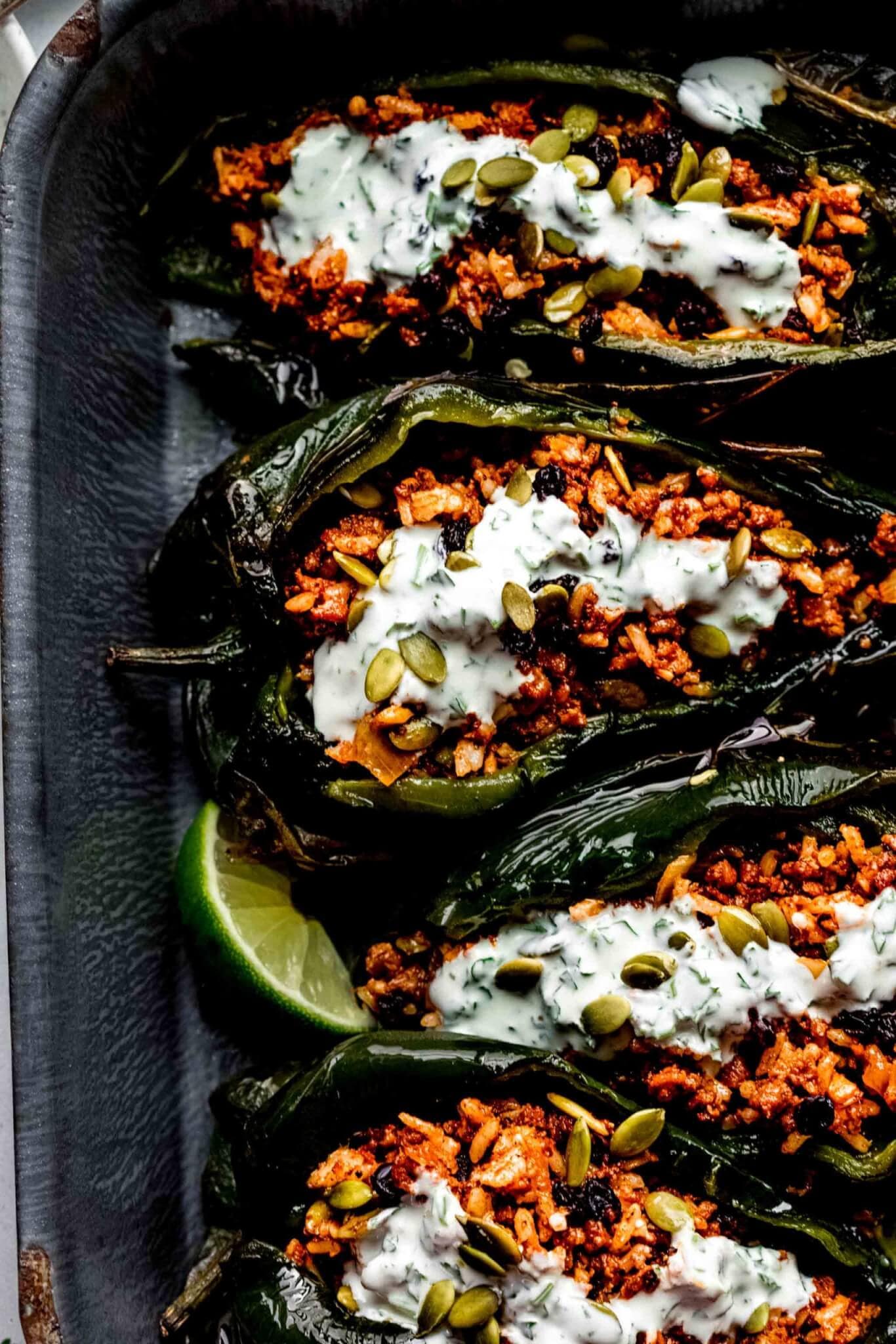 I'm learning more and more lately that the key to making a truly excellent dish is having a perfect trifecta of salty, spicy, sweet. One of my favorite cuisines, Thai – Is an excellent example of that. Many of those dishes use fish sauce as the salty, thai chili peppers as the spicy, and a bit of brown sugar as the sweetener – i.e. this Thai Beef Salad.
I'm also learning that Mexican food benefits from this same trio of flavors. Take this Picadillo for instance. It combines green olives for the salty, cayenne for the spicy, and golden raisins for the little bit of sweetness.
These easy stuffed poblano peppers are putting that same methodology to use – Salty pepitas (pumpkin seeds) combine with the spicy poblanos and a little bit of sweetness is added from the dried currants which are flecked throughout the ground beef & rice filling.
Plus, we're adding one more flavor into the mix – tangy – coming from the cilantro lime crema. And, it couldn't be simpler to make. You only need three ingredients and a few minutes to make it.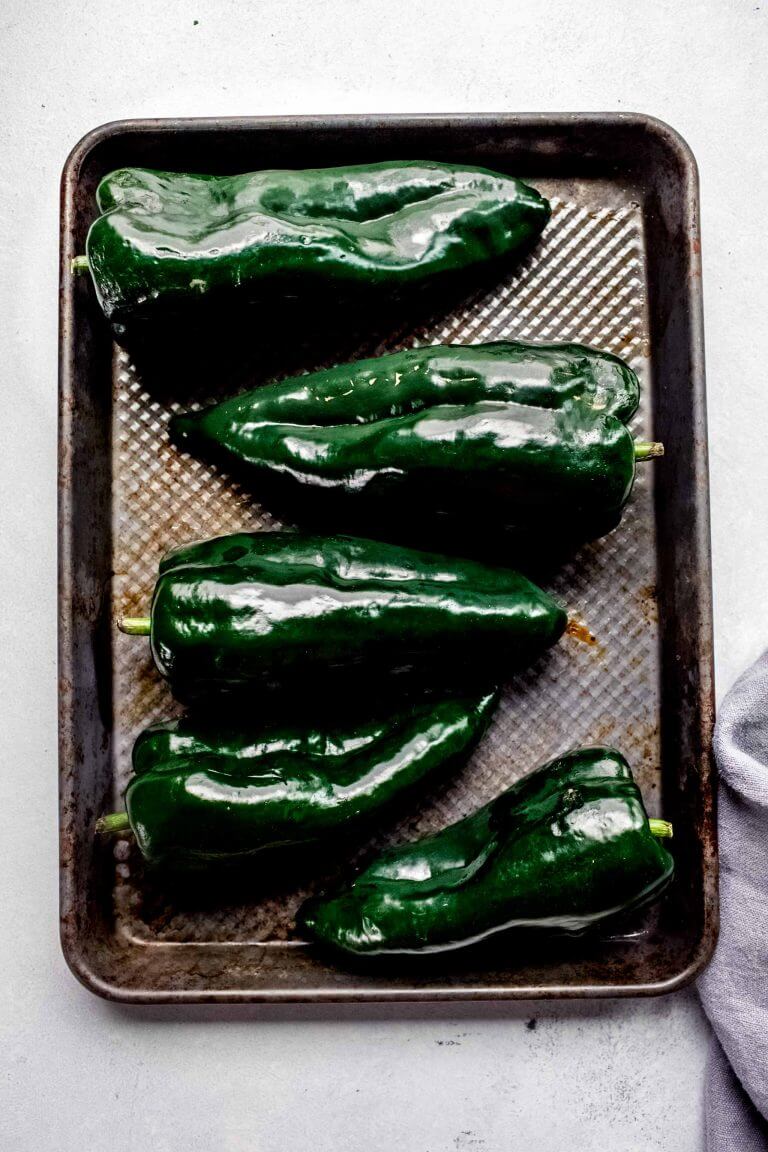 Ingredients needed
Poblano Peppers – If you can't find poblanos, this recipe will also work with bell peppers.
Ground Beef – Or, you can use ground chicken, or ground turkey, or see my suggestions below for making this dish vegetarian.
White Rice
Olive Oil
Onion & Garlic
Tomato Paste
Cumin
Dried Currants – These are optional, but they add a great tang.
Pepitas – These are shelled pumpkin seeds. They're also optional, but delicious!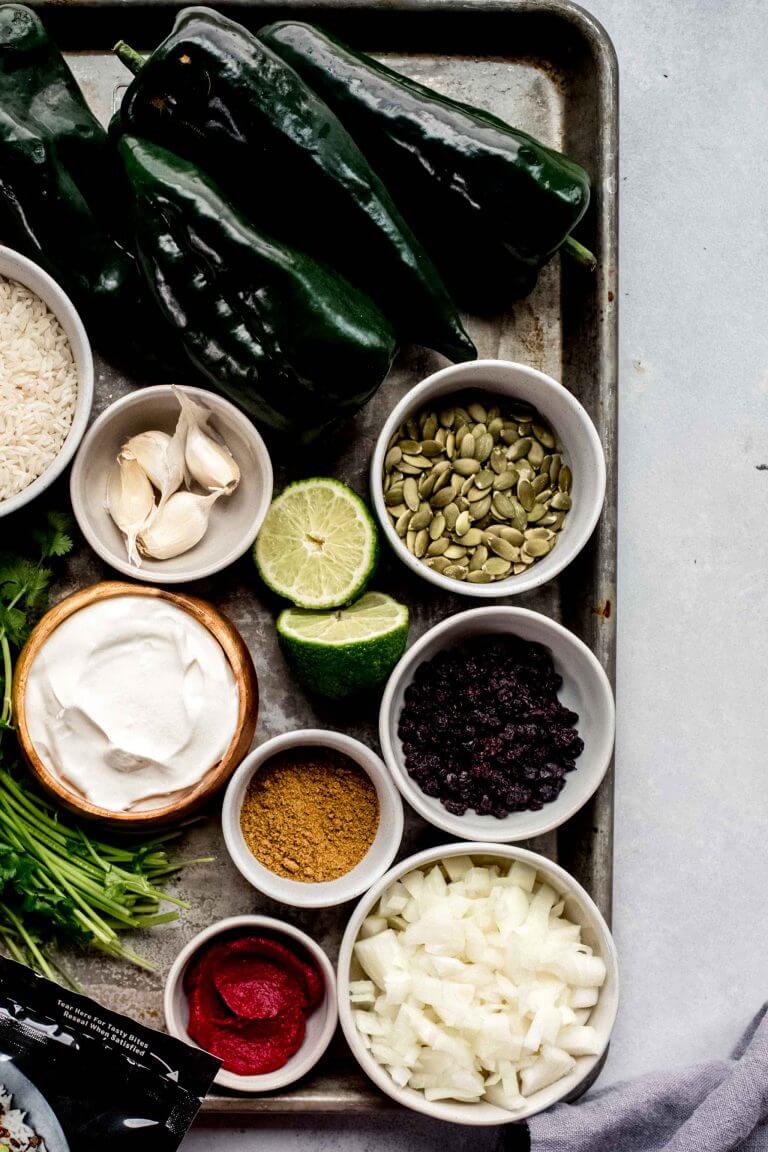 Lime crema ingredients
Mexican Crema (or Sour Cream)
Lime Juice
Cilantro
How to make lime crema
Simply combine 1/2 cup mexican crema (or sour cream) with the juice of one lime and 1/4 cup chopped cilantro.
If you're not a fan of cilantro, these peppers would also be delicious topped with some chipotle crema.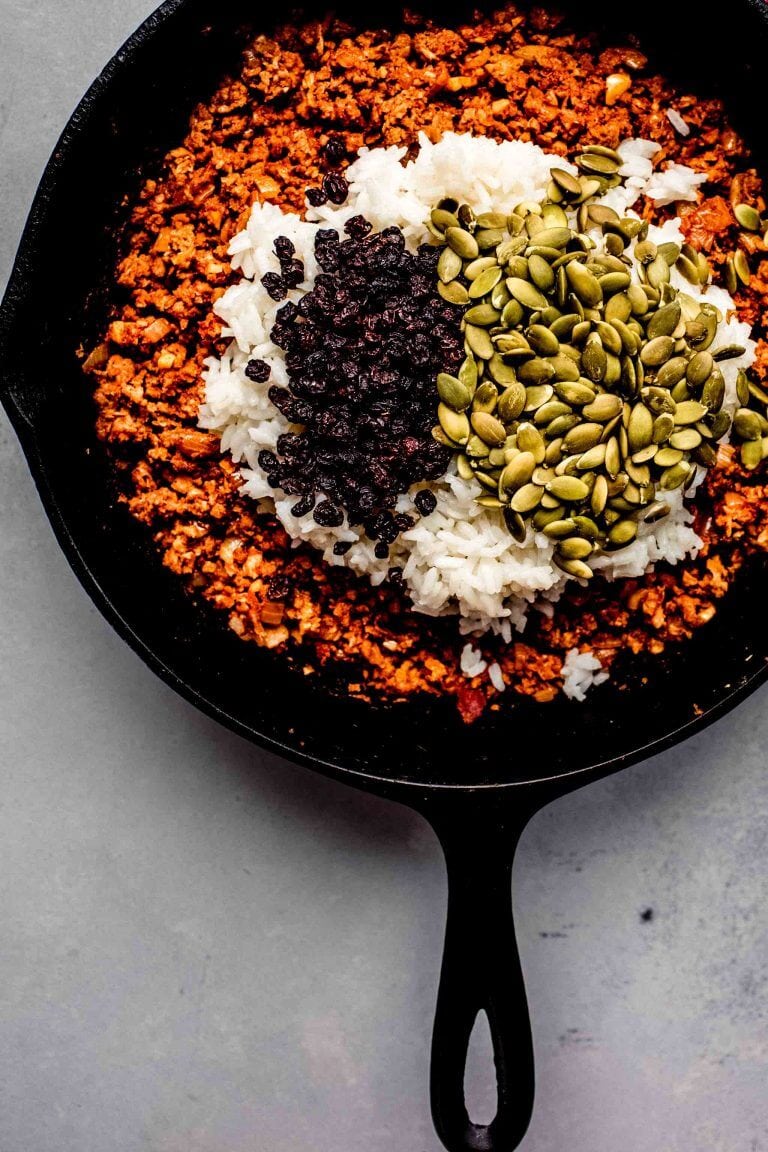 Variations
Cheese Stuffed Poblano Peppers: Add 1/2 cup cheese to the stuffing mixture, then top with an additional 1/2 cup cheese and bake.
Chicken Stuffed Poblano Peppers: Substitute the ground beef for ground chicken or shredded chicken, or ground turkey.
Vegetarian Stuffed Poblano Peppers: Swap out the ground beef for vegetarian crumbles, tofu, or canned black beans or pinto beans.
Shrimp Stuffed Poblano Peppers: Use cooked and chopped shrimp in place of the ground beef.
Sausage Stuffed Poblano Peppers: Swap in ground sausage for the ground beef.
Quinoa Stuffed Poblano Peppers: Swap out the rice for cooked quinoa. (I like making my quinoa in the instant pot.)
How to make ahead & store
Leftovers will keep in an airtight container in the fridge for up to three days. You can reheat them in the microwave or in a 350-degree oven for about 30 minutes.
Can you freeze them?
These stuffed peppers will last in the freezer for up to three months. Simply stuff the peppers and wrap them tightly with plastic wrap. When you're ready to eat them, thaw them in a baking dish in the refrigerator overnight. Once thawed, bake in a 350-degree oven for 30-40 minutes, until heated through.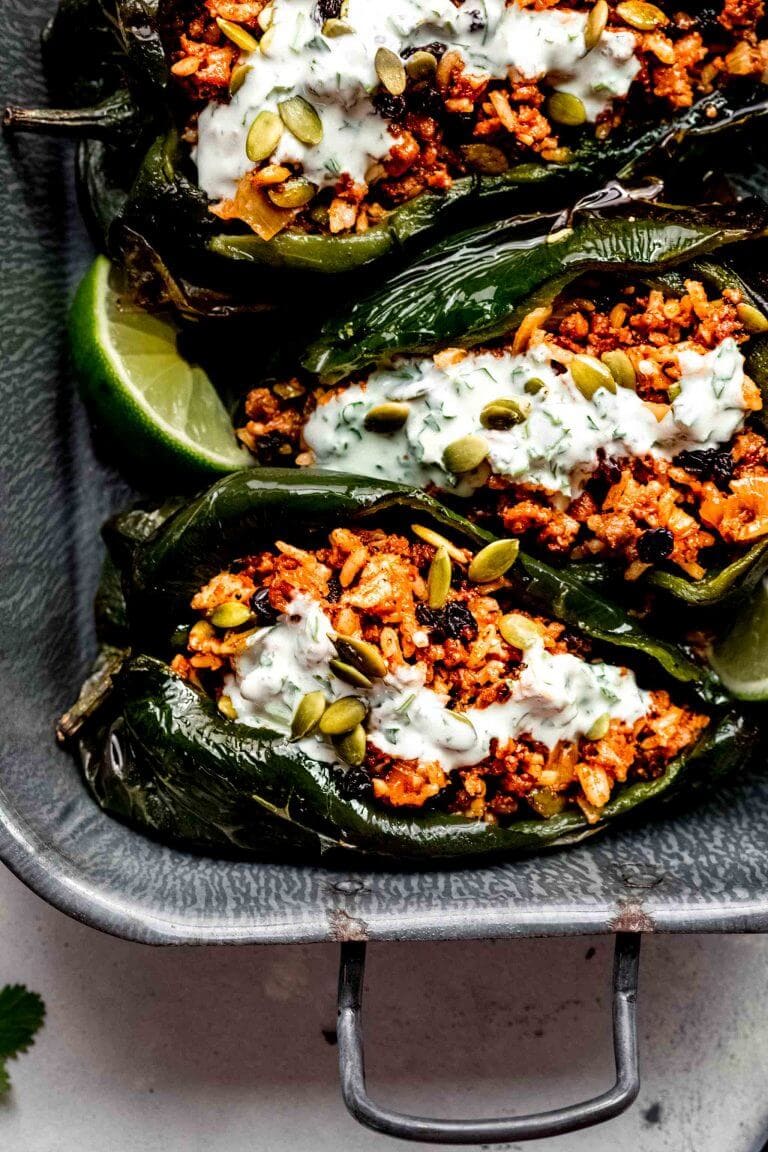 Recipe FAQs
Are poblano peppers hotter than bell peppers?
Poblano peppers are quite mild, but they are hotter than a bell pepper. A bell pepper has a Scoville measurement of 0 units. A jalapeno has a Scoville measurement that's anywhere from 2,500 – 8,000 units. A poblano pepper measures from 1,000 – 1,500 on the scale.
Do you have to peel poblanos before stuffing?
Nope! The skin actually helps the peppers hold together while they bake. Sometimes, if you are charring the peppers for a recipe, you'll want to peel them. But this is not the case in this recipe.
Wine pairings
Zinfandel, Malbec and Merlot – Red wines with a hint of sweetness to them tend to pair well with this hearty, spice-forward dish.
More Mexican-style dishes
Did you try this stuffed poblano peppers recipe?
If you loved these stuffed poblanos I would appreciate it so much if you would give this recipe a star review! Also, be sure to snap a picture of your finished dish and share it with me on Instagram using the hashtag #platingsandpairings and tagging me @platingsandpairings.
For more great Platings and Pairings recipes, be sure to follow me on  Instagram, TikTok, Pinterest and Facebook.
Be sure to check out these 10+ sauces for stuffed peppers too.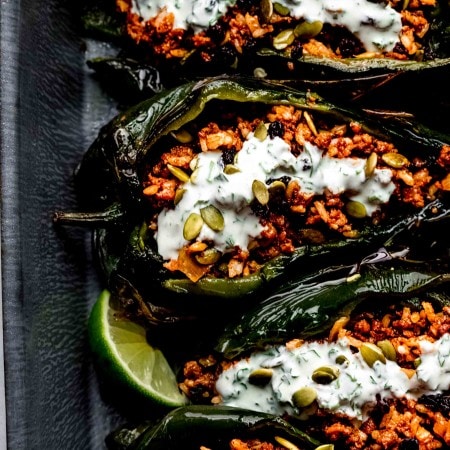 Stuffed Poblano Peppers Recipe
Stuffed Poblano Peppers loaded with a mixture of beef & rice and topped with a zesty lime-crema. This healthy recipe will be on your table in 30 minutes.
Print
Pin
Instructions
Preheat oven to 500 degrees.

In a small pot, combine the rice, 1 cup of water and a big pinch of salt. Bring to a boil then cover and reduce the heat to low. Simmer 15 minutes. Remove from heat and fluff with a fork. Set aside.

Place poblano peppers on a sheet pan. Roast in the oven for 10-15 minutes, or until the skin is browned and blistered. Remove from the oven and set aside to cool, leaving the oven on. When cool enough to handle, make a lengthwise slit in each pepper and remove and discard the ribs and seeds.

While the peppers cool, in a large skillet, heat oil on medium-high until hot. Add garlic and onion. Cook, stirring frequently, 2-3 minutes, until softened. Stir in the tomato paste and cumin. Cook, 2-3 minutes. Add ground beef. Cook, breaking the meat apart with a spoon, until cooked through. Stir in the currants, pepitas and cooked rice; season with salt and pepper, to taste.

Stuff each pepper with the filling. Bake 4 to 6 minutes, or until heated through. Remove from the oven.

While the peppers bake, in a small bowl, combine Mexican crema, lime juice, half the cilantro and 1 tablespoon of water. Season with salt and pepper to taste.

Drizzle the peppers with lime crema and sprinkle with remaining cilantro. Enjoy.
Nutrition
Calories:
394
kcal
|
Carbohydrates:
42
g
|
Protein:
20
g
|
Fat:
17
g
|
Saturated Fat:
2
g
|
Cholesterol:
50
mg
|
Sodium:
260
mg
|
Potassium:
794
mg
|
Fiber:
5
g
|
Sugar:
14
g
|
Vitamin A:
845
IU
|
Vitamin C:
106.1
mg
|
Calcium:
114
mg
|
Iron:
4.3
mg
This post was originally published in 2015. It was updated in 2021 to add new photographs and again in 2023 to update the content. The stuffed poblano peppers recipe remains the same. Enjoy!
Check out the web story here.