Learn how to make Cheese Fondue at home with this classic, easy recipe. This is the best appetizer to serve at parties because it can be made in just 15-minutes and everybody loves it!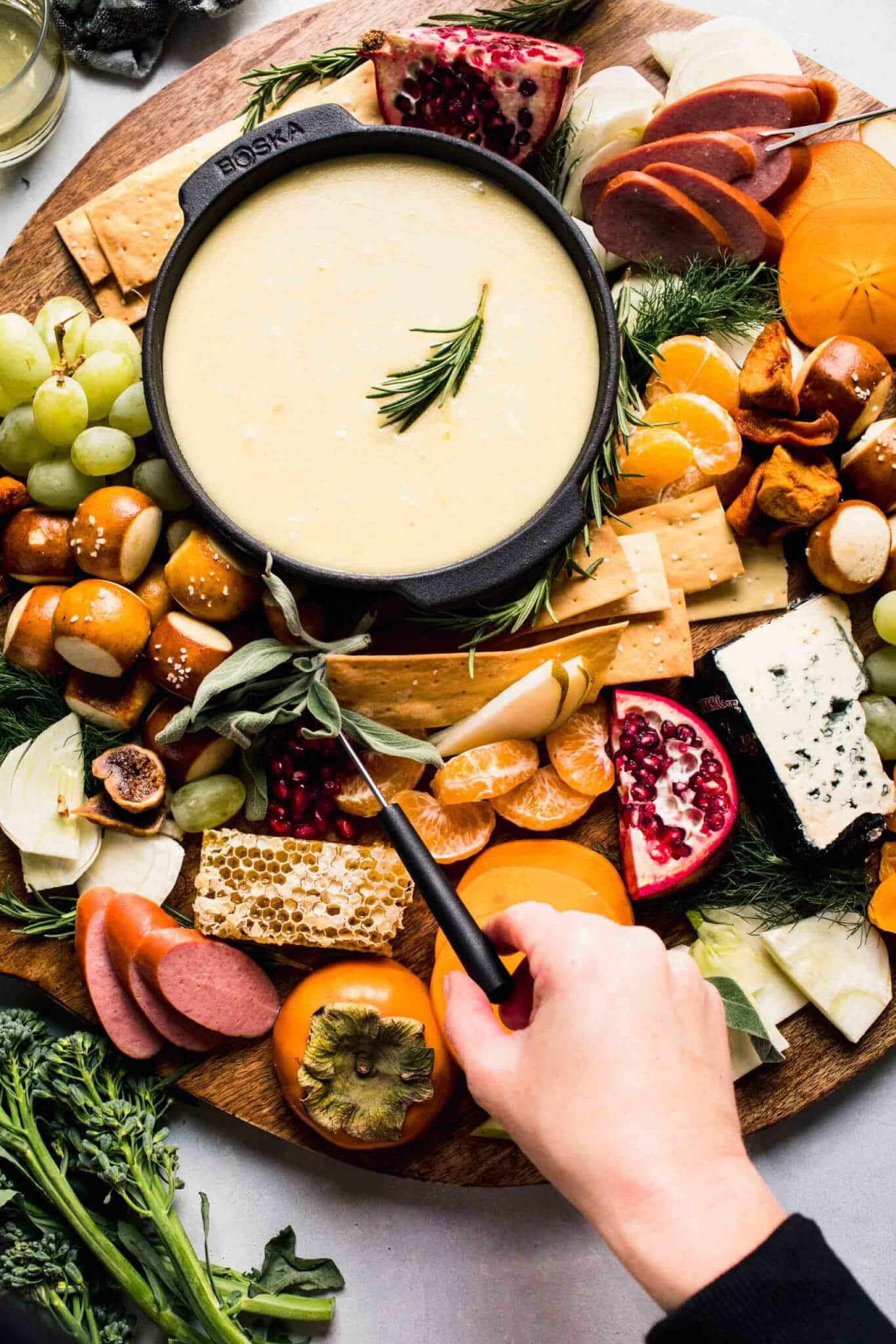 Recently my husband had the great idea to have a fondue party. And I have to say that it was seriously the most fun we've had eating in a long time! It's definitely going to become a regular occurrence at our house, especially now that Amazon delivered our snazzy new fondue pot.
If you've never had it before, you may be wondering…
ℹ️

What is a fondue? 
Fondue is a dish in which bite-sized pieces of food are dipped into a hot liquid. That liquid could be oil or broth (good for dipping meat into), cheese, or even chocolate for a dessert fondue.
The recipe I'm sharing with you today is for a classic cheese fondue. It's a creamy cheese sauce that's made with a little bit of gruyere cheese and emmental cheese and it's so much fun to make!
🧀

What cheese is best for fondue? 
The cheese for fondue is traditionally a blend of Emmental and Gruyère. However, swiss cheese, comté, raclette, fontina, gouda, and cheddar are also often used.
🥄 What's the best wine to use for fondue?
The best white wines for fondue are Pinot Gris, Sauvignon Blanc and un-oaked Chardonnay.
📋 Why does cheese fondue need wine?
The wine isn't just used to flavor the fondue. Its acid also helps to keep the cheese from stringing together. So, if you'd like to make a non-alcoholic fondue, substitute 1 cup chicken broth and 1/4 teaspoon lemon juice for the wine, for that bit of acidity.
🧑‍🍳

What kind of pot to use? 
I like to use a heavy cast iron or enameled cast iron fondue pot. I prefer them because they can go from stove to table, they heat evenly, hold heat well, and are super durable. These fondue pots come with a stand, and underneath you light a candle or fuel to keep the cheese warm as you eat.
Looking for an electric fondue pot? This one gets great reviews.
You can also set up a double boiler and cook your fondue on the stove.
🛒

What do you need for a fondue? 
Besides the fondue pot, you will also want the following items:
Long fondue forks (typically come with a fondue set) or long wooden skewers.
Side plates.
Forks and possibly knives.
Napkins.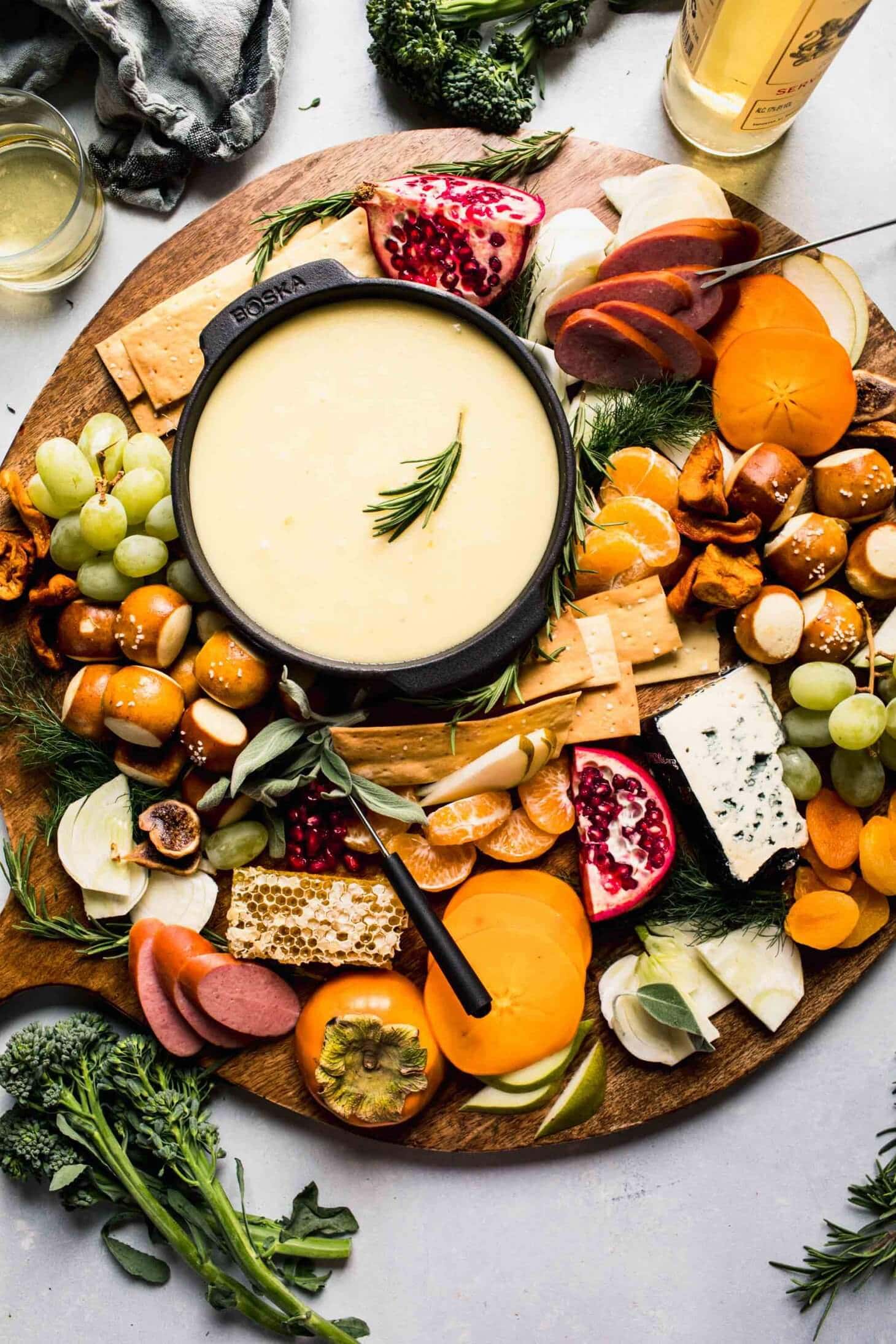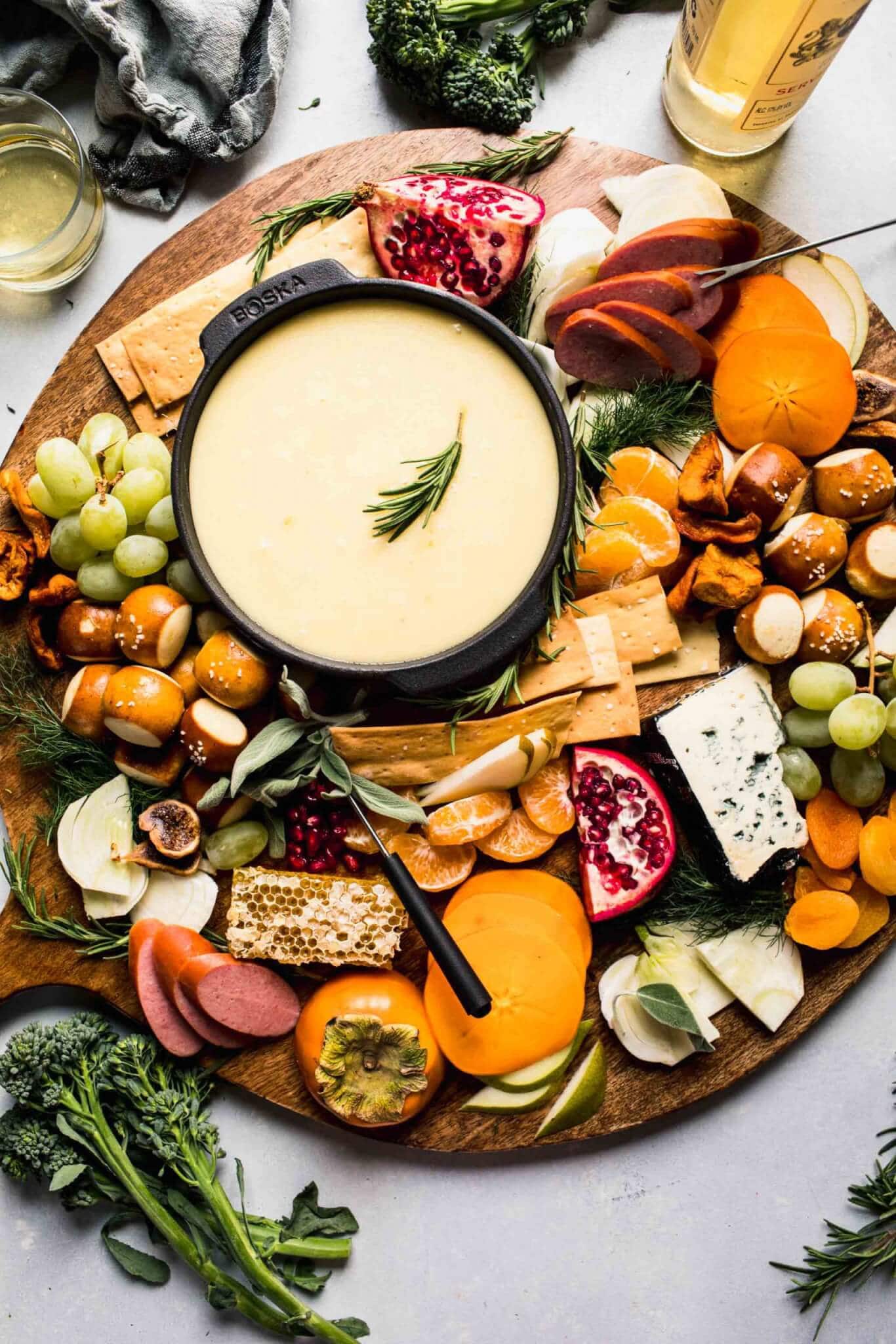 🌟

Tips on how to avoid grittiness with fondue 
Don't use pre-shredded cheese. Typically those cheese are coated with powders to prevent them from sticking and clumping together, and that will add grit to your fondue.
Coat your grated cheese with cornstarch. This prevents clumping and makes for the absolute creamiest fondue.
Add cheese slowly. Add your cheese handful by handful, stirring and melting between each addition.
✔️

Simple tips for melting the cheese
Start the fondue cooking on the stove. Not by using the fuel that comes with the fondue set. If you are using a cast iron pot, you can place it directly on the stove and then transfer the pot to its stand. However, if you are using a ceramic pot, you will want to cook the fondue in a separate pot on the stove first, then transfer it to the fondue pot.
Add the cheese slowly and stir in a zig zag pattern between each addition, to ensure the cheese melts smoothly.
🕕

Tips for making fondue ahead of time
It's best not to make fondue ahead of time because it can separate, and turn gritty. Also, because it will cool together into one big mass, it's actually quicker to just make it from scratch than to reheat a big lump of cheese. Instead, I recommend pre-shredding the cheeses and assembling all your dippers ahead of time. That way, the cooking process will be easy when it's time to serve.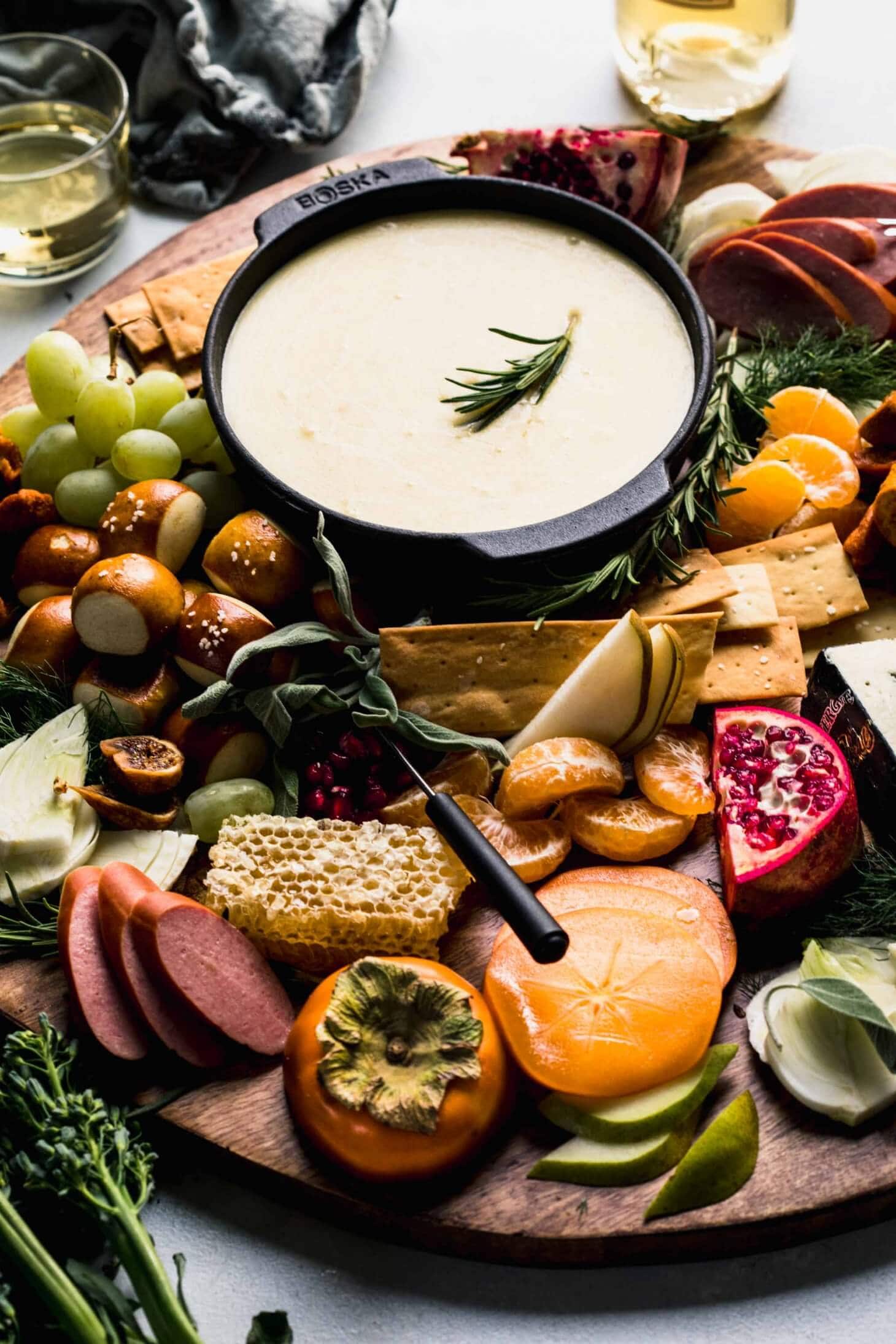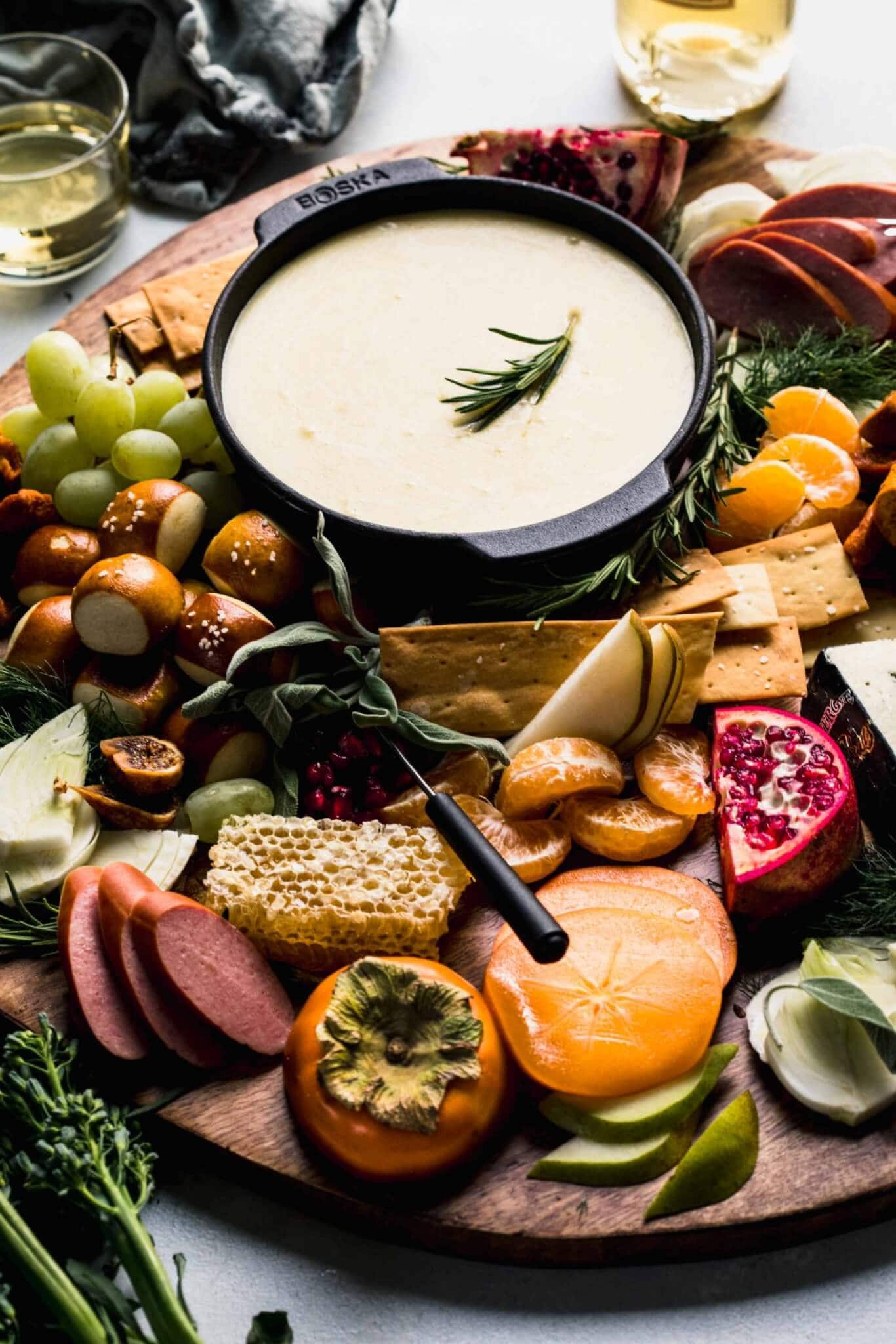 👩‍🍳 Fondue Recipe Variations
Cheddar fondue recipe: Swap in sharp cheddar cheese for the Gruyere and Emmental and Irish whiskey for the kirsch.
Beer cheese fondue recipe: Substitute beer for the wine.
Fondue recipe without wine: Substitute 1 cup chicken broth and 1/4 teaspoon lemon juice for the wine. The acidity from the lemon is essential to keep the cheese from stringing together.
🥨

What to dip in cheese fondue
Here are some great fondue dippers –
Bread Cubes
Potatoes
Granny Smith Apples
Pears
Dried Apricots
Oranges (strange – but it works!)
Kielbasa
Ham
Steak
Salami
Brussels Sprouts
Asparagus
Broccoli
Cauliflower
Fennel cut in thin slices
Baby Carrots
Cherry Tomatoes
Pickles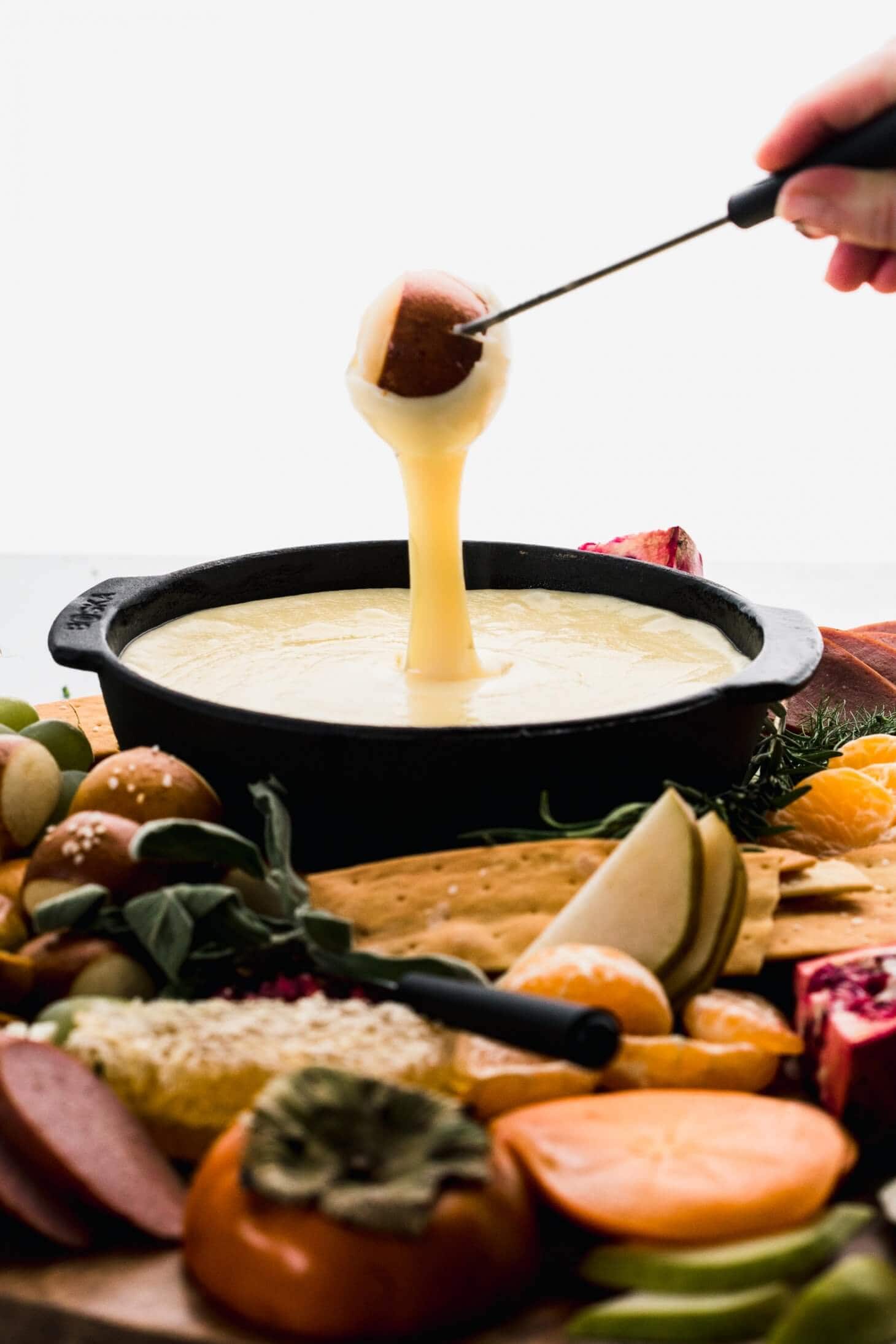 🍷 Wine pairings for fondue
White Wine: Dry or off-dry Riesling, Grüner Veltliner, Chenin Blanc
Red Wine: Pinot Noir or Beaujolais
🍴

What side dishes go with fondue? 

This recipe would be perfect for valentine's day and is also a perfect appetizer for a new year's eve celebration. Kids and adults love it so much. But, you don't need a special occasion! Fondue parties are fun any night of the week, especially with this simple recipe.
If you loved this swiss fondue recipe I would appreciate it so much if you would give it a star review! Also, be sure to snap a picture of your finished dish and share it with me on Instagram using the hashtag #platingsandpairings and tagging me @platingsandpairings.
For more great Platings and Pairings recipes, be sure to follow me on Pinterest, Facebook, YouTube and Twitter.
Looking for more easy appetizer recipes? Be sure to try these Sausage Bites in White Wine with Creamy Mustard Dip, Bacon Wrapped Dates, Steak Bites, or Ham & Cheese Pinwheels.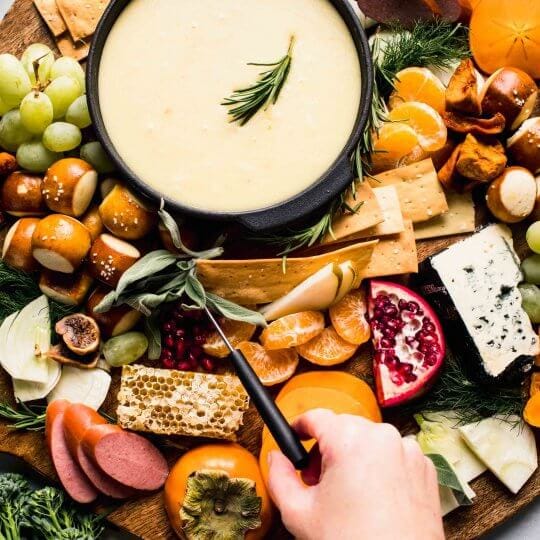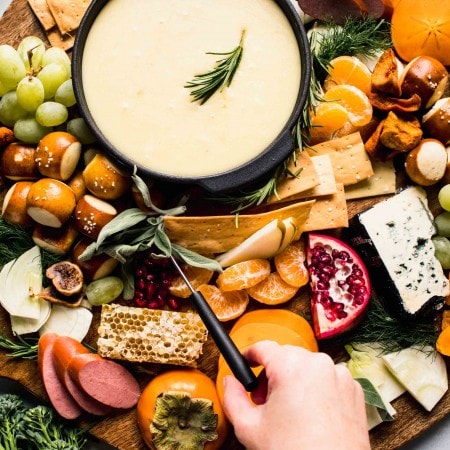 Cheese Fondue Recipe
Learn how to make Cheese Fondue at home with this classic, easy recipe. This is the best appetizer to serve at parties because it can be made in just 15-minutes and everybody loves it! 
Print
Pin
Instructions
Rub the cut side of garlic all over a stove-safe fondue pot (or other pot if transferring to ceramic fondue pot).

Add wine and bring to a simmer on your stove over medium-high heat.

Meanwhile, toss grated cheese with cornstarch in a large ziploc bag or in a mixing bowl.

One handful at a time, stir cheese into hot wine in a zigzag pattern, letting it melt before adding an additional handful. Once completely melted, add kirsch, if using, and let heat 1-2 minutes. Taste and season with salt, pepper and nutmeg. Serve with your favorite dippers.
Nutrition
Calories:
493
kcal
|
Carbohydrates:
7
g
|
Protein:
29
g
|
Fat:
35
g
|
Saturated Fat:
22
g
|
Cholesterol:
112
mg
|
Sodium:
463
mg
|
Potassium:
128
mg
|
Sugar:
1
g
|
Vitamin A:
1039
IU
|
Calcium:
861
mg
|
Iron:
1
mg
This post was originally published in December 2020. It was updated in October 2021. The original recipe remains the same. Enjoy!
Check out the web story.