A no soak recipe for pressure cooker lentils with perfect results every time. Using this super easy water to lentil ratio and cook time makes for the best, tender lentils in your Instant Pot.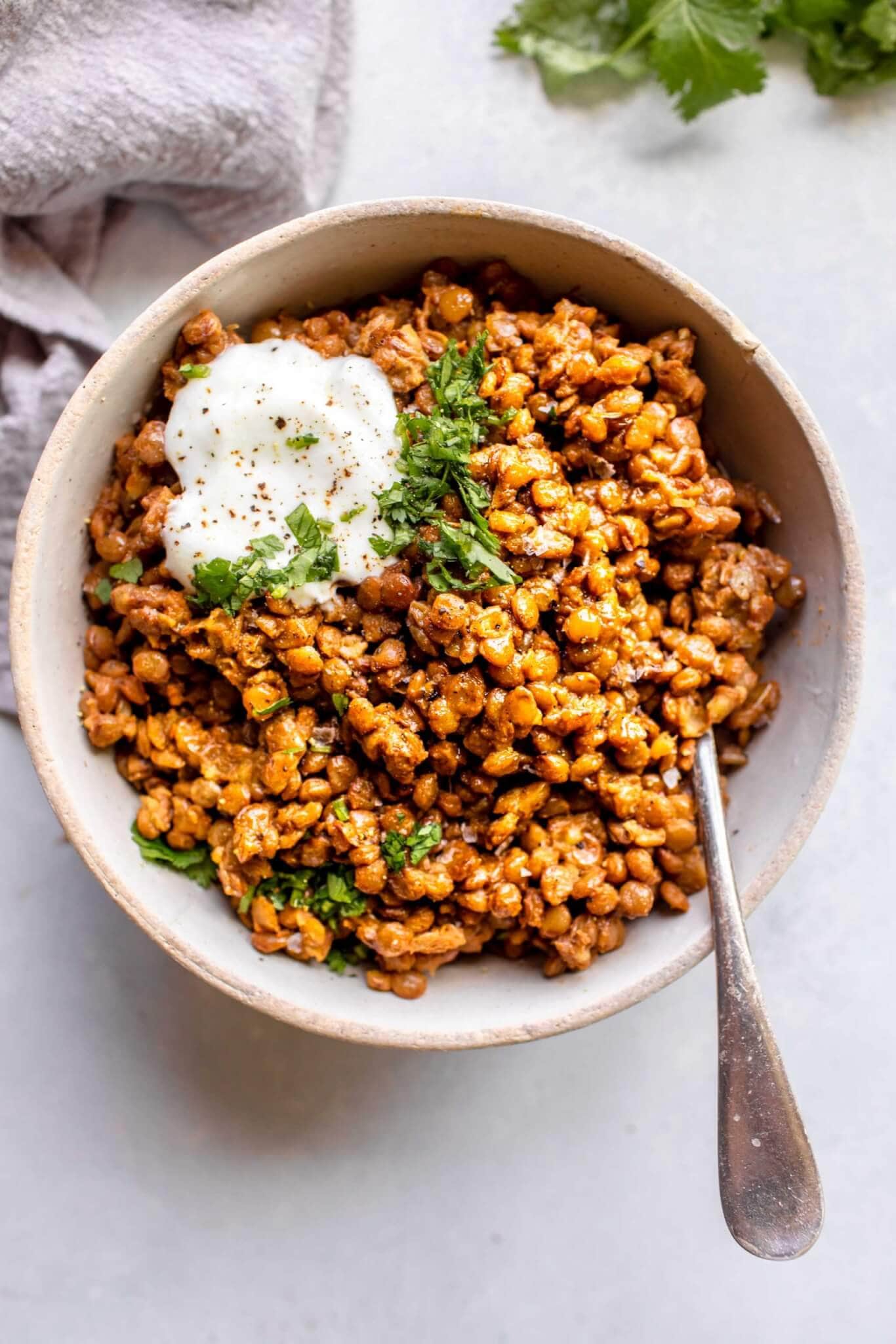 It seems whenever I'm cooking bean-based dishes lately, I always use the Instant Pot. It saves so much time, and I love how hands-free it makes the cooking process with no soaking.
While I've made Instant Pot Lentil Soup and Instant Pot Cheesy Southwestern Lentils, I thought it was time to just write a straightforward post on how to cook lentils in the Instant Pot.
Made with simple seasonings, to use in other recipes or to just eat plain on their own, perhaps with a dollop of sour cream and a sprinkle of cilantro?
As with other Instant Pot recipes I've tested, I find that when cooked in the Instant Pot, the spices in recipes become a bit less noticeable. So, I amped up these Instant Pot Lentils with a few of my favorite spices – cumin, onion powder and paprika.
I also used my homemade Instant Pot Bone Broth as the stock (I had it on hand in the freezer), but you can swap it out for some boxed chicken or beef broth too.
Lentils are such a healthy dish to have on hand. They are technically "pulses" – the dry, edible seeds of plants in the legume family, which also includes chickpeas, beans and split peas. They're naturally high in protein and fiber, but low in fat. And, if you're looking for ways to eat healthier, adding lentils into your daily routine is definitely a great way to do it.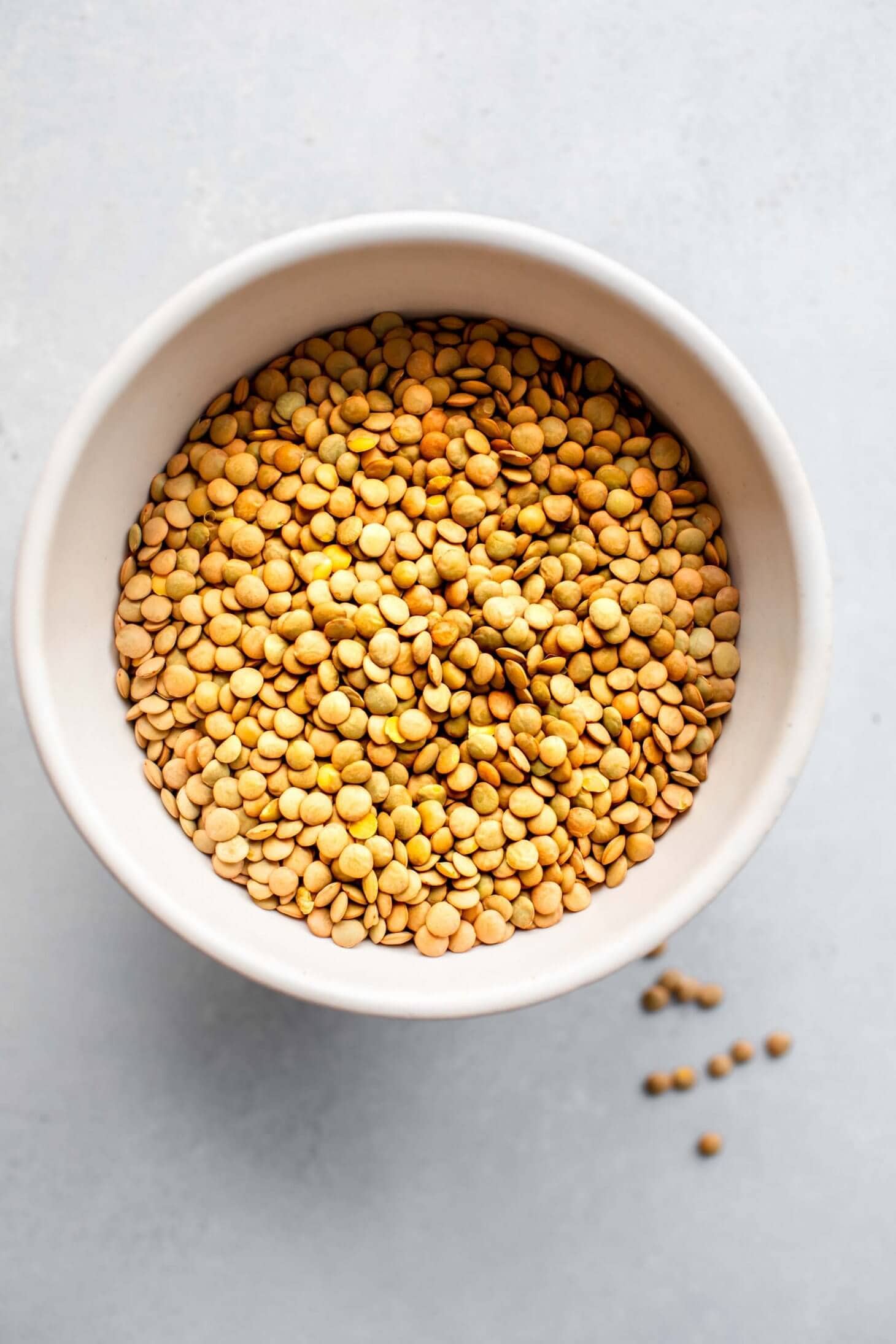 How to Choose Good Dried Lentils
Because fresher lentils cook up quicker and more tender than old lentils, I generally buy my lentils in the bulk section of the grocery store, where turnover tends to be quicker. After purchasing lentils, aim to use them up within a few months.
What Types of Lentils Work Best? 
Green lentils, brown lentils and black lentils will all cook in 10 minutes in the Instant Pot. They will be tender, but firm. Red lentils will become mushy in the Instant Pot, but can be useful in soups and stews. The cook time for red lentils in the Instant Pot is only 5 minutes.
Do You Have to Soak Lentils Before Cooking Them?
When making lentils in the Instant Pot, you don't have to soak them. However, you should give lentils a good rinse in a colander and pick through them to be sure there are no hidden stones.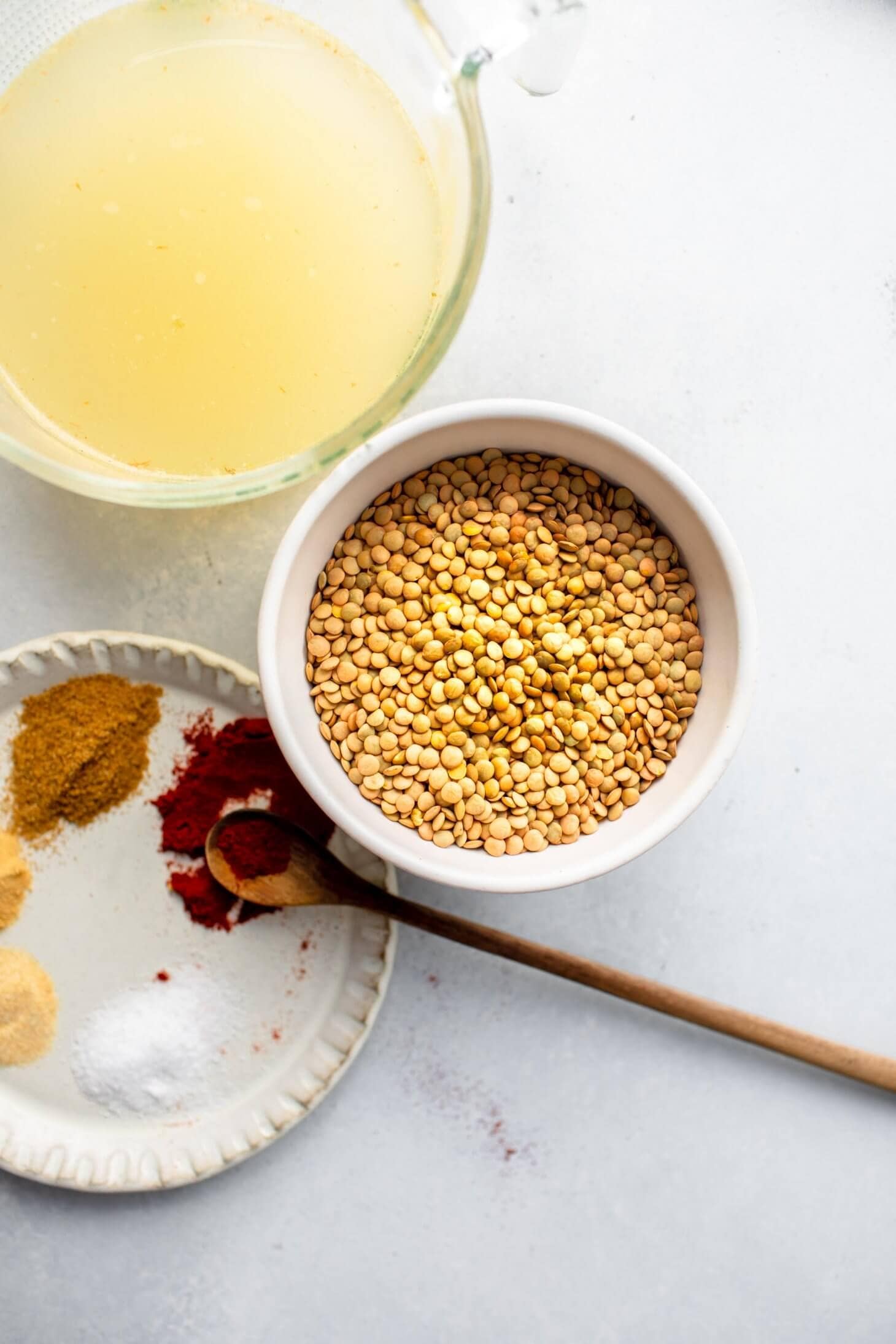 How to Cook Lentils in the Instant Pot
Add lentils, broth and spices to the pressure cooker. Stir.

Place the lid on the Instant Pot and set to seal.

Cook on high pressure for 10 minutes.

After the time is up, do a quick release by turning the sealing valve.

Remove the lid and season with salt and pepper, to taste.
How Long to Pressure Cook Lentils
The cook time to make pressure cooker lentils is 10 minutes, however, you need to also take into account the time it takes for the pressure to build in the pot. It will take about 15 minutes for the pressure to build, then the countdown timer will start. So, in total, it will take about 25 minutes to cook instant pot lentils.
Water to Lentils Ratio
The water to lentils ratio for cooking lentils in the Instant Pot is 2:1. So, if you are cooking 1 ½ cups of lentils, use 3 cups of stock or water. You can easily double or triple the recipe as well. The cook time will remain the same, though it will take longer for the pressure to build and release in the pot.
Tips for Flavoring Lentils
Add spices when the lentils go into the instant pot – I like to add cumin, onion powder, and paprika. But you can use any spices you enjoy – cayenne, oregano, thyme and rosemary are all great additions.

Before cooking, use the saute function of your Instant Pot to brown up some onion and garlic. Then, add in the lentils and cook.

I like to cook my lentils in instant pot bone broth to give them great flavor and add protein. You can also cook them in vegetable broth.

When the lentils have finished cooking, a drizzle of balsamic vinegar or lemon juice will add some great acidity and brighten the lentils up a bit.

Fresh herbs sprinkled over the cooked lentils are delicious. Try parsley or cilantro.
How Much Does 1 Cup of Dried Lentils Make?
1 cup of dry lentils makes about 2 ½ cups of cooked lentils and is about four servings. 
How Do You Know When Lentils are Cooked?
Lentils are cooked when they become tender, and are no longer crunchy. While most lentils will take about 10 minutes in the instant pot, older lentils may take longer to cook. If you find that your lentils aren't yet tender, just put the lid back on the pot and add another minute or two.
How to Freeze Cooked Lentils
Cooked lentils will keep in the freezer for up to three months. I like to package them into ziploc bags and freeze them flat. This helps to save room in your freezer and makes for quicker thawing.
More

Instant Pot Basics Recipes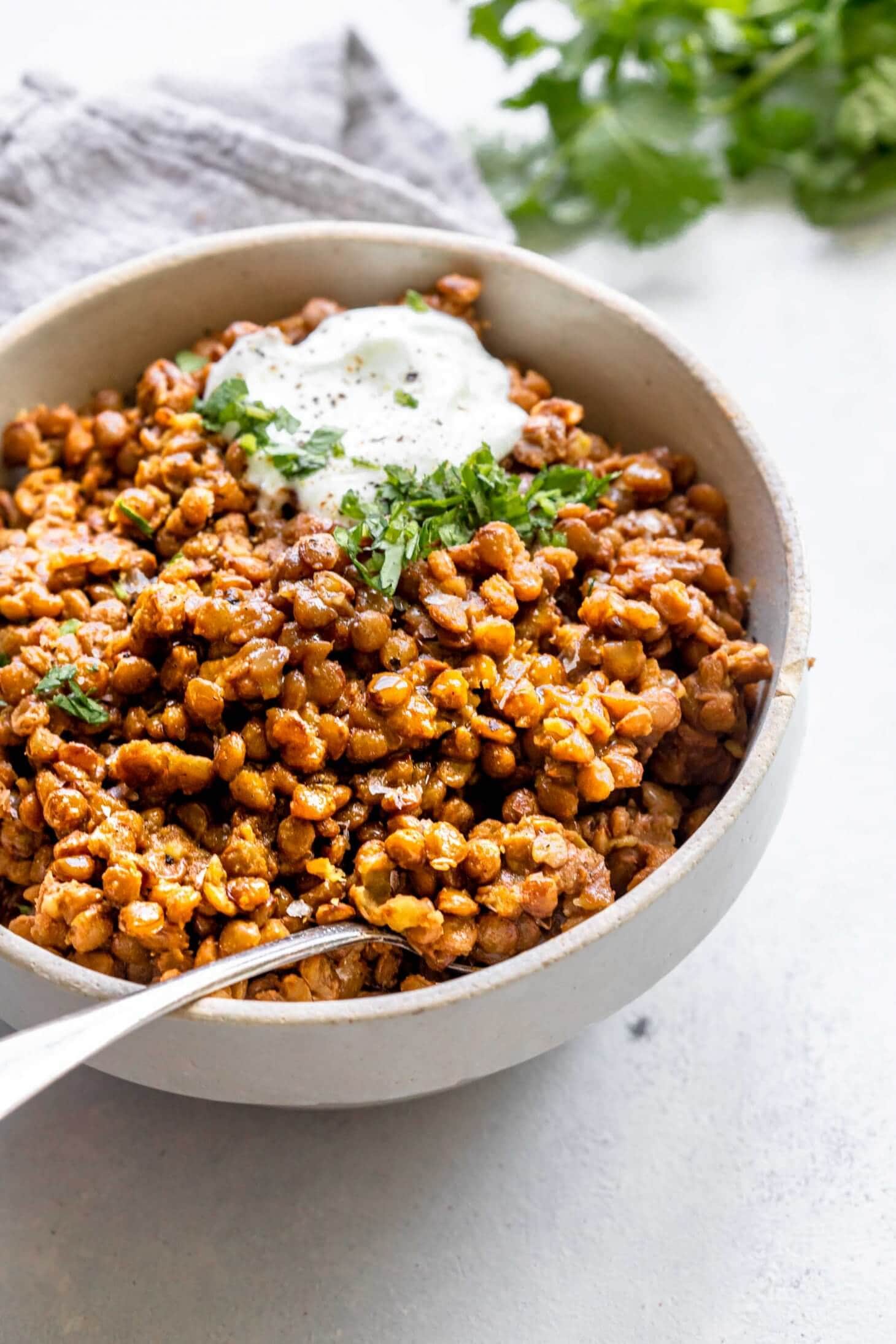 More

Lentil Recipes
Did you try this instant pot lentils recipe?
If you loved these lentils in the pressure cooker, I would appreciate it so much if you would give this recipe a star review! Also, be sure to snap a picture of your finished dish and share it with me on Instagram using the hashtag #platingsandpairings and tagging me @platingsandpairings.
For more great Platings and Pairings recipes, be sure to follow me on Instagram, TikTok, Pinterest and Facebook.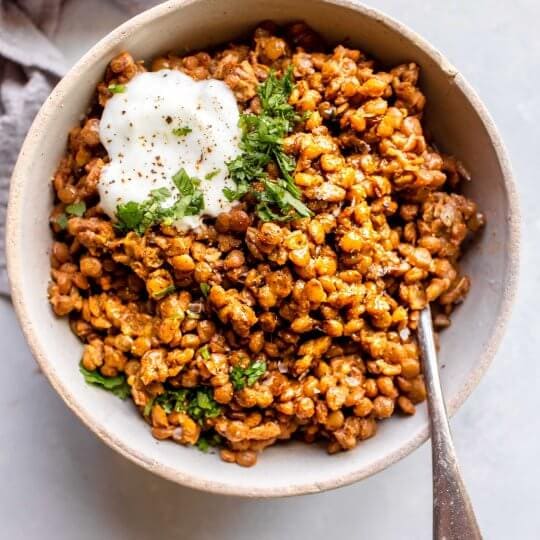 Pressure Cooker Lentils Recipe
A recipe for how to cook lentils in the Instant Pot with perfect results every time. Using this super easy water to lentil ratio and cook time makes for the best, tender lentils in your electric pressure cooker.
Print
Pin
Instructions
Rinse lentils under cold running water and check for rocks.

Add the rinsed lentils, stock, spices and salt to the Instant Pot.

Lock the lid and set the steam valve to its "sealing" position.

Select the "MANUAL" button and cook for 10 minutes on high pressure. It will take about 15 minutes for the pressure to build, then the countdown timer will start.

When the cook time is up, turn to quick release pressure.

Season with additional salt and pepper, to taste
Notes
Cooked lentils can be stored in the refrigerator for up to 5 days or frozen for up to 3 months.
Nutrition
Calories:
218
kcal
|
Carbohydrates:
41
g
|
Protein:
7
g
|
Fat:
3
g
|
Saturated Fat:
1
g
|
Cholesterol:
4
mg
|
Sodium:
368
mg
|
Potassium:
267
mg
|
Fiber:
2
g
|
Sugar:
2
g
|
Vitamin A:
164
IU
|
Vitamin C:
1
mg
|
Calcium:
22
mg
|
Iron:
1
mg
Check out the web story here.