These Pork Medallions with Tarragon Cream Sauce are a rich and delicious dinner that can be made in under 30 minutes with just four ingredients! Perfect for weeknight cooking!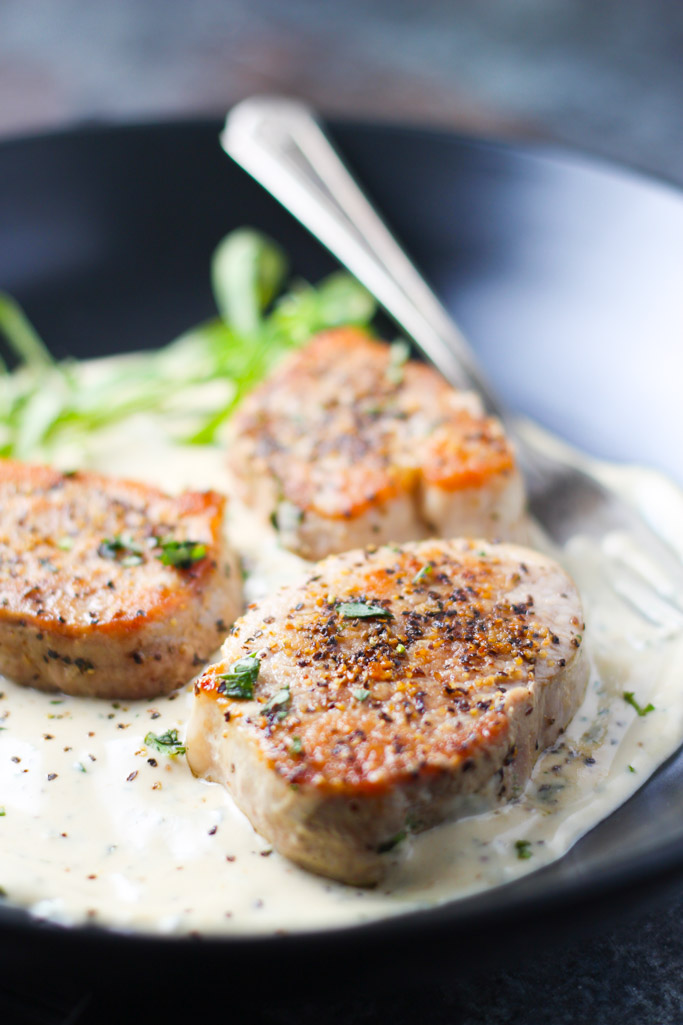 First, I'm going to preface this post by saying I literally licked my plate clean. I mean the sauce is amazing. I think that I may be able to sell this recipe based solely on that fact – If you actually believe me… Hey, the boyfriend was out of town, I cooked this up, and I wanted to lick my plate because it was that good. If I hadn't told you just now, no one would have known…
But I want to sell this recipe. Because I want you to try it.
What else have I got? What else is going to make you want to cook this? I've got more!
The sauce only takes 3 ingredients. Add in the pork medallions, and there's four ingredients total. (I'm counting water, olive oil and salt and pepper as gimmes.)
You can make this delicious dinner in under 30 minutes.
It cooks in one pan.
I will admit that I was a bit skeptical to make this dish at first. It came to me as part of my HelloFresh shipment (I love this service!). The tarragon made me a bit leery. Tarragon is an herb used quite often in French cooking, and it has an anise flavor to it that can be a bit overpowering in certain dishes. In this dish, it worked really well. The reason being that the other ingredients were kept simple, there wasn't a lot of tarragon added, and it's bright, almost astringent-like quality worked really nicely with the creamy sour cream.
To start things off, a tender pork tenderloin is thick sliced and seared in your skillet. Once it's got a good color going on both sides, you'll add in the ingredients to start your sauce: chicken stock concentrate, a bit of water, and the tarragon. Let that reduce a bit, and then add in the sour cream, let it all simmer together for a few minutes further and the juices from the pork will melt into that sauce, flavoring it even further.
Consider serving this alongside some simple roasted potatoes and brussels sprouts for the full meal deal. Just heat your oven to 400 degrees, halve some new potatoes and brussels sprouts, toss them all together with some olive oil, salt and pepper, and let them roast for 30 minutes while you prepare the medallions.
I hope you'll enjoy this dish as much as I did. I also hope that you lick your plate clean and let me know by commenting below, so that I know I'm not the only one…
Pork Medallions with Tarragon Cream Sauce
Pork medallions are simmered in a tarragon cream sauce that's rich and (make you wanna lick your plate) delicious. Plus, this delicious dish comes together in under 30 minutes and takes just four ingredients!
Print
Ingredients
1

pound

pork tenderloin

1 1/2 pounds

2

sprigs fresh tarragon

finely chopped

1

cup

water

2

packets chicken stock concentrate

8

oz

. sour cream

1

tbsp

olive oil

Salt and pepper
Instructions
Slice the pork into 1-inch thick medallions and season with salt and pepper.

Heat the olive oil in a large skillet over medium heat.

Sear the pork for 2-3 minutes on each side, until golden.

Add the tarragon, water and stock concentrate to the pan and simmer until reduced by one-third.

Turn the heat down to low, add the sour cream, and cook until thickened. Season with salt and pepper to taste.
Wine Pairings for Pork Medallions with Tarragon Cream Sauce:
Pinot Noir makes a good match for the earthy flavors in this dish. Plus, it's light enough so as to not overpower the lean pork.
If you're looking for a white wine option, try an unoaked Chardonnay. It makes for a nice match with the tarragon and its body stands up nicely to the cream sauce.