This Beet Risotto with Goat Cheese is a delicious dish that's perfect for Valentine's Day but craveable every day of the year!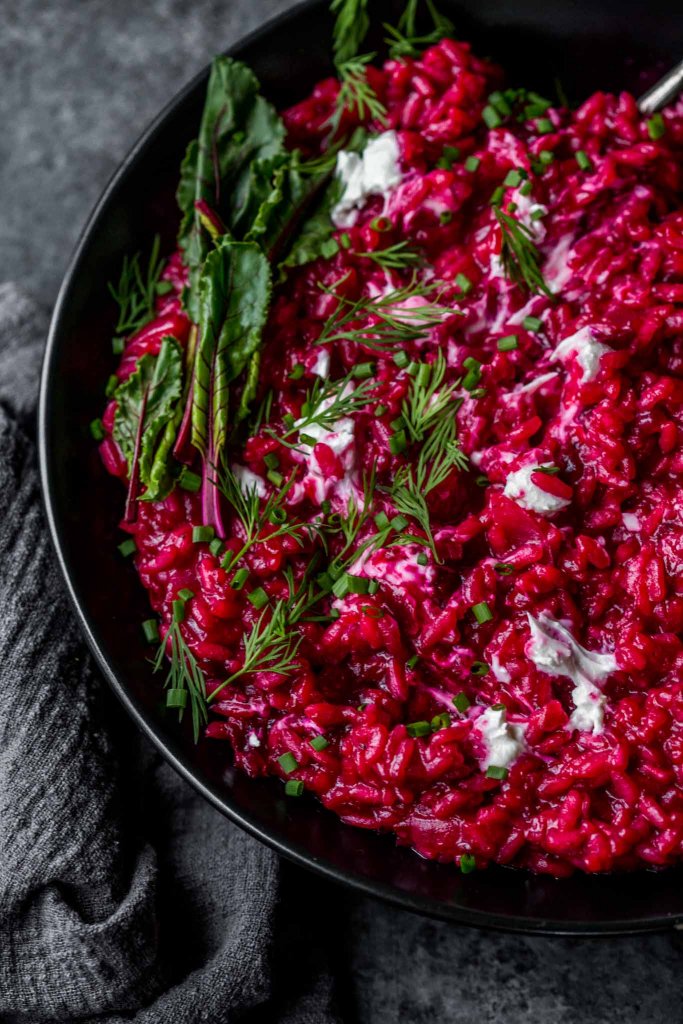 I've mentioned in previous posts that I LOVE making risotto in the winter – Standing in front of a warm stove and unconsciously stirring away is a bit like meditation for me. And, as an added bonus, you're left with a pot of creamy, comforting deliciousness at the end.
Love or hate the holiday, Valentine's Day is coming. What's more suitable than a bowl of bright red beet risotto with goat cheese? Even if you're single, and staying home for the occasion, you need this dish in your life! Plus, it will pair awesomely with a bottle of sparkling wine, which is always appreciated on this holiday. Again, if you're single… More wine for you!
Are you one who likes to go out on Valentine's or would you prefer to stay in? I know that here in Portland, if you're not on the ball with making your dinner reservations, you can be out of luck pretty quickly! And, I have not even started thinking about booking someplace yet…
This beet risotto with goat cheese is the perfect dish to cook with your date – There's not a lot of work, just a lot of stirring – So there's plenty of time to just hang out in the kitchen, enjoy a glass of wine and turn on some Frank Sinatra. Plus, the wine's cheaper, so you can splurge on an extra special bottle! (Or, go the budget-friendly sparkling wine route and buy 2 bottles.)…