This Spaghetti alla Nerano recipe is a rich and creamy pasta made with fried zucchini and parmesan cheese. It's a restaurant-worthy dish with gourmet flavors, but comes together in minutes!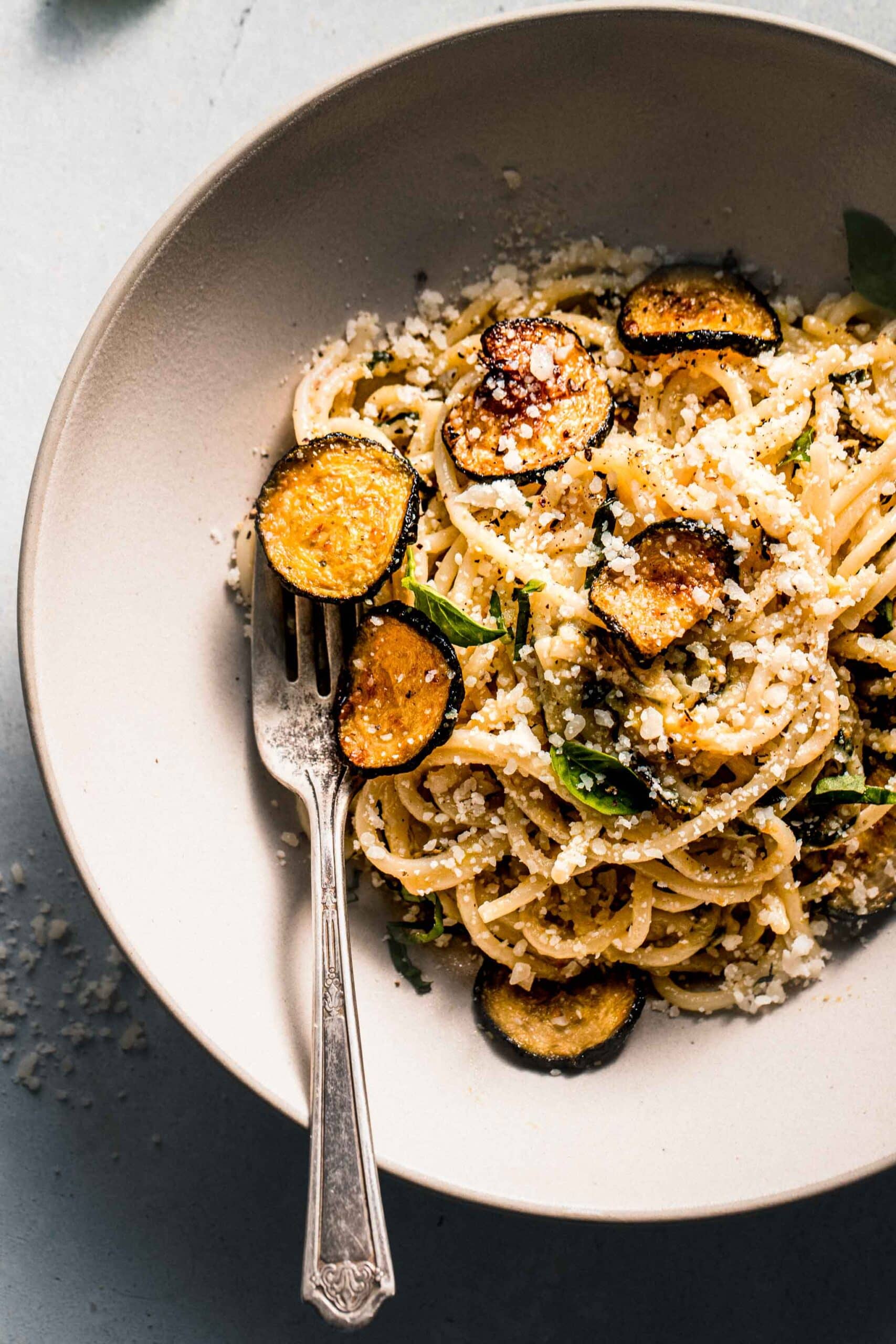 Looking for more close-to-authentic Italian pasta recipes? Then don't miss my Spicy Diavolo Sauce, Bolognese Sauce, and Italian Sunday Sauce. 
If spaghetti served with cheese and zucchini sounds great to you, then you'll love Spaghetti alla Nerano. This "life-changing" and "unbelievable" pasta dish was made famous during a segment on Stanley Tucci's Searching for Italy. He claimed it as one of the best things he's ever eaten, and I couldn't agree more!
ℹ️ What is spaghetti alla Nerano?
Spaghetti alla Nerano is a simple pasta dish with minimal ingredients and gourmet flavors. Preparation differs from one Italian kitchen to the next, but at the heart of this humble dish is fried zucchini and al dente spaghetti. The results are light and fresh, yet creamy and oh-so-satisfying!
The first spaghetti alla Nerano was made in Nerano in 1952 by restaurant owner Maria Grazia. Seventy years later, the specifics of that recipe remain a secret. However, there have been many attempts to recreate the discernable difference between spaghetti made the Nerano way and any other pasta zucchini dish.
To mimic the original recipe, the zucchini must be deep-fried. Frying zucchini squash enhances the natural sweetness while adding a toasted, nutty element.
🛒 Ingredients needed
Sunflower oil – I suggest using sunflower oil to fry the zucchini as it's relatively healthy and inexpensive compared to other cooking oils with a high smoke point. You can also use vegetable oil as a substitute if you want.
Zucchini – When shopping, look for zucchini that's small in size, deep green in color, and firm to the touch. These are all tell-tale signs that the vegetable was picked before maturity, meaning it will taste sweeter and contain less water and seeds.
Basil – Fresh basil is non-negotiable.
Kosher salt
Olive oil – Quality matters here, so try to use a rich olive oil or EVOO.
Spaghetti – Or use any long, thin pasta noodle, like angel hair, bucatini, fettuccine, or linguine.
Parmesan – For authenticity's sake, the best cheese is semi-aged provolone del Monaco. Since it's a hyper-regional cheese, it can be hard to find. Parmesan, caciocavallo, or other types of provolone (or a mixture!) grated directly from the block are suitable substitutions.
📋 How to make spaghetti alla Nerano
Pour the sunflower oil into a large pot and bring it up to a gentle boil. Add the zucchini and let the slices sizzle until golden brown.
Transfer the fried zucchini slices to a paper towel-lined plate to drain. Next, toss them with basil, salt, and a drizzle of olive oil.
Bring a large pot of water to a boil and cook the spaghetti until al dente. Reserve 2 cups of the pasta water before draining.
Next, toss the cooked pasta with the fried zucchini in a large skillet over medium-low heat. Stir in the reserved pasta water until the sauce is creamy.
Add the parmesan and continue tossing until the pasta is coated, the zucchini is incorporated, and the sauce is thick and silky.
Season with a little salt, olive oil, and grated parmesan, then enjoy!
🌟 Tips and tricks
Be prepared to multitask! This recipe moves very quickly. While the zucchini fries, you can bring a pot of water to a boil for the spaghetti. The pasta will be finished cooking at the same time as the zucchini, so all that's left to do is season, toss it all together with parmesan, and serve.
After draining the pasta, don't rinse it! The starch on the surface helps the sauce cling to each strand of spaghetti.
For an even thicker, creamier dish, you can puree about ⅓ of the fried zucchini slices in a food processor or blender. Toss the pureed zucchini in with the remaining ingredients at the end.
👩‍🍳 Customize it
The simplicity of this recipe leaves plenty of room for customization. Here are some of the many ways you can make this spaghetti with veggies your own:
Add flavor-enhancing aromatics – In a large skillet, saute finely diced sweet onion or shallots and freshly minced garlic until softened. Then toss with cooked spaghetti, fried and seasoned zucchini, and cheese.
Bring variety to the veggies – Try making this dish with zucchini and yellow squash. Fried mushrooms would also be delicious!
Gluten free pasta Nerano – Use your favorite long, thin gluten free pasta noodles.
Vegetarian/vegan – Use your favorite meltable vegan parmesan or mozzarella instead of real parmesan cheese.
Finish with a crunch – Top the finished spaghetti with a layer of flavorful, subtly crisp homemade or store-bought breadcrumbs or crushed homemade croutons.
🍽 Serving suggestions
The only thing you need to add to make this recipe a meal is thick, crusty bread to soak up the sauce. As for what else goes well with spaghetti alla Nerano, I suggest looking through these 40+ Easy Sides for Pasta or sticking with simple veggie-forward sides and salads, like:
PS. Don't forget about these traditional Italian desserts!
🕕 Make ahead and storing
You can fry the zucchini up to 5 days ahead to get a headstart on this dish. Let the slices cool completely before storing them in an airtight container in the fridge until you're ready to toss them with the pasta.
Nerano-style spaghetti is best enjoyed hot from the skillet, so I don't recommend making extras. If you have leftovers, store them in the fridge. Just know that once the dish cools down, the cheese clumps together.
🍷 Wine pairings for spaghetti alla Nerano
Enjoy this delicate, flavorful pasta dish with a light, full-bodied white wine like Pinot Grigio and Sauvignon Blanc.
You could also go with a crisp Prosecco to match the sauce's richness.
Looking for more pasta and wine pairings? —> The 7 Best Wines to Pair with Pasta.
🍝 More easy pasta recipes
​​​​Did you make this Spaghetti alla Nerano?
If you loved this simple pasta recipe, I would appreciate it if you gave it a starred review! Also, be sure to snap a picture of your finished dish and share it with me on Instagram using the hashtag #platingsandpairings and tagging me @platingsandpairings.
For more great Platings and Pairings recipes, be sure to follow me on Instagram, TikTok, Pinterest and Facebook.
Spaghetti Alla Nerano Recipe
This Spaghetti alla Nerano recipe is a rich and creamy pasta made with fried zucchini and parmesan cheese. It's a restaurant-worthy dish with gourmet flavors, but comes together in minutes!
Print
Pin
Instructions
Add the sunflower oil to a large pot and bring to a boil over medium-high heat.

Fry the zucchini in the oil until golden brown, about 5-6 minutes. Remove with a slotted spoon and set aside on paper towels to drain.

Combine the fried zucchini with basil and salt, to taste. Drizzle with olive oil.

Cook the pasta until al dente and reserve 2 cups pasta cooking liquid before draining.

Add the cooked pasta to a large skillet over medium low heat. Toss with the cooked zucchini, adding pasta cooking liquid, as needed, until the sauce reaches a creamy consistency.

Add the parmesan, and continue tossing, until the pasta is coated in the parmesan and zucchini and the sauce is nice and creamy. Season with additional salt, to taste.

Drizzle with additional olive oil and serve with additional parmesan on the side.
Notes
Zucchini can be made up to 5 days ahead of time.
Nutrition
Calories:
1100
kcal
|
Carbohydrates:
100
g
|
Protein:
33
g
|
Fat:
32
g
|
Saturated Fat:
15
g
|
Polyunsaturated Fat:
7
g
|
Monounsaturated Fat:
7
g
|
Cholesterol:
44
mg
|
Sodium:
906
mg
|
Potassium:
1130
mg
|
Fiber:
7
g
|
Sugar:
10
g
|
Vitamin A:
1337
IU
|
Vitamin C:
54
mg
|
Calcium:
524
mg
|
Iron:
3
mg
Check out the web story here.