Garlic and Oil Pasta (or Spaghetti Aglio e Olio) is a traditional Italian recipe that comes together in under 20 minutes. It's made with a short list of flavorful ingredients, ensuring that it's always simple, quick, and tasty.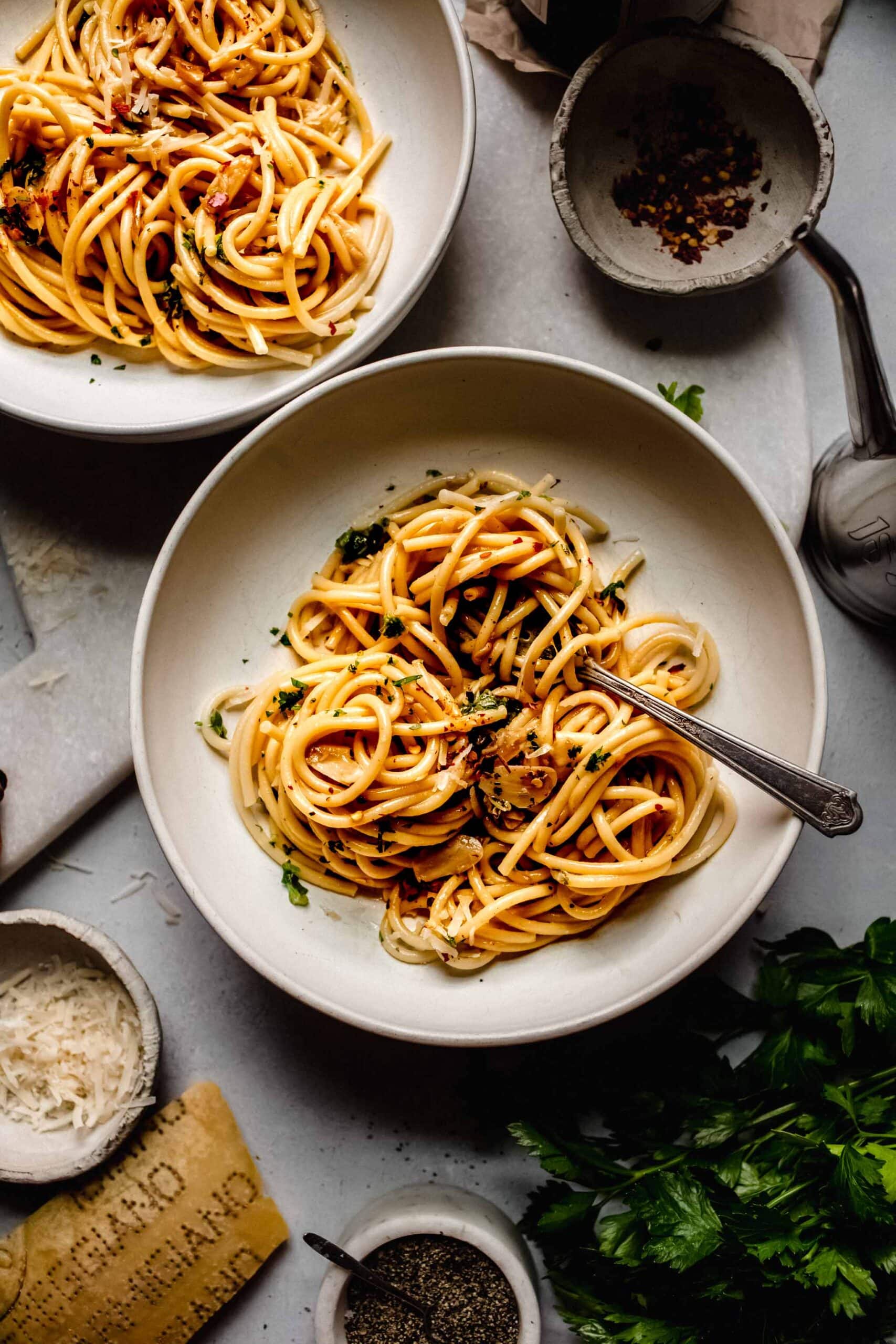 Spaghetti Aglio Olio is Italian comfort food at its finest. This classic pasta recipe is quick, easy, and all-around delicious. Not to mention, it's made with budget-friendly ingredients you probably already have in your pantry.
This simple dish is especially convenient when you're craving homemade Italian food but are short on time. You'll make a glossy EVOO-based pan sauce packed with garlicky, herbaceous, and fiery flavor, then throw in some pasta and toss it all together.
In the end, your subtly spicy and extra savory spaghetti is ready to eat in under 20 minutes!
Because of this, it's often called midnight pasta.
I mean, who hasn't woken up in the middle of the night with a craving for a big bowl of hot pasta?
If I'm waking up in the middle of the night to cook pasta (which I wouldn't put it above me), that recipe needs to come together with minimal effort and it needs to be next level.
This is that dish!
↓ ↓ ↓ ↓ ↓
What is Pasta Aglio e Olio?
Spaghetti aglio e olio (pronounced ah-li-oh eh oh-li-oh) originated in Naples and is a staple throughout Italy. It translates to "spaghetti with garlic and oil," but this simple recipe is so much more exciting than it sounds.
Traditionally, extra virgin olive oil and garlic are enhanced with vibrant parsley and a kick from peperoncino (Italian red hot chile peppers). However, the simplicity of spaghetti aglio e olio leaves plenty of room to make it your own. So, round up a few pantry staples and let's get cooking!
Ingredients You'll Need
This easy, yet ultra-flavorful pasta is made with just a handful of simple ingredients. Despite their simplicity, these 6 basic ingredients come together to give this dish gorgeous and comforting Italian flavors:
Spaghetti – Or any long, thin pasta you prefer, like bucatini, angel hair pasta, fettuccine, or linguine.
Extra virgin olive oil – Since the flavor of the garlic oil really shines in this dish, you'll want to use a high-quality olive oil.
Garlic – The true star of this dish!
Red pepper flakes – It's traditionally made with Italian red hot chile peppers (peperoncino), but red chili flakes are usually easier to come by. If you can find peperoncino peppers, by all means, use those instead!
Parsley – Fresh parsley is best if you have it, but you can use dried. Or try adding in some fresh basil.
Parmesan cheese – Or pecorino cheese (freshly grated). The cheese is optional but always recommended.
How to Make Garlic and Oil Pasta
To cook the pasta noodles, bring a large pot of salted water to a boil. Add the pasta and cook to al dente, according to the package instructions. Be sure to reserve some of the starchy pasta water, then drain the rest.
Work on the garlic and oil sauce while the pasta cooks. Heat the oil in a large skillet, then add the sliced garlic and cook until it begins to turn golden. Add the red pepper flakes and cook for another 30 seconds to wake up the flavor.
Pour the reserved cup of pasta water into the skillet. Bring the liquid up to a simmer and let it cook until the sauce reduces slightly.
Next, add the cooked spaghetti to the pan. Toss to combine with the olive oil sauce, then remove from the heat.
To finish, stir the parsley and parmesan in with the pasta and sauce. Let everything sit for a few minutes while the spaghetti absorbs the sauce, then season to taste and serve hot.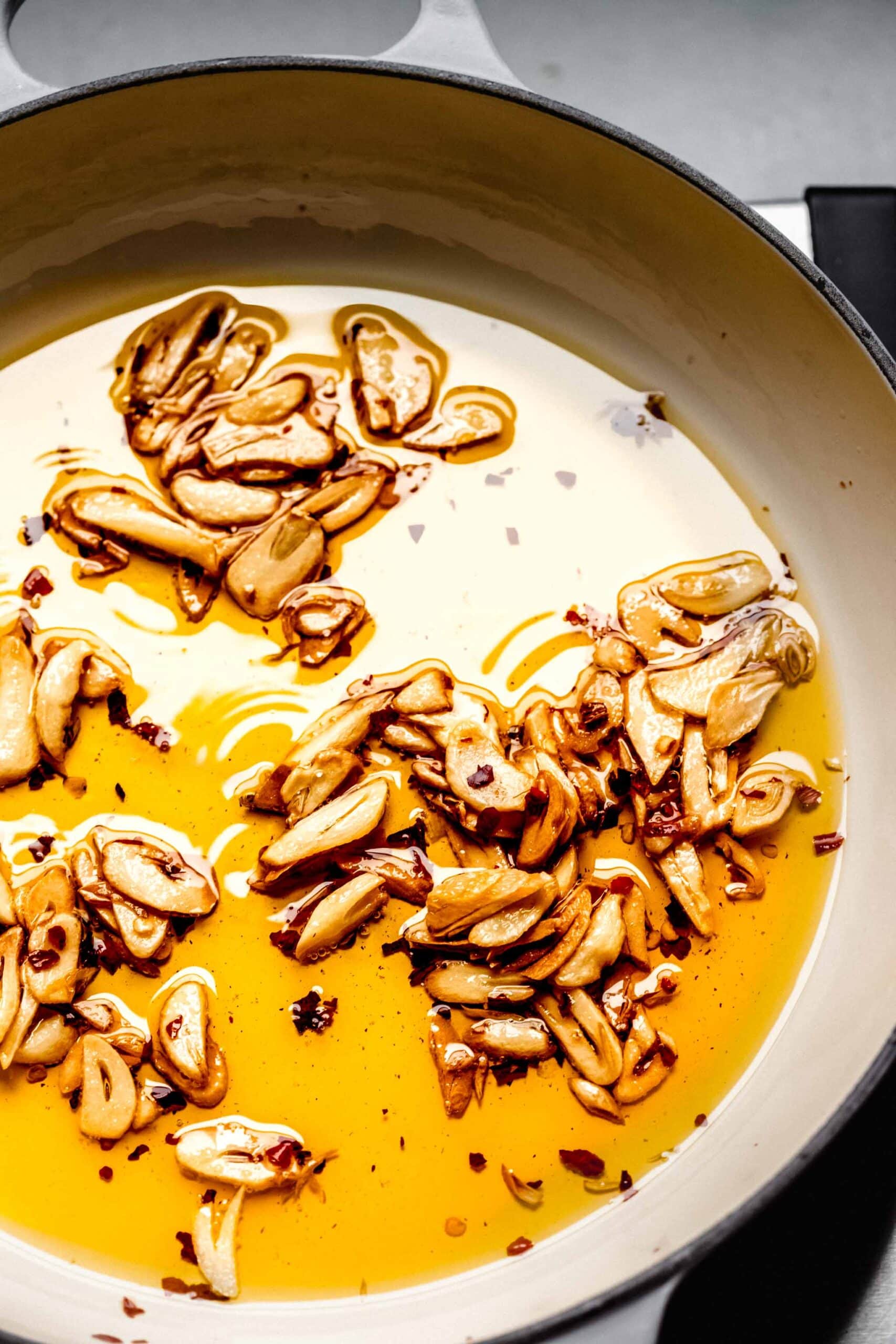 Tips and Variations
Practice "mise en place" by having all of your ingredients chopped and measured before starting. This recipe moves quickly after all!
The garlic can burn quickly. As soon as it becomes fragrant and starts to turn golden, take the pan off of the heat.
Let the pasta dish rest for a few minutes before serving so the spaghetti can absorb more of the luscious sauce.
Garnish the finished spaghetti with breadcrumbs. This adds another layer of flavor and a subtle crunch. If you don't have homemade breadcrumbs on hand (or you don't feel like making them), feel free to use panko, packaged breadcrumbs, or crushed croutons.
You can also top your pasta with these fried capers. They're little pops of goodness and cannot be missed!
Customize It
Use this recipe as a blank canvas for any of these tasty variations:
Add chicken – Prepare simply seasoned chicken breasts in your air fryer or with a sous vide machine to plate with the spaghetti.
Add seafood – Serve the spaghetti with juicy salmon, shrimp, mussels, clams, or anchovies.
Add roasted garlic cloves – Instead of sauteeing raw garlic, try adding in some roasted garlic for added flavor.
Whole wheat spaghetti – Add extra fiber and a nutty flavor to your dish by swapping in some whole wheat pasta.
Add extra flavor – Add some lemon zest, a squeeze of lemon juice and/or fresh basil to your finished dish.
Vegetarian and vegan variation – Aglio e olio is inherently vegetarian and vegan without the parmesan cheese. Feel free to use your favorite vegan parmesan cheese or nutritional yeast instead and add extra veggies, like artichoke hearts, asparagus, broccoli, peas, spinach, mushrooms, green peas, roasted red peppers, or sun-dried tomatoes.
What to Serve with Aglio e Olio
You'll definitely want plenty of crusty bread to soak up the sauce. As for sides, these light, flavorful salads pair perfectly:
Wine Pairings for Aglio e Olio
Light, fruity wines like Pinot Grigio and Sauvignon Blanc pair well with the heat from the hot peppers in spaghetti aglio e olio.
You could also go with a nice Prosecco. The crisp, fresh flavor matches the richness of the sauce.
MORE —> wine pairings for pasta.
Buon appetito!
Did you try this easy pasta recipe?
If you loved this garlic and oil pasta recipe I would appreciate it so much if you would give it a star rating! Also, be sure to snap a picture of your finished dish and share it with me on Instagram using the hashtag #platingsandpairings and tagging me @platingsandpairings.
For more great Platings and Pairings recipes, be sure to follow me on Instagram, TikTok, Pinterest and Facebook.
More comforting Italian recipes:
Garlic and Oil Pasta Recipe
Garlic and Oil Pasta (or Spaghetti Aglio e Olio) is a traditional Italian recipe that comes together in under 20 minutes. It's made with a short list of flavorful ingredients, ensuring that it's always simple, quick, and tasty.
Print
Pin
Ingredients
Spaghetti Aglio e Olio
12

ounces

spaghetti

(or bucatini)

1/3

cup

extra virgin olive oil

(plus more for drizzling)

10

cloves

garlic

(thinly sliced )

Generous pinch red pepper flakes

1/3

cup

fresh parsley

(minced)

2/3

cup

Parmesan cheese

Salt and pepper

(to taste )
Instructions
Bring a large pot of generously salted water to a boil. Cook the pasta to al dente. Set aside 1 1/4 cups of the pasta cooking water before you drain the pasta.

Meanwhile, heat the olive oil in a large skillet over medium heat. Add the garlic and cook 2 minutes, stirring occasionally, until it begins to turn golden. Being careful not to burn the garlic.

Add the red pepper flakes and cook 30 seconds longer.

Add the reserved pasta-cooking water to the garlic and oil and bring to a simmer. Cook 5-6 minutes, until the liquid reduces by 1/3.

Add the cooked pasta to the sauce and toss to combine.

Remove from heat and stir in parsley and parmesan. Let rest 2-3 minutes to allow the sauce to absorb further.

Season with additional salt, pepper and red pepper flakes, to taste. Enjoy.
Nutrition
Calories:
873
kcal
|
Carbohydrates:
141
g
|
Protein:
26
g
|
Fat:
21
g
|
Saturated Fat:
8
g
|
Cholesterol:
30
mg
|
Sodium:
600
mg
|
Potassium:
411
mg
|
Fiber:
6
g
|
Sugar:
5
g
|
Vitamin A:
350
IU
|
Vitamin C:
2.8
mg
|
Calcium:
86
mg
|
Iron:
5.1
mg
This recipe was originally published in 2015. It was updated in 2022 to add new photographs and update the content. Enjoy!
Check out the web story.