Air Fryer Pork Belly is absolutely irresistible! Seasoned with an easy dry rub, these pork belly bites are air fried until they're crispy, tender + juicy.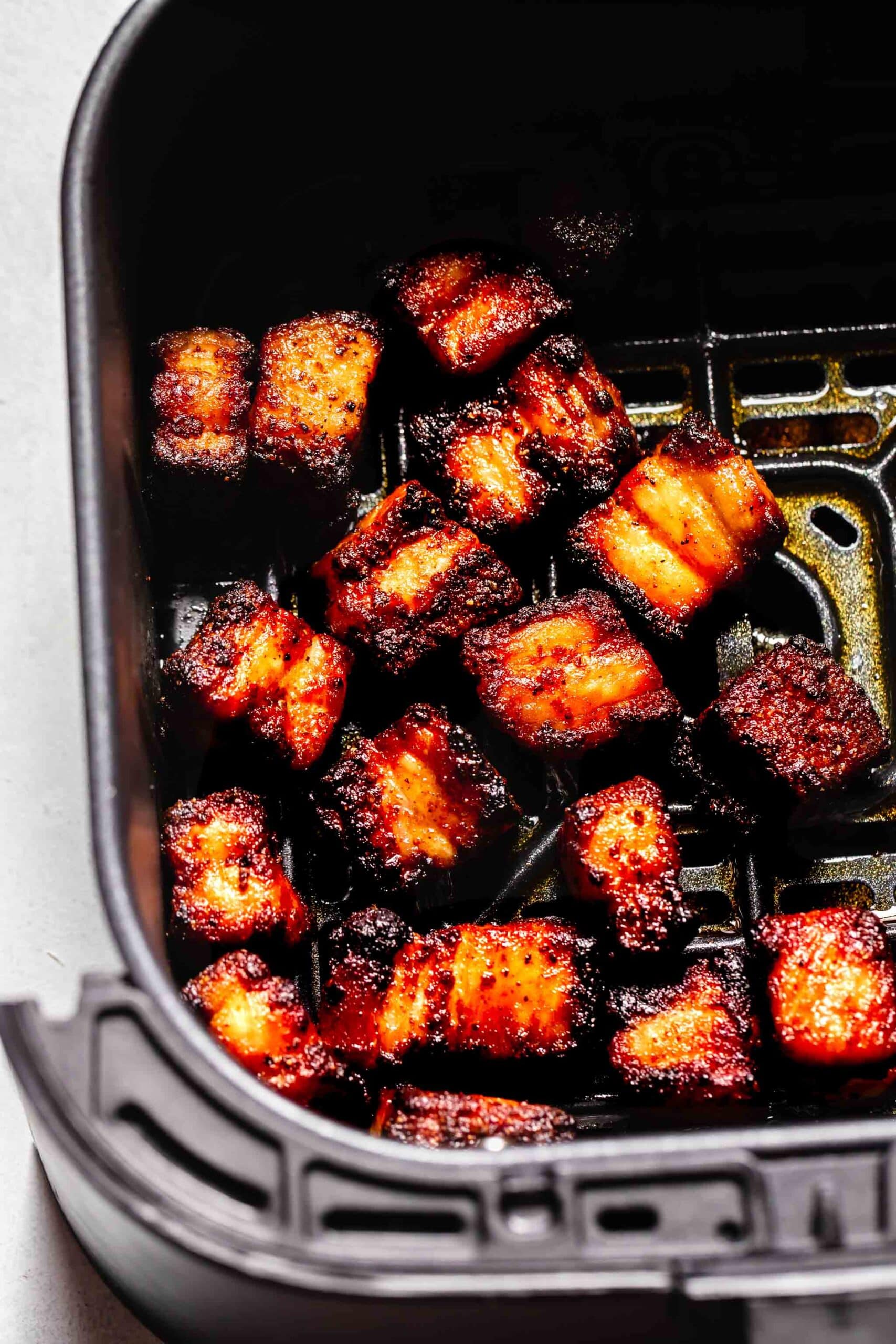 These air fryer pork belly bites may just take the "better than bacon" prize! It makes for a fantastic appetizer, topping on nachos, taco stuffing, main dish, and so much more.
These easy-to-follow instructions will show you how to make the best dry rub for pork before rubbing it all over pork belly bites and then air frying them to crispy perfection!
You'll have these yummy bites on your table in under 20 minutes!
🥓 Bacon vs. pork belly
Both bacon and pork belly come from the underside or bottom of the pig. The major difference between the two lies in the preparation. Bacon is usually smoked, cured, and sliced, whereas pork belly is minimally processed and neither smoked nor cured.
This allows pork belly to be more flexible in its preparation. It can be seasoned, cooked, and sliced any way you like. It also doesn't contain any added nitrates or preservatives, meaning it's slightly better for you.
🛒 Ingredients
Pork belly – Look for bright pink pieces without brown or gray discoloration when you're shopping. The slab of pork belly should have a firm white layer of fat on the top.
Brown sugar – When air fried, brown sugar develops those classic sweet and smoky barbecue flavors you know and love. It also caramelizes around the pork, creating a gorgeous and slightly crispy crust on the surface.
Pork rub spices – A mixture of chili powder, garlic powder, onion powder, kosher salt, and pepper balances the brown sugar with a smoky, savory, and mildly spicy flavor.
📋 How to air fry pork belly
Mix the brown sugar and dry spices together in a bowl to make the pork dry rub.
Pat the pork dry with paper towels.
Cut the pork belly into 1-inch cubes.
Toss the pieces of pork belly in the dry rub mixture to coat.
Now you're ready to begin air frying the pork. Preheat the air fryer to 400-degrees.
Arrange the pork belly cubes in the air fryer basket in a single layer (you may need to work in batches).
Air fry for 16-18 minutes, shaking the basket a few times to ensure even cooking.
Enjoy!
👩‍🍳 Customize it
Get creative and customize your pork belly bites with different seasonings, dry rubs, and sauces:
Swap the dry spices in this recipe for a Cajun seasoning blend.
Make it extra smoky by swapping the spices for my chili seasoning.
Add a pinch of cayenne or chili flakes to the dry rub for extra heat.
Coat the bites of pork in barbecue sauce or white BBQ sauce after they've finished cooking, then return them to the air fryer for 1-2 minutes to "sear" the sauce.
ℹ️ FAQ
How long does pork belly take in the air fryer?
It will take 16-18 minutes to air fryer your pork belly bites. Be sure to shake the basket every few minutes to ensure even cooking. Cooking time will vary based on how thick the bites are.
Can I make pork belly strips in the air fryer?
Yes! You'll just need to increase the cooking time. Pork belly strips will take about 30 minutes in the air fryer cooked at 400-degrees.
How do you know when pork belly is done?
Use a meat thermometer to check that the pork belly is cooked to 200ºF. You can pull it from the air fryer when the internal temperature is between 165ºF to 170ºF, tent it with foil, and let the residual heat finish bringing it up to 200ºF. 
How do you store leftover pork belly?
Let the leftovers cool before placing them in an airtight container. Store them in the refridgerator for 3 to 4 days.
Can you freeze cooked pork belly?
I don't recommend freezing smoked pork belly because it won't have quite the same texture and flavor as when it was originally cooked.
🍴 Serving suggestions
Pork belly makes for a show-stopping main course with sides like mashed potatoes, corn on the cob, and baked beans. But that's not all! Serve it any way you can imagine, such as:
🍷 Wine pairings for pork belly
Opt for a dry, acidic Reisling to compliment the rich layer of fat.
A fruity red with smoky undertones like Pinot Noir or Malbec also pairs nicely with pork.
Did you try these crispy pork belly bites?
If you loved this air fried pork belly I would appreciate it so much if you would give this recipe a star review! Also, be sure to snap a picture of your finished dish and share it with me on Instagram using the hashtag #platingsandpairings and tagging me @platingsandpairings.
For more great Platings and Pairings recipes, be sure to follow me on Instagram, TikTok, Pinterest and Facebook.
If you liked this recipe, be sure to try my recipe for Smoked Pork Belly as well.
More air fryer recipes:
Ingredients
Dry Rub:
2

Tablespoons

brown sugar

1

Tablespoon

smoked paprika

1

teaspoon

chili powder

1

teaspoon

garlic powder

1

teaspoon

onion powder

1

teaspoon

kosher salt

1

teaspoon

black pepper
Instructions
In a large bowl, combine the dry rub ingredients.

Pat the pork belly dry and cut it into 1-inch cubes. Add the pork belly pieces to the dry rub mixture and toss to coat.

Preheat the air fryer to 400-degrees.

Arrange the pork belly cubes in the air fryer basket in a single layer (you may need to work in batches).

Air fry for 16-18 minutes, shaking the basket a few times to ensure even cooking. The internal temperature should reach 165-degrees.

Enjoy!
Nutrition
Calories:
610
kcal
|
Carbohydrates:
6
g
|
Protein:
11
g
|
Fat:
60
g
|
Saturated Fat:
22
g
|
Polyunsaturated Fat:
7
g
|
Monounsaturated Fat:
28
g
|
Cholesterol:
82
mg
|
Sodium:
432
mg
|
Potassium:
262
mg
|
Fiber:
1
g
|
Sugar:
4
g
|
Vitamin A:
687
IU
|
Vitamin C:
0.4
mg
|
Calcium:
16
mg
|
Iron:
1
mg
More how-to guides for meat: