Take barbecue season over the top with this Smoked Tri-Tip recipe. This naturally rich and flavorful steak is well-seasoned, cooked in the smoker, then seared to juicy perfection. A steakhouse-worthy meal in your own backyard!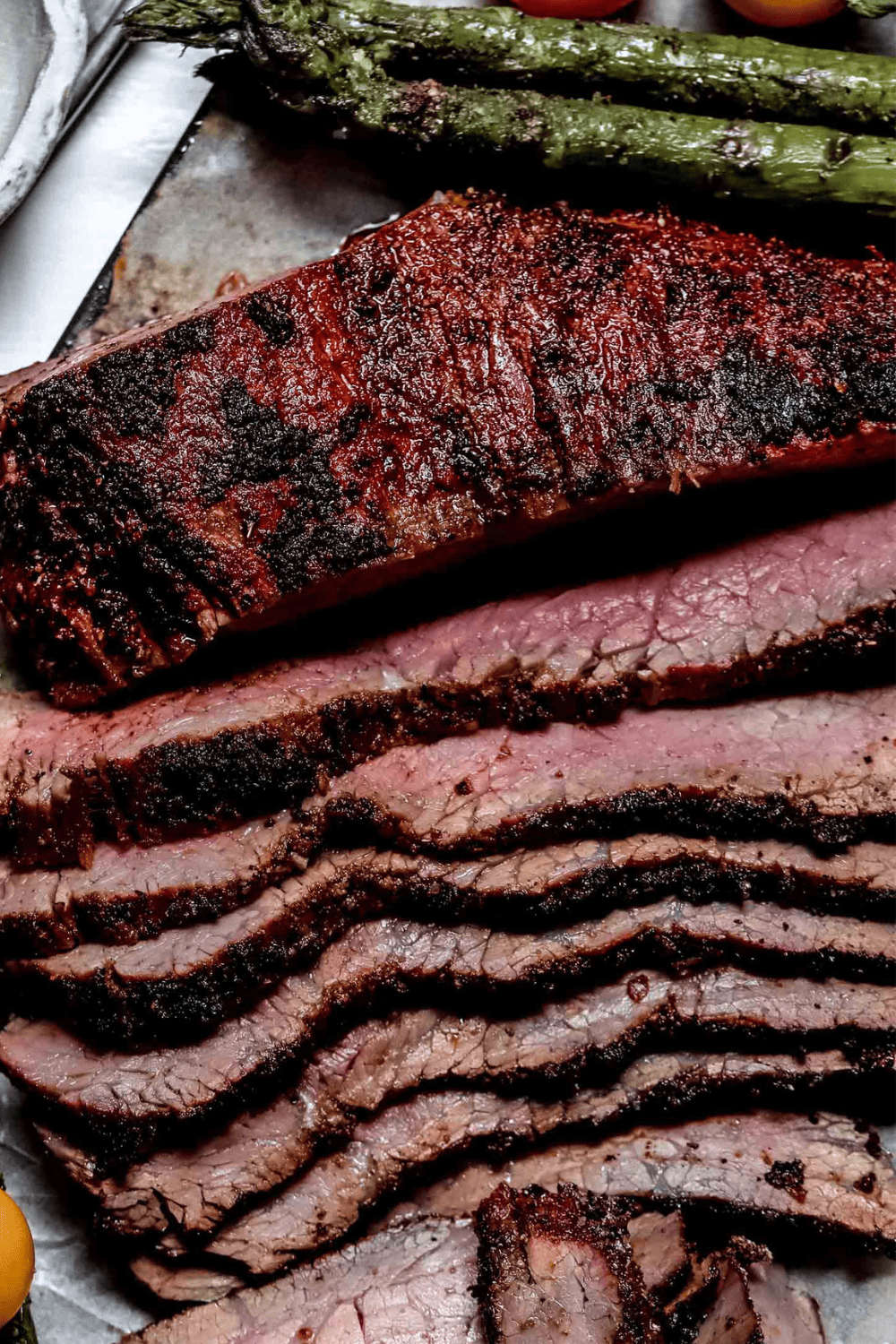 Fire up the smoker! It's time to impress your guests with this incredibly rich and well-seasoned Smoked Tri-Tip – a naturally flavorful and lean steak that gets even better when smoked.
Just like my Smoked Pork Belly, this recipe starts by rubbing the impressive tri tip roast with a complex, smoky, and spicy dry rub made from pantry staple spices. It's cooked low and slow in a smoker, then seared in a hot skillet to seal in the juices and create an irresistible caramelized crust around the outside.
Smoking tri tip just happens to be one of the best ways to take this already superior piece of meat up a level. It adds an irresistible wood-smoked flavor and gives the seasonings more time to work their way into the meat. It's also a hands-free method that requires very little babysitting!
What is tri-tip?
Tri tip is a triangular roast or steak that comes from the bottom sirloin subprimal cut. It has a rich beefy flavor, fat marbling throughout, and a tender texture, which makes it an impressive cut for over-the-top meals.
How to smoke a tri-tip
First, make the tri tip dry rub by stirring all of the seasonings together in a small bowl. Sprinkle the dry rub over the steak, making sure it's coated on all sides.
Place the seasoned tri tip directly on the grates of the smoker. Cook until it's 5 to 10 degrees below your desired temperature (see the tri tip temperatures below).
Once the meat is out of the smoker, heat a large cast iron skillet over high heat on the stove. Add the butter and oil to the skillet.
Lay the tri tip into the sizzling hot skillet and sear until it's well browned on both sides.
Transfer the meat to a cutting board to rest for a few minutes. Afterward, slice it against the grain, then serve. Enjoy!
Tri-tip cooking temperatures
Aim for medium rare or medium when cooking tri tip. This way, the integrity of the steak's natural textures and flavors remain intact.
Use a meat thermometer to measure the tri tip roast in the smoker:
Rare: 125ºF
Medium Rare: 135ºF
Medium: 140ºF
Medium Well: 155ºF
Well: 160ºF
You'll know it's ready when the thickest part measures 5 to 10 degrees below your desired temperature. After it's seared and left to rest, it will have come up to the perfect temperature.
Tips and tricks
Remember to trim the fat cap and silverskin from the meat before adding the dry rub.
Tri tip is best when it's cooked to medium rare or medium. Overcooking it will cause it to become dry and tough.
Use a meat thermometer and the temperature chart above to ensure it's cooked to the perfect temperature.
After searing, let the steak rest for 15 to 20 minutes so the juices can redistribute throughout the meat.
Customize it
The complex flavors in the steak dry rub give the tri tip immaculate flavors and a gorgeous crust around the outside. If you want to mix up the flavors, feel free to customize the seasonings with any of these suggestions:
Instead of an elaborate rub, season the roast with a generous layer of Kosher salt, cracked black pepper, and garlic powder.
Any store-bought steak seasoning blend will work just as well.
Or use my homemade Brisket Dry Rub, Chili Seasoning or Cajun Seasoning recipes to season the meat.
How to make ahead & store
Only slice as much tri-tip as you plan to eat, otherwise, the leftover slices will dry out. The rest of the meat can be wrapped in a tight layer of foil, then stored in the fridge for 3 to 5 days. Or, you can freeze it for up to three months.
Frequently asked questions
How long do you smoke tri-tip at 225ºF?
A 2 to 3-pound tri-tip roast should take between 60 minutes for rare or 90 minutes for medium rare in the smoker. However, this time may vary depending on your smoker and/or the thickness and size of the meat. Keep your meat thermometer handy so you can cook the steak to temperature and not based on time.
How much tri-tip do I need per person?
Plan on about 1/2 pound of meat per person. So, if you were smoking a 3 pound tri-tip roast, it would feed around six people. You can make this recipe with a larger roast, just be sure to add on extra cooking time.
How do you slice tri-tip?
As with most steak recipes, it's important to slice tri tip against the grain to maintain the integrity of the meat fibers (thus resulting in a tender and moist steak). And because the grains are in two different directions on the tri-tip, start by slicing from the long and thin tail end, then turn it 90 degrees when you move up to the thicker end.
Serving suggestions
Impress your fellow pitmasters by serving the juicy steak slices with these classic BBQ sides:
Did you end up with leftovers? They're fantastic layered in steak sandwiches, comforting Philly Cheesesteak sandwiches, and even in smoked-tri tip tacos!
Wine pairings for smoked tri-tip
The rich, fatty, and tender tri tip is the perfect match for a full-bodied Cabernet and Syrah.
You can cut through the smokiness and complex seasonings on the steak by pairing it with a lighter Zinfandel.
For more options, check out my guide on The Best Wines to Pair with Steak.
More smoked meat recipes
More steak recipes to try
​​​​Did you make this smoked tri-tip recipe?
If you loved this easy tri-tip recipe, I would appreciate it so much if you would give this recipe a star review! Also, be sure to snap a picture of your finished dish and share it with me on Instagram using the hashtag #platingsandpairings and tagging me @platingsandpairings.
For more great Platings and Pairings recipes, be sure to follow me on Instagram, TikTok, Pinterest and Facebook.
Smoked Tri-Tip Recipe
Take barbecue season over the top with this Smoked Tri-Tip recipe. Well-seasoned, cooked in the smoker, then seared to juicy perfection.
Print
Pin
Ingredients
2-3

pound

tri tip roast

(fat cap and silverskin removed)
Dry Rub
1

Tablespoon

kosher salt

2

teaspoons

black pepper

1

Tablespoon

garlic powder

1

Tablespoon

onion powder

1

Tablespoon

brown sugar

½

Tablespoon

chili powder

½

Tablespoon

paprika

½

teaspoon

cayenne pepper
Instructions
Preheat your smoker to 225 degrees.

In a small bowl, combine the dry rub seasonings. Generously season the tri tip and coat on all sides with the spice mixture.

Place the tri tip directly on the grates of your smoker. Cook for 60-90 minutes, until it's 5-10 degrees below your desired final temperature, as shown below.

Once the tri tip is finished smoking, preheat a large cast iron over high heat on your stove.

Add the butter and oil. Once melted, add the tri tip to the skillet. Sear for 2-3 minutes per side, until well browned.

Place the tri tip on a cutting board and allow to rest for 15 minutes. Slice against the grain, rotating as needed, since the grain changes throughout.

Enjoy!
Notes
Final temperatures:
Rare

: 125ºF

Medium Rare

: 135ºF

Medium

: 140ºF

Medium Well

: 155ºF

Well

: 160ºF
Equipment
Smoker
Traeger, Camp Chef, etc.
Nutrition
Calories:
293
kcal
|
Carbohydrates:
5
g
|
Protein:
32
g
|
Fat:
16
g
|
Saturated Fat:
7
g
|
Polyunsaturated Fat:
1
g
|
Monounsaturated Fat:
7
g
|
Trans Fat:
0.2
g
|
Cholesterol:
108
mg
|
Sodium:
1257
mg
|
Potassium:
555
mg
|
Fiber:
1
g
|
Sugar:
2
g
|
Vitamin A:
675
IU
|
Vitamin C:
0.4
mg
|
Calcium:
52
mg
|
Iron:
3
mg