Create a Baked Potato Bar for your next party, potluck or tailgating event. It's a fun and festive way to feed a crowd, and the topping possibilities are endless.
Looking for a way to soak in the last days of summer? How about hosting a Baked Potato Bar? It's an easy, effortless idea for a late-summer outdoor party. Just cook up a combination of russet and sweet potatoes, set out the toppings, and let your guests customize to their heart's content.
I had a fun time with this post – Coming up with lots of unique flavor combinations. I even created a printable for you (check it out at the bottom of this post)! Just cut out the recipe ideas and display them in one of these fun ways:
Create a garland with the tags and flags in the colors of your favorite team.
Put them on toothpicks and display them by sticking them into potatoes.
Create station bars, with the toppings and recipe idea at each stop.
How to Plan a Baked Potato Bar
Make your potatoes. You can bake them in the oven, cook them quick in the Instant Pot, or even grill them outdoors (see the recipe below).
Set out your toppings. There are so many great toppings for a baked potato bar. Check them out below.
Baked Potato Bar Toppings:
Cheese:
Cheddar
Pepper jack
Goat cheese
Mozzarella
---
Meats:
Chili
Taco meat (chicken or beef)
Pulled pork
Bacon
Pepperoni
---
Vegetables:
Scallions
Steamed broccoli
Grilled corn
Grilled onions
Roasted red peppers
Jalapenos
Avocado
Tomatoes
---
Sauces and Toppings:
Sour cream or Greek yogurt
Butter
BBQ sauce
Brown gravy
---
Herbs and Seasonings:
Chopped fresh chives
Chopped fresh basil
Chopped fresh cilantro
Seasoning salt
Salt
Fresh ground black pepper
Ground cumin
---
Baked Potato Bar Printable
Here is the printable I created – Just right click to save it and then print it out!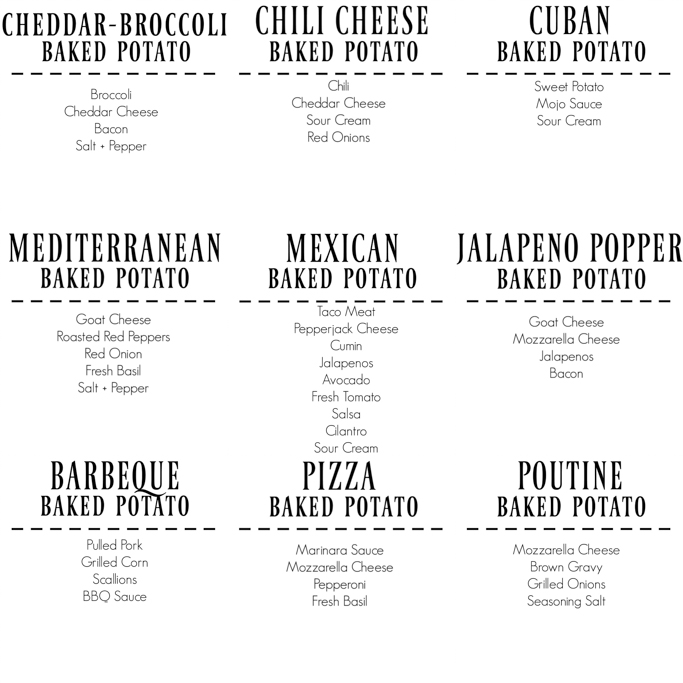 Which flavor combination idea would you go for on your baked potato? Or, would you create one of your own? I'd love to hear in the comments below!
Grilled Baked Potatoes
Use these Grilled Baked Potatoes to create a Grilled "Baked" Potato Bar with fun toppings for your next party, potluck or tailgating event. It's a fun and festive way to feed a crowd!

Print
Pin
Ingredients
Potatoes – Large russet potatoes or sweet potatoes

Vegetable oil

Kosher salt
Instructions
Scrub potatoes under cold running water. Dry, and using a fork, poke holes all over the potato.

Using your hands, rub oil over each of the potatoes. Sprinkle with kosher salt and wrap each potato in two layers of foil.

Place on grill and let cook for one hour, turning over at the 30 minute mark.

Remove from grill and let cool for 10-15 minutes. Serve with desired toppings.
Nutrition
Wine Tip: If you're serving red wine in the heat of summer, pop it in the fridge for 20 minutes prior to your guests arriving – That will help to make sure that it's served at the proper temperature. You want it at room temperature, not too warm.