One-Pot Dill Pickle Soup. If you're not a dill pickle fan, you have my permission to stop reading immediately. If you are a fan – You're going to love this soup. Creamy and tangy, with the unmistakable flavor of dill pickles. Guaranteed to be one of your new favorites! PS – Be sure to continue reading for a chance to win a $650 Amazon Gift Card!!!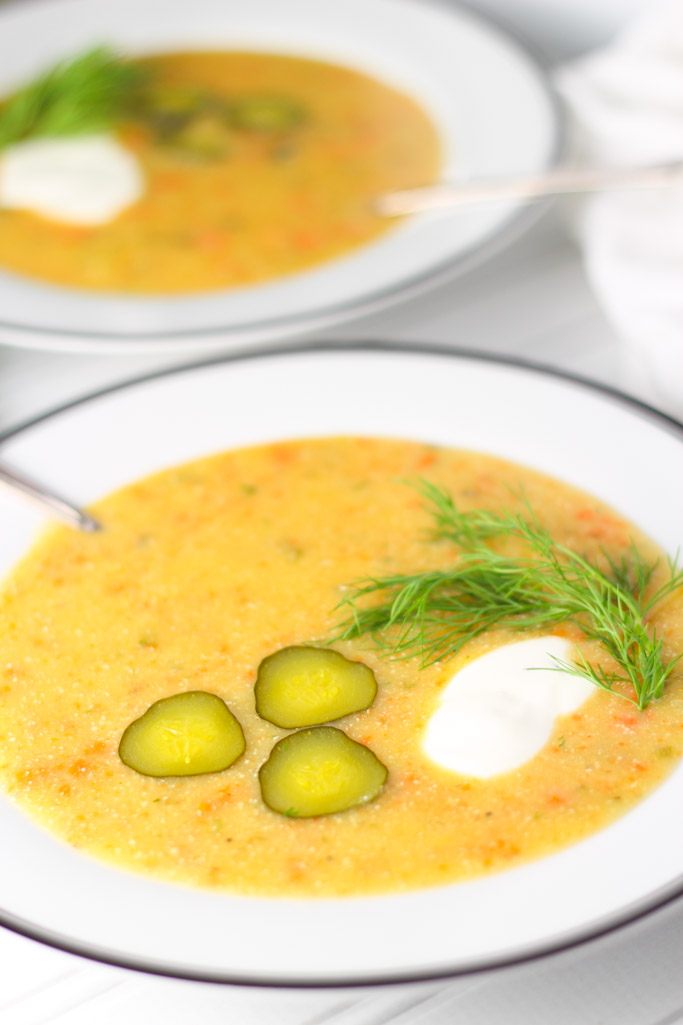 Question: Are you a dill pickle fan? If so, you're going to LOVE this soup! It's a tangy, creamy bowl of goodness. I made a pot of this last week and the boyfriend is already begging me to make it again, and again. In his words – "The best soup I've ever had." We may have a soup convert on our hands folks: He's trading in his long-standing favorite, Potato Leek Soup, for this Dill Pickle Soup. BIG – Really big!
I'm totally a dill pickle fan – When I was a kid, it was always a let down when my Happy Meal Cheeseburger only had one pickle instead of two. Really?! Who decided that it was an acceptable ratio to have one small pickle to one hamburger patty? Have any of you worked at Micky D's? Is there a pickle rule? Like, you must limit the pickles to no more than two per patty, or you could be let go? My fast food employment only consisted of Taco Bell, where there was a rule like that – Something like each customer only gets one hot sauce packet per item. Who can get through an entire bean burrito with only one hot sauce? But that's a whole other subject – Back to the matter at hand here: PICKLES!
Sweet and sour have their place. For me, I only enjoy them on their own, as part of a relish tray. When it comes to a garnish – Dill is totally the way to go. Cuban sandwiches, a spear in a bloody mary, in tuna salad – I love the bright, briny flavor that pops on your tongue. The pickles have that same effect in this soup. Without the pickles, you've got a great base – A creamy, potato soup so delicious that it could stand on its own. But let's not let it. Let's add some excitement to Mr. Potato (Soup). Pickles!!! Teeny bits of pickles that have been chopped really fine, so that you get that burst of flavor in every bite. To bump up the flavor a bit more, we're also adding the pickle brine and swirling it all together with a bit of greek yogurt, to make it extra creamy.
Have I done my job? Do I have you convinced to give this odd-sounding soup a try? Truuuusssst me on this one…
One-Pot Dill Pickle Soup
Print
Ingredients
5 ½

cups

chicken broth

1 ¾

lb

. gold potatoes

cut into ½" dice, 3 large potatoes

2

cups

carrots

small diced

4

T

. butter

1

bay leaf

1

cup

dill pickles

small diced

1

cup

pickle juice

½

cup

water

½

cup

flour

1 ½

t

. kosher salt

1

t

. pepper

1

cup

greek yogurt

1

T

. fresh dill

chopped
Instructions
In a large pot, combine broth, potatoes, carrots, butter and bay leaf. Bring to a boil and cook until the potatoes are tender, about 15 minutes. Remove the bay leaf.

Combine the pickle juice, water and flour. Whisk together to create a slurry. Add it to the pot, along with the pickles and salt and pepper. Simmer for 5-10 minutes, until thickened.

Ladle half of the soup into a blender and process until smooth. Add back to the pot along with the yogurt and stir to combine.

Serve immediately garnished with fresh dill, and additional yogurt and chopped pickles if desired.
ERIN'S PAIRINGS:
And now, here's the details on the $650 Amazon Gift Card Giveaway!
a Rafflecopter giveaway
This giveaway is sponsored by a group of totally awesome food bloggers. Please be sure to check out their sites below to see what they're cooking up!
Food Fashion and Fun
Arousing Appetites
Beer Girl Cooks
Seduction Meals
OMG Food
Haute and Healthy Living  
Lou Lou Biscuit
The Merchant Baker
Eat Within Your Means
Kitchen of Eatin
Rhubarbarians
Wholesomelicious
Lemon Sugar
Cooking With Janica
Salt Sole
Leelalicious
My California Roots
Bessie Bakes
The Gingham Apron
A Season On The Mountain
I Knead to Eat Majorly Delicious
My Teacake
Frugal Nutrition
Jeannie's Tried and True Recipes 
seductionmeals.com
TERMS and CONDITIONS: Contest runs from November 11, 2015 – November 25, 2015. Winner will be chosen by random using Rafflecopter as the deciding force. Rafflecopter partners with Random.org to choose the winning entrant. No purchase necessary to enter or win. A purchase does not improve your chance of winning. Void where prohibited by law. Giveaway is open to legal residents of the United States of America, Canada and the United Kingdom. **FYI, fake accounts & spammers will be disqualified and not eligible to win.