Located close to Portland in West Linn, Oregon you'll find Tumwater Vineyard. This stunning tasting room on Pete's Mountain is set amongst 23 acres of vines. Be sure to stop in for a visit and sample their delicious Pinot Noir, Rosé and Chardonnay.
Tumwater Vineyard opened to the public in 2016 and I'm sorry that it's taken me so long to give them a visit because I definitely can't wait to go back.
Their tasting room is absolutely stunning. With high ceilings, plenty of seating areas, and large doors to open to their expansive outdoor space, it's the perfect place to enjoy a summer afternoon. The vines make the perfect backdrop along with the onsite pond and firepit.
And as beautiful as the space is in the summertime, I can only imagine that it's ideal for chilly winter days as well with its fireplace and cozy couches.
My friend Lena, of Lena's Kitchen Blog, and I were able to enjoy a delicious charcuterie platter while we sampled their delicious wines, which is really what we're here for, right? Let me tell you more about them.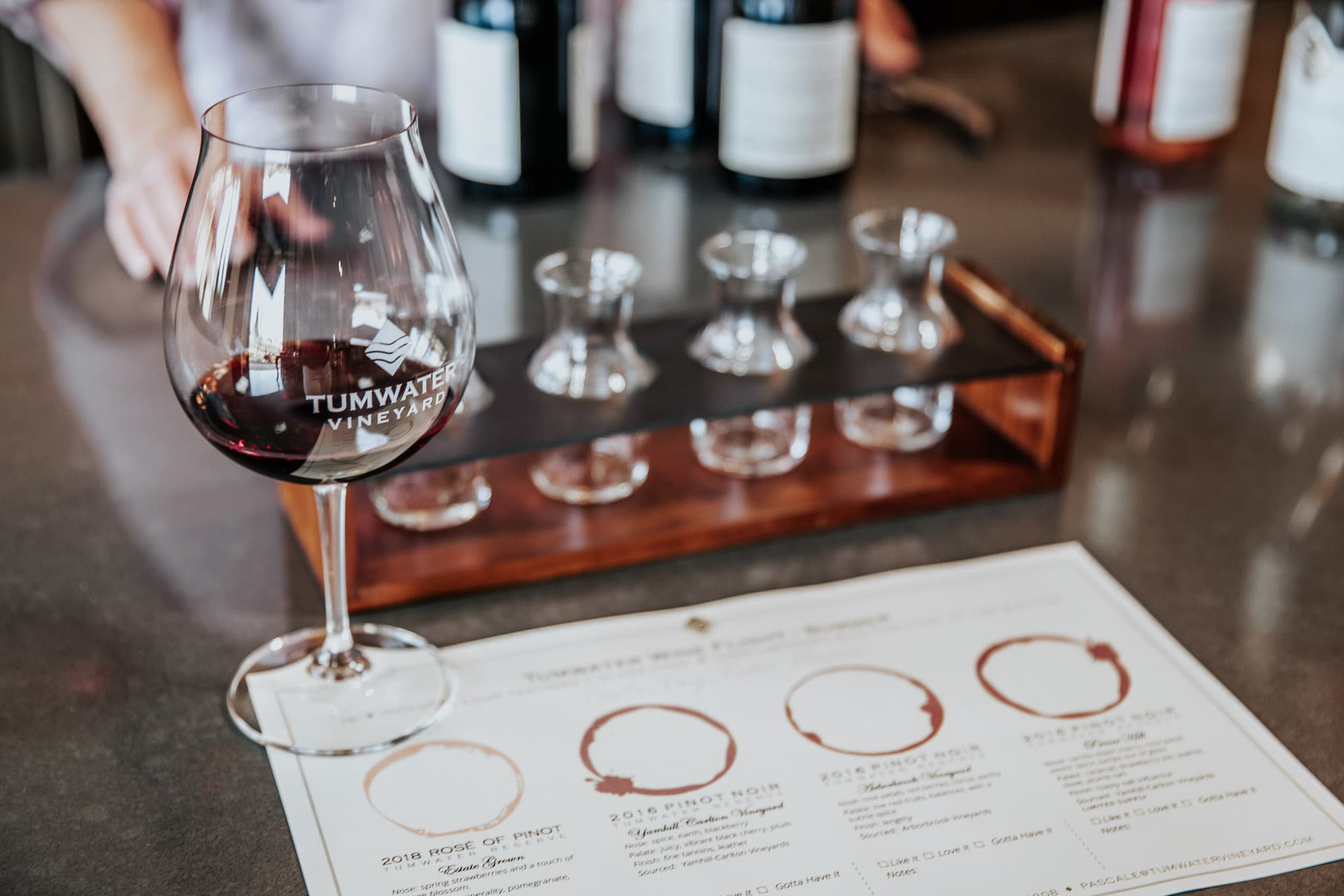 Located on Pete's Mountain, Tumwater has 23-acres of Pinot Noir and Chardonnay planted on the property. This year, they released their first fully estate grown Rosé and it's absolutely delicious. With a bright acidity and notes of cherry and raspberry, this is one wine you'll want to be sipping on all summer long.
Also being produced from the estate vines are their two versions of Chardonnay – stainless and barrel select, and a soon to be released white Pinot Noir, Coeur Blanc.
You'll also have the chance to sample several Pinot Noirs at Tumwater Vineyard, with those grapes coming from award winning vineyards scattered throughout the Willamette Valley. Each comes with it's own characteristics:
Yamhill-Carlton Pinot Noir – Earthy notes, with hints of baking spices, blackberries and cherry.
Hyland Estate Pinot Noir – Vanilla, tobacco, and black cherry. This is a full-bodied pinot.
Hirschy Vineyard Pinot Noir – Notes of blackberry and blueberry with a round, full body.
Domaine Danielle Laurent Pinot Noir – Spicy and decadent. Lots of black cherry and blackberry on the nose.
Prince Hill Pinot Noir – My favorite of the bunch. This had dark berry aromas with the perfect hint of earthiness and balanced acidity.
Tumwater Vineyard Tasting Fee
The tasting fee at Tumwater Vineyard is currently $15. It includes a tasting of four wines and one full glass pour. The tasting fee is waived with a two bottle purchase. They've been kind enough to offer my readers a 2-for-1 tasting! Click here for a coupon.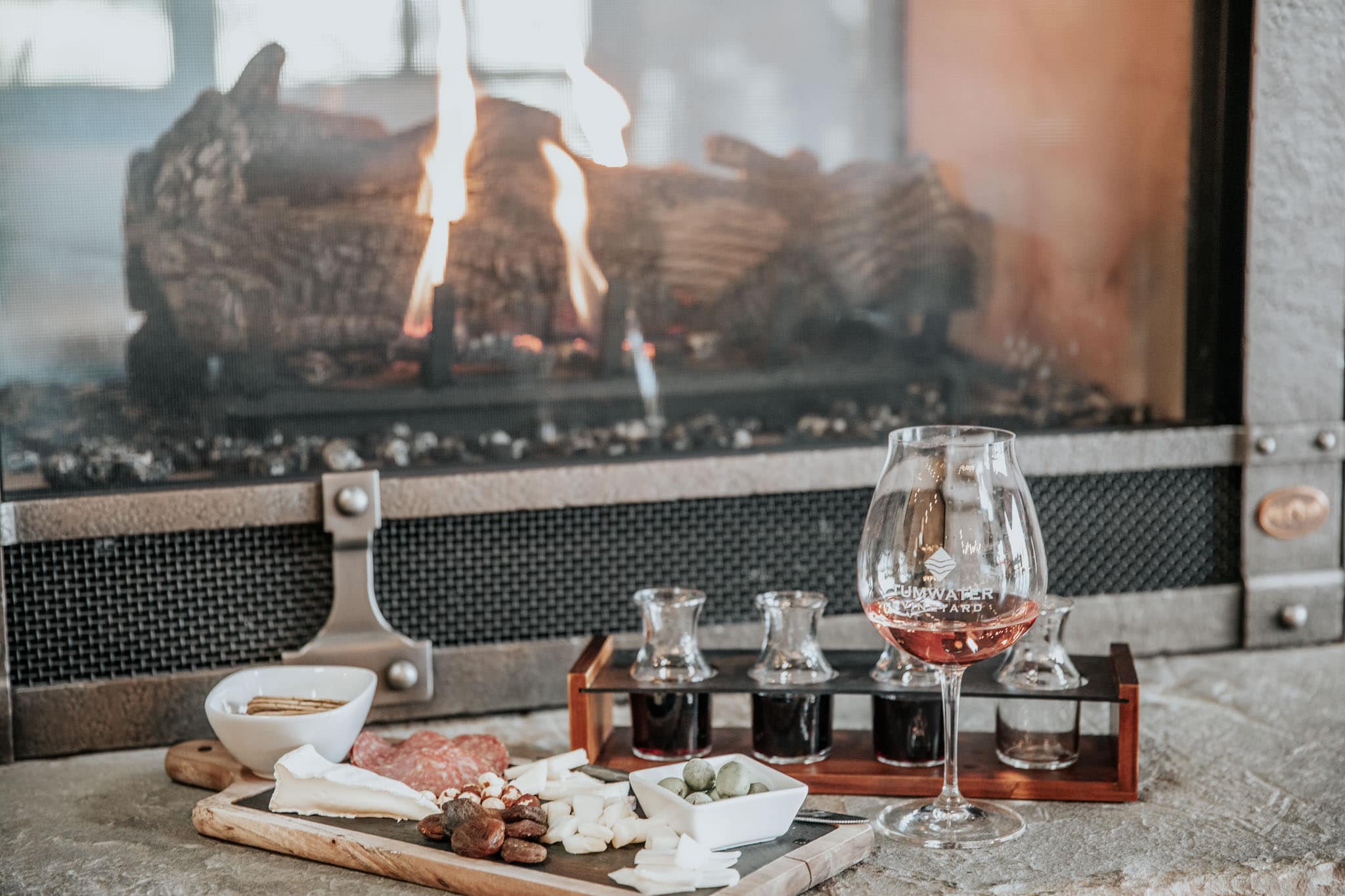 Tumwater Vineyard is located at 375 SW Barrel House Way in West Linn, Oregon. Their tasting room is open on Sundays from Noon to 5:30pm.
Tumwater hosts several special events throughout the summer. Be sure to check them out here.
Tumwater is also available for private events like weddings, reunions and showers. Their 3,500 square foot venue is the perfect place for events. Especially because it is close in to Portland, meaning your guests will have plenty of options for lodging. Also, it has plenty of parking space available and the availability to host a group of up to 85 guests.
Imagine getting married here…
I'd highly suggest stopping by Tumwater as soon as possible so that you can soak in their amazing views, beautiful tasting room, and simply stunning wines.
I teamed up with Tumwater Vineyard to bring you this post. As always, all opinions are my own.