These Greek-style Lamb Lettuce Wraps are topped with homemade tzatziki sauce and fresh Mediterranean vegetables and herbs, then served in a crisp lettuce leaf. A refreshing and filling meal that's easy to make ahead!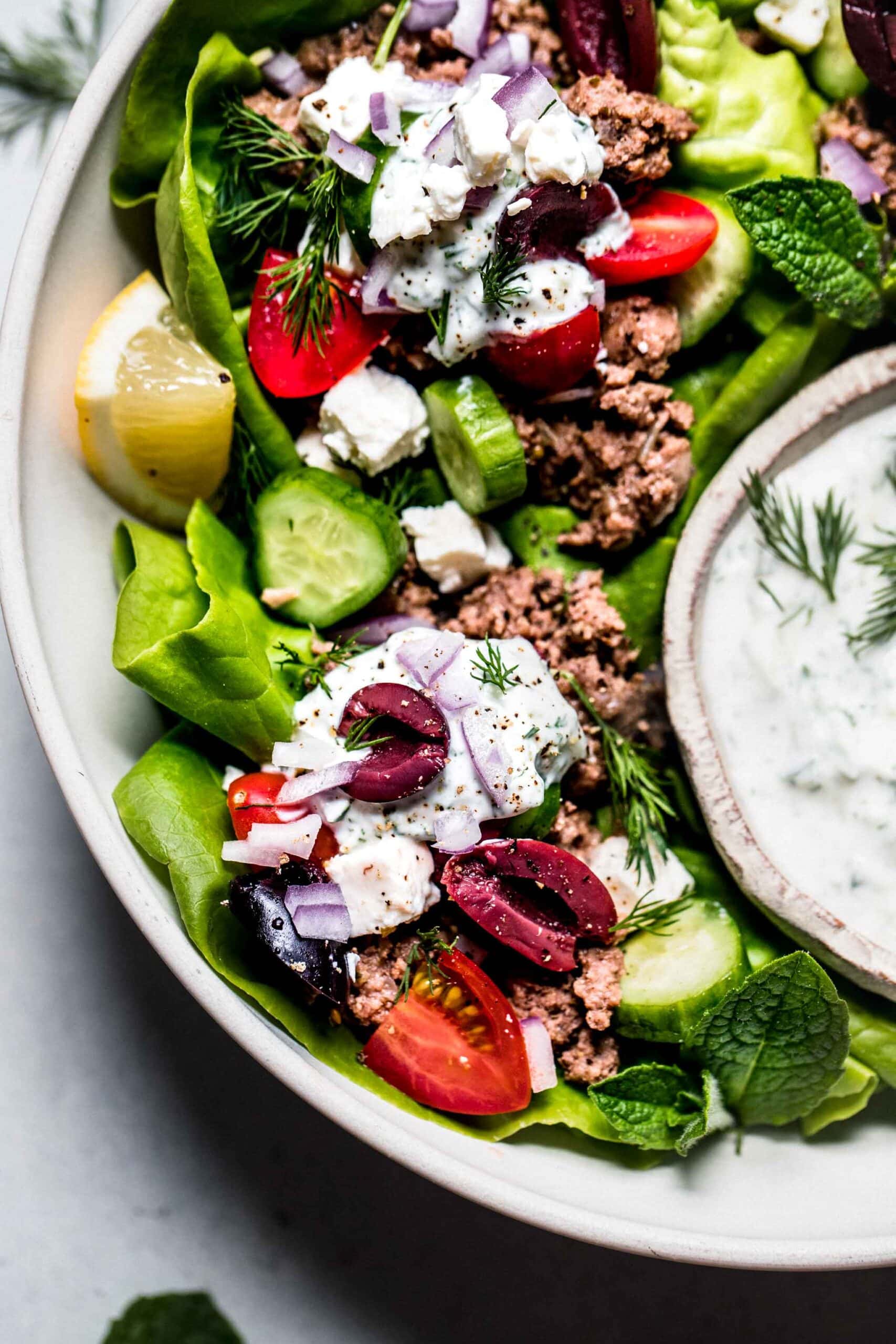 I teamed up with American Lamb to bring you this post. As always, all opinions are my own.
I absolutely love lamb. From sheet pan dinners to noodle dishes to dumplings, I love adding lamb to my meals and would eat it at any time of day if I could! It's a flavor-packed, yet lean meat that I can't get enough of.
When I'm craving a light and healthy, yet vibrant and flavorful lunch or dinner, I turn to these easy Lamb Lettuce Wraps. The lightly seasoned ground lamb filling is hearty and filling, but it's the homemade tzatziki sauce and fresh Mediterranean vegetables on top that make it an ultra-refreshing meal. The whole family will love it!
If you learn to love ground lamb as much as I do, you'll also want to check out this list of 35+ Favorite Ground Lamb Recipes.
What is the best lettuce for lettuce wraps?
You can use almost any type of lettuce to make lamb lettuce cups, but varieties with large, sturdy leaves are best at holding the meaty filling. I used butter lettuce leaves to make these wraps but iceberg lettuce, romaine, cabbage, and Boston lettuce are all good options, too. And if your lettuce cups are on the thinner side, use two to prevent them from falling apart in your hands.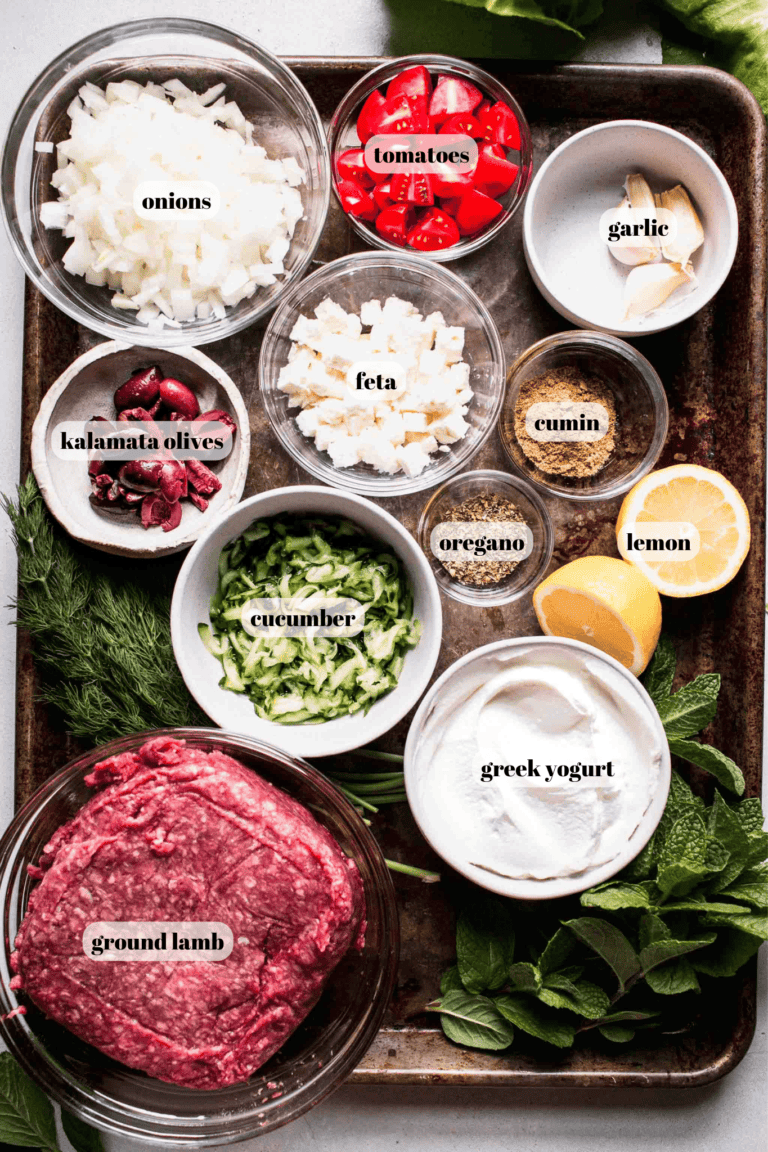 Ingredients
While lamb is the star of this lettuce wrap recipe, it's the tzatziki sauce that makes the Mediterranean flavors shine through. These are the ingredients you need for both the tzatziki and lamb wraps:
Cucumber – Grated cucumber is always used in tzatziki recipes. Its cooling, crisp, and refreshing qualities bring balance to an otherwise rich and creamy sauce.
Kosher salt
Greek yogurt – Again, a necessary ingredient in tzatziki. Try to use full-fat Greek yogurt for the best flavors and creamiest texture.
Garlic – Remember to mince or grate the garlic cloves very finely. Raw garlic is potent and biting into a chunk can quickly ruin the cooling tzatziki sauce.
Mint and dill – Fresh herbs are non-negotiable! They lighten and refresh the sauce, which is something dried herbs can't do as well.
Lemon juice
Extra virgin olive oil – To saute the lamb. Feel free to add a drizzle of oil on top of a bowl of tzatziki if you're serving extras on the side for dipping.
Onion and garlic – To season and infuse savory flavors into the ground lamb.
Ground American lamb – I made this recipe with ground lamb instead of ground chicken or beef because its amazing flavors always bring dishes to the next level. American lamb is my lamb of choice, which you can read more about below.
Cumin
Oregano – Dried oregano is best.
Butter lettuce – Butter lettuce leaves are best for lettuce wraps because they're already cup-shaped and hearty enough to withstand the weight of the fillings and toppings. If you can't find butter lettuce, use any of the lettuce leaves I mentioned above instead.
My lamb of choice
I always choose American Lamb to cook with. Here's why:
By choosing American Lamb, you're supporting local farmers and ranchers throughout the US.
Raising lamb in the US is a family affair with more than 80,000 family owned operations.
Sheep improve pasture quality by recycling vital nutrients back into the soil, minimizing erosion and encouraging plant growth.
The majority of sheep in the states graze pastures for most of their lives.
Grate the cucumber and place it in a strainer. Sprinkle the salt overtop, then let the water drain for at least 20 minutes. Don't skip this step or else your tzatziki will be thin and watery!
Next, use a spoon or spatula to press down on the cucumber to drain the rest of the water. Transfer the cucumber to a bowl with the yogurt, garlic, mint, dill, and lemon juice. Stir to combine, then refrigerate until it's time to assemble and serve the lettuce wraps.
How to make lamb lettuce wraps
Heat the olive oil in a large skillet over medium-high heat. Once it's hot, add the onion and cook until it's soft and translucent. Add the garlic next.
Once the aromatics are soft and fragrant, add the lamb, cumin, and oregano into the skillet. Season with a pinch of salt and pepper. Saute the lamb mixture until the meat is browned and fully cooked.
To serve, add a scoop of the lamb mixture into each butter lettuce cup. Garnish with a drizzle of tzatziki, the toppings of your choice, and a drizzle of lemon juice. Enjoy!
Lettuce wrap toppings
These are Mediterranean-inspired lettuce wraps, which means assembling them with bright and fresh toppings is a must. Use your favorites or stick to this list:
Feta cheese
Fresh dill
Fresh mint
Sliced cucumbers
Red onions
Cherry tomatoes
Fresh basil
Scallions
Avocado slices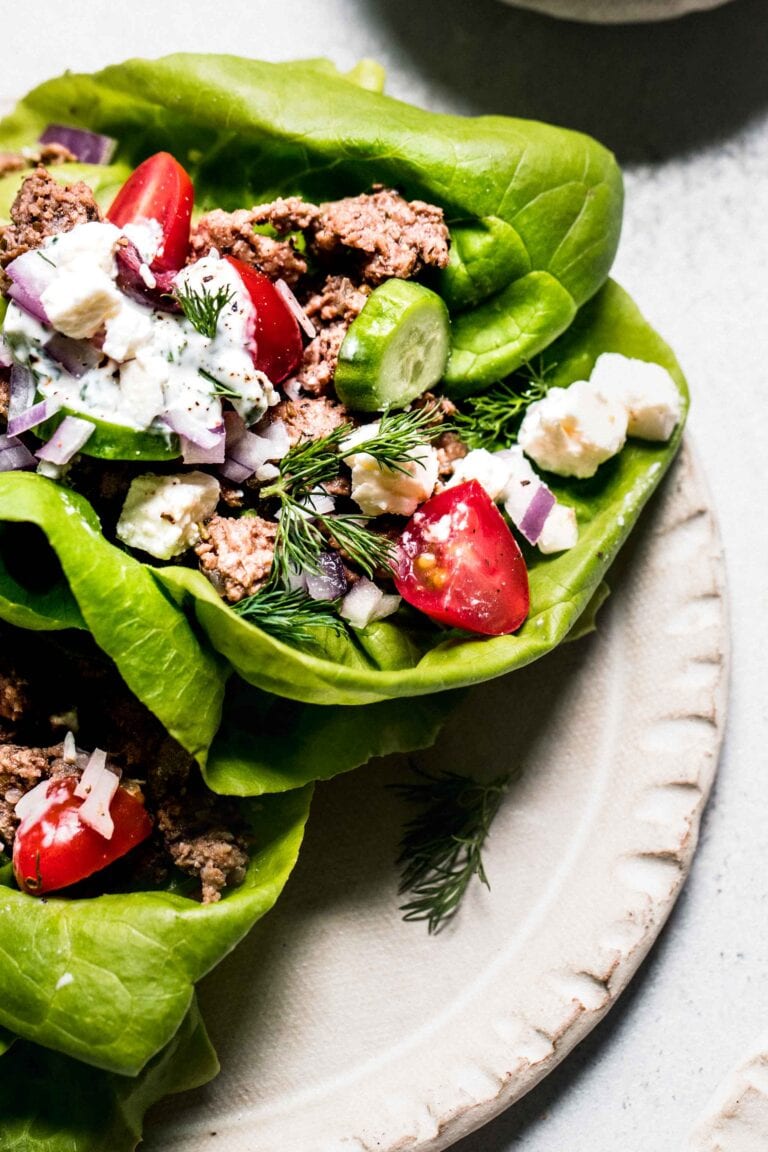 Variations
Instead of lamb – You can make this recipe with lean ground beef or ground chicken, turkey, or pork if you don't have lamb at home. Or, try this Greek marinated chicken.
Dairy free tzatziki – It's hard to beat the rich and luxurious texture of full fat Greek yogurt but if you'd rather keep the sauce dairy free, use a full fat Greek-style vegan yogurt, like coconut yogurt, instead.
Bulk up the filling – Stir your favorite cooked grains, like brown rice or quinoa, in with the cooked lamb. For added nutrition and color, fold in cooked green beans, peas, spinach, or roasted sweet potatoes.
What to serve with lettuce wraps
Make these wraps part of a mezze platter along with more Greek and Mediterranean sides, like:
Make ahead and storing
This is a fantastic make ahead recipe because the sauce, filling, and lettuce wraps can all be prepared days in advance! Here's how it's done:
Tzatziki: The sauce will taste its best after being left in the fridge for at least 1 hour but can also be made 3 to 4 days ahead of serving. Just make sure it's kept in a sealed container in the fridge to maintain freshness.
Lamb filling: The ground lamb can also be cooked and stored in an airtight container in the fridge for 3 to 4 days.
Lettuce wraps: To keep your lettuce leaves fresh and crisp, place them in a paper towel-lined container. Place a paper towel in between each lettuce leaf, seal the container shut, and refrigerate for up to 1 week.
Toppings: Chop up any fresh vegetables you plan on topping on the lettuce wraps, then store them in individual airtight containers in the fridge until it's time to serve.
When it's time to eat, reheat the cooked lamb in a skillet until the internal temperature reaches 165ºF (as recommended by the USDA). Take out the prepared tzatziki and lettuce leaves, assemble with your toppings, and serve!
Wine pairings
A light fruity red wine, such as Beaujolais, won't overpower the fresh flavors in this dish
A dry Rosé will also pair well with these lettuce cups.
MORE —-> my 8 favorite lamb wine pairings.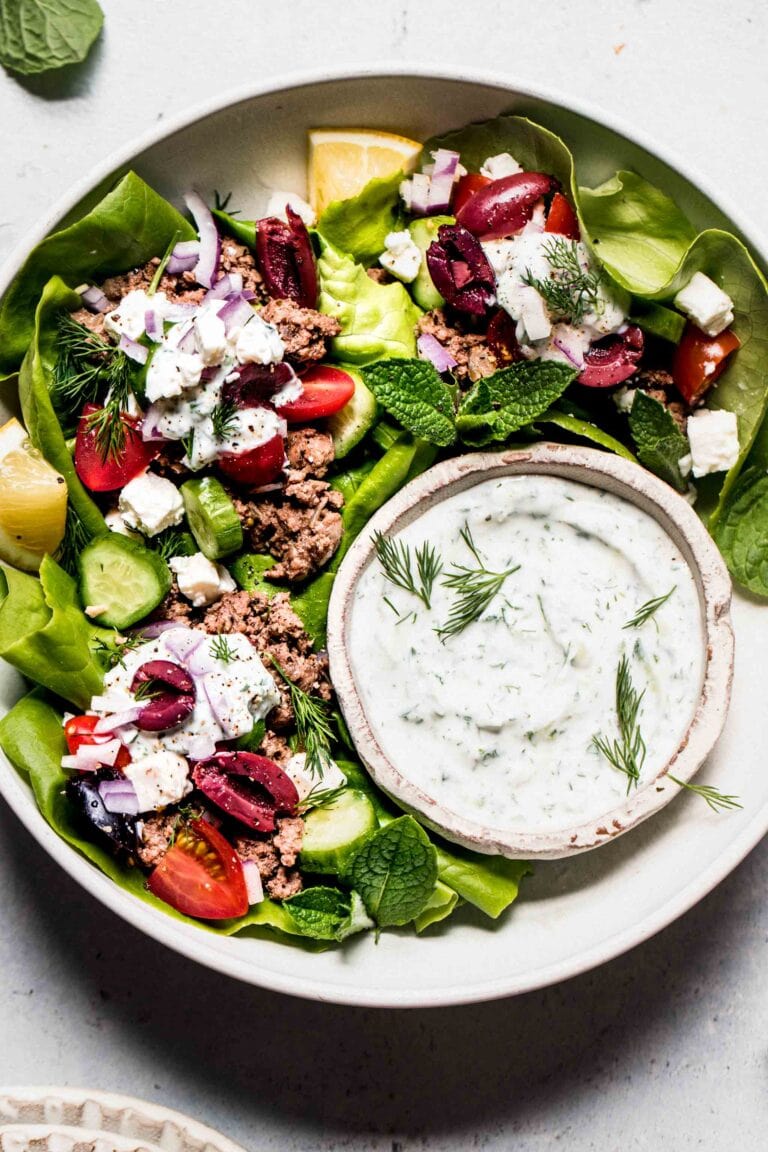 More lamb recipes
More lettuce wraps to try
Did you try this easy lettuce wraps recipe?
If you loved these Greek lamb lettuce wraps I would appreciate it so much if you would give this recipe a star review! Also, be sure to snap a picture of your finished dish and share it with me on Instagram using the hashtag #platingsandpairings and tagging me @platingsandpairings.
For more great Platings and Pairings recipes, be sure to follow me on Instagram, TikTok, Pinterest and Facebook.
Greek Lamb Lettuce Wraps with Tzatziki Recipe
These Greek-style Lamb Lettuce Wraps are topped with homemade tzatziki sauce and fresh Mediterranean vegetables and herbs, then served in a crisp lettuce leaf. A refreshing and filling meal that's easy to make ahead!
Print
Pin
Ingredients
Tzatziki Sauce:
½

cup

grated cucumber

1

teaspoon

kosher salt

1

cup

full-fat Greek yogurt

2

cloves

fresh garlic

(minced or grated)

¼

cup

fresh mint and dill leaves

(chopped)

1

Tablespoon

lemon juice
Lamb:
1

Tablespoon

extra virgin olive oil

½

medium onion

(diced)

2

cloves

garlic

(minced or grated)

1

pound

ground American lamb

2

teaspoons

cumin

1

teaspoon

dried oregano
Instructions
Tzatziki:
Place cucumber in a strainer and salt it with 1 tsp kosher salt. Let it drain for 20 minutes, then press out all of the excess liquids with the back of a spoon. Combine the cucumber with the yogurt, garlic, mint, dill and lemon juice and refrigerate until ready to serve.
Lamb:
Heat olive oil in a large cast iron skillet over medium-high heat. Add onion and cook until translucent, 2-3 minutes. Add garlic and cook 30 seconds longer, until fragrant.

Add lamb, cumin and oregano and season with a pinch of salt and pepper. Cook, breaking up with a spoon until fully cooked, about 8-10 minutes. USDA recommends ground lamb reach an internal temp of 160F.
To Serve:
Portion the lamb into the butter lettuce cups. Garnish with tzatziki, feta, fresh mint & dill, cucumbers, red onions, and tomatoes, as desired. Serve with lemon wedges on the side. Enjoy!