Avocado & Kale Savory Oatmeal is the perfect way to start your day. Hearty oatmeal is topped with avocado, garlicky kale, hummus and aleppo pepper for a protein-packed breakfast.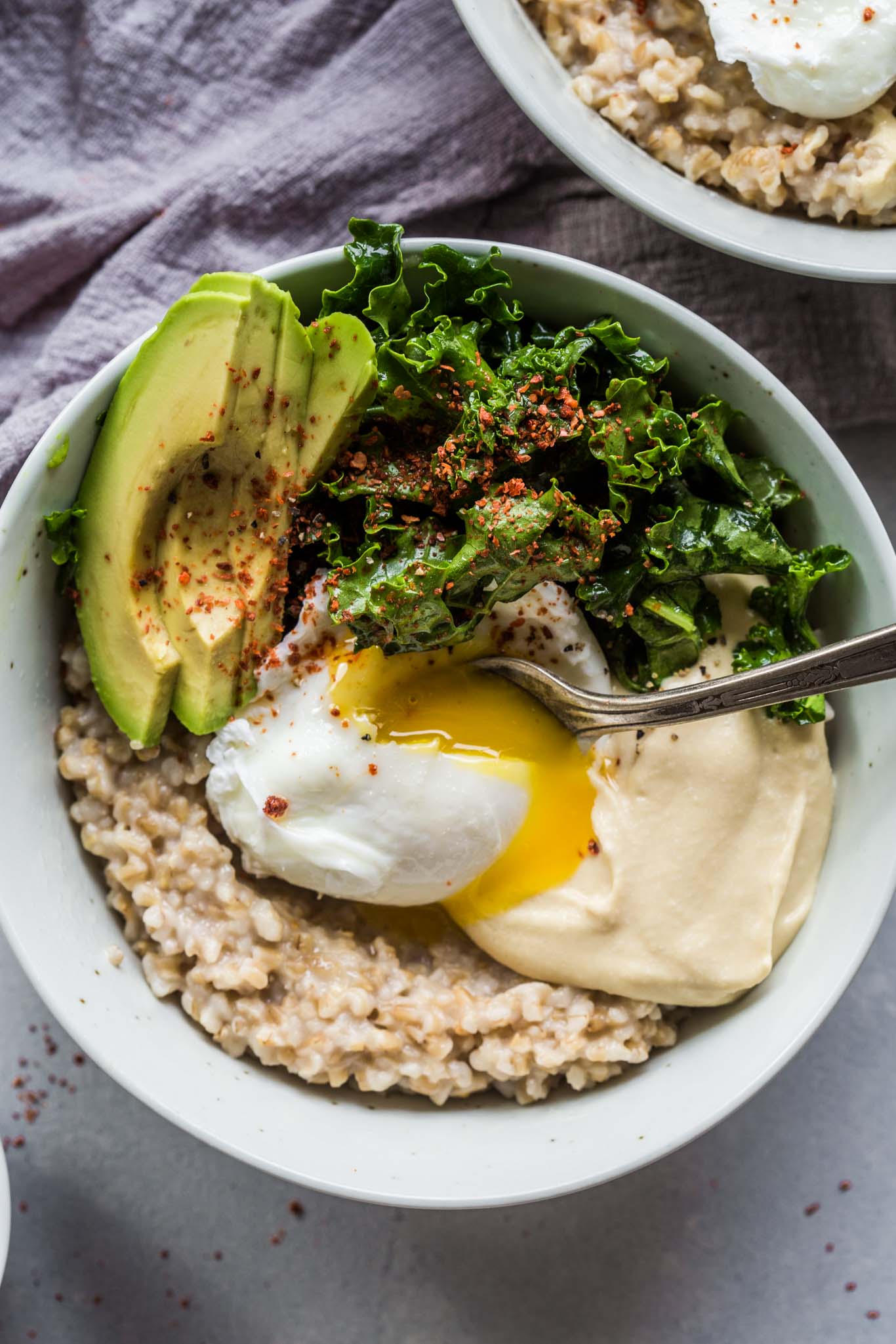 Breakfast has never been my thing. Usually it's a cup of coffee and I call it good until lunchtime. I think it's because I prefer savory dishes and I tend associate breakfast with things like pancakes, granola and smoothie bowls. But, at a recent charcuterie workshop put on by my friend Lena of Lena's Kitchen Blog, I had the opportunity to talk with a fellow attendee, health coach Jennifer Joffe, and she said that eating breakfast is absolutely vital. She said that most of her obese clients come in to her eating way too few calories. Getting your body the calories it needs is the key to putting your health on the right track and losing weight.
So, I went back home and started brainstorming all the ways that I could make breakfast more delicious for my taste buds.
I'd read in a recent magazine, I think it was Food + Wine, where they interview *famous* people and ask what they eat for breakfast, about one moviestar who eats sauteed kale with red pepper flakes, garlic and egg whites every morning for breakfast. And, you know what? That sounded fantastic to me. I even dogeared the page just so I could remember to start making that in the mornings.
And then, I came across the concept of making a savory oatmeal bowl for breakfast, which intrigued me even more – Almost like eating a bowl of risotto for breakfast. Through my Google research, I came across a genius idea that Jeanette at Jeanette's Healthy Living had to add some hummus into the mix. 
And then… I decided it would be perfect to combine the two – Savory oats topped with garlicky sauteed kale, hummus, fragrant & spicy aleppo pepper and a perfectly poached egg. 
Savory Oatmeal Ingredients:
Hearty steel cut oats
Kale – Quick sauteed with garlic and dressed with a bit of lemon
Fresh avocado – Sliced thin
A poached egg, with runny yolk – Perfect for stirring into the oatmeal and making them extra creamy
Hummus – To give the bowls a hint of nuttiness
Aleppo pepper – Sprinkled over the top to add that hint of spice
To start, get those oats cooking. I'm using steel cut oats. The majority of people don't get enough fiber in their diets, but it's vital for digestive and heart health. Get a jumpstart with the fiber in these steel cut oats. It helps you feel fuller longer- guaranteeing no stomach growling before lunchtime rolls around. As an added bonus, the fiber found in oats is linked to decreases in blood pressure and bad cholesterol, as well as improvements in weight management, blood sugar management, and digestive health. My friend Jennifer would surely approve.
The second step is to cook those eggs. I do have to say that as a non-breakfast cook, I was a bit intimidated to make the eggs for this Avocado & Kale Savory Oatmeal. I can count the number of times I've made eggs (of the non-scrambled variety) on one hand. But I just so happened to have these OXO Egg Poachers on hand from a food blogging conference that I attended last year and they made the process so easy. Cooking them for just under 3 minutes resulted in that perfect runny yolk.
And finally, we need to prepare the kale. I like to quick saute it in a bit of olive oil with some garlic and then give it a spritz of lemon juice at the end to brighten things up.
Then comes the fun part – Assembly.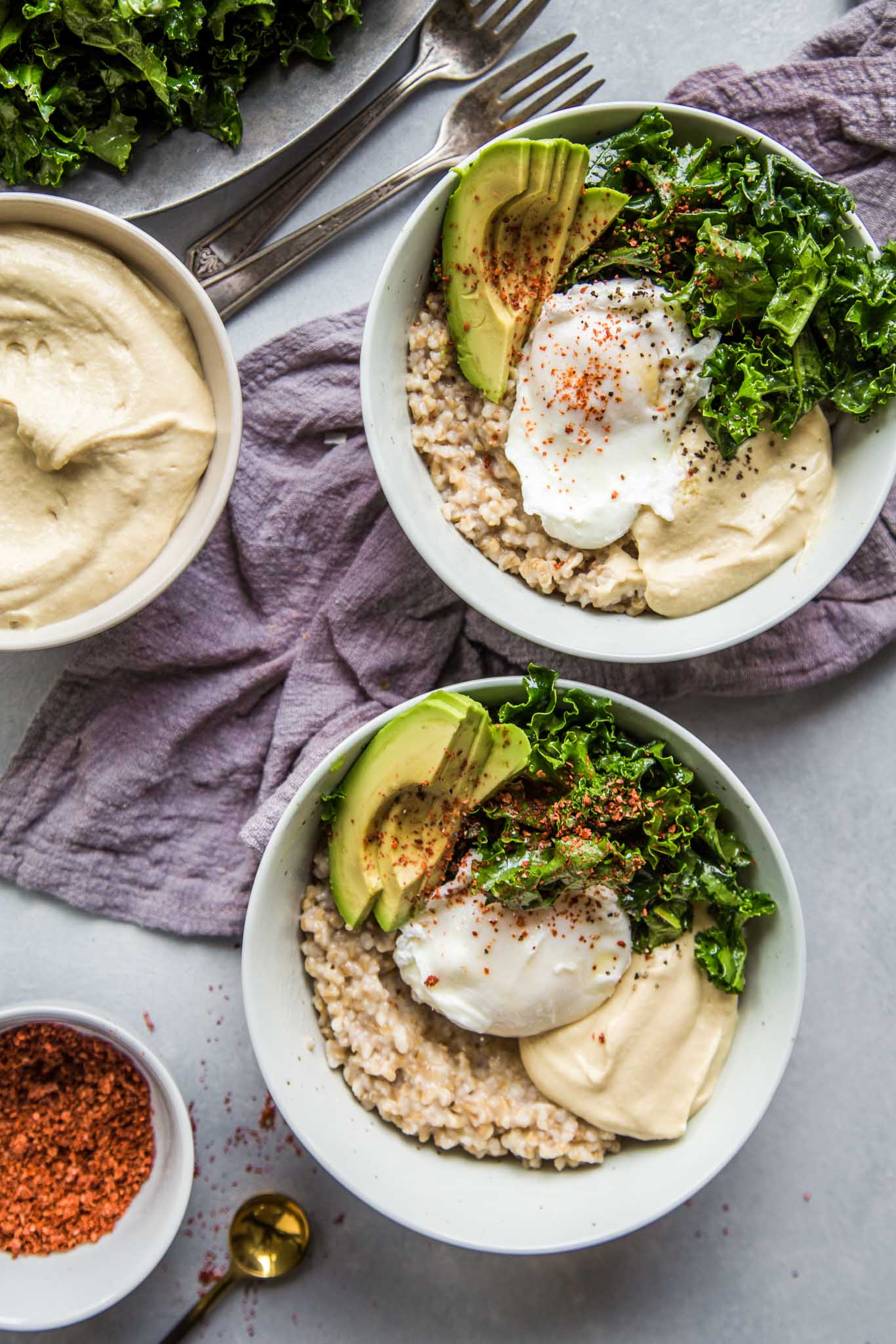 I like to add a big dollop of hummus, that massaged kale salad, some sliced avocado sprinkled with aleppo pepper and the poached egg. Hello beautiful. I could definitely add this Avocado & Kale Savory Oatmeal into my regular breakfast rotation.
If you loved this Avocado & Kale Savory Oatmeal I would appreciate it so much if you would give this recipe a star review! Also, be sure to snap a picture of your finished bowl and share it with me on Instagram using the hashtag #platingsandpairings and tagging me @platingsandpairings.
For more great Platings & Pairings recipes, be sure to follow me on Pinterest, Facebook, YouTube and Twitter.
Savory Oatmeal Recipe
Avocado & Kale Savory Oatmeal
Avocado & Kale Savory Oatmeal is the perfect way to start your day. Hearty oatmeal is topped with avocado, garlicky kale, hummus and aleppo pepper for a protein-packed breakfast.
Print
Pin
Ingredients
1/2

cup

Hodgson Mill steel cut oats

3

cups

water

¼

teaspoon

kosher salt

2

eggs

3

cups

kale

(thinly sliced)

2

teaspoons

olive oil

2

cloves

garlic

(minced)

½

lemon

(juiced)

1/2

avocado

(thinly sliced)

4

Tablespoons

hummus

Kosher salt

(to taste)

Aleppo pepper

(for topping)
Instructions
In a medium saucepan over medium heat, bring water to a boil. Add oats and simmer for 20-25 minutes or until desired consistency.

As the oats are finishing, heat 2 teaspoons of olive oil in a large, wide pot. Add in the garlic, cooking for about 30 seconds, until fragrant. Add the chopped kale and stir to coat with the garlic. Add in 1/4 cup of water, cover, and let kale cook for 5 minutes, stirring occasionally.

Once done, remove kale from heat and toss kale with

lemon juice and a pinch of salt.

Bring a second pot of water to a boil. With a spoon, stir the water in a circular motion to create a tornado effect. Crack in the two eggs and cook for 2 ½ - 3 minutes. (Or use an egg poacher.) Use a slotted spoon to remove the eggs from the pot.

Top cooked oatmeal with kale, egg, avocado, hummus, salt and aleppo pepper.
Nutrition
Calories:
439
kcal
|
Carbohydrates:
46
g
|
Protein:
19
g
|
Fat:
22
g
|
Saturated Fat:
3
g
|
Cholesterol:
163
mg
|
Sodium:
527
mg
|
Potassium:
903
mg
|
Fiber:
10
g
|
Sugar:
1
g
|
Vitamin A:
10350
IU
|
Vitamin C:
139.9
mg
|
Calcium:
231
mg
|
Iron:
5.1
mg
Oat Recipes: