This Butterscotch Bourbon Budino recipe topped with salted caramel is like a pudding cup for grown ups. It's a rich and creamy indulgent treat that's not overly sweet.
I'm going to come right out and say it – I'm not a chocolate fan. On any given day I'll surely take a scoop of vanilla ice cream over some chocolately chunk creation. I'd say that at least 10% of the population agrees with me on this one, but we're definitely in the minority.
But today, I'm sharing with you a recipe that is guaranteed to knock the socks off even die hard chocolate lovers:
Butterscotch Budino with Salted Caramel
This luscious pudding has an amazing velvety texture and the most insanely delicious flavor!
What is budino?
Budino is basically a fancy word for pudding. It's an Italian custard with a thick and creamy texture.
I first learned about budino in a cooking class that I took at Dobbes Estate Winery. We made a chocolate hazelnut budino with fresh whipped cream. And, while it was amazing, this non-chocolate fan was dying to try it in a different way.
Enter butterscotch and bourbon… and just because we can, some salted caramel for good measure.
I've talked about my salted caramel sauce before, and my husband's obsession with it. It's easy and quick to make (just 15 minutes) and it's the most buttery, yummy caramel sauce that you've ever tasted.
And, just like the salted caramel sauce, the custard for these butterscotch budinos is simple to make.
The most time consuming part is waiting for it to chill after the cooking process. The chill time will take at least 4 hours.
What is budino made of?
Can you make budino ahead of time?
Yes! You can make the budino up to three days ahead of time. I like to divide the custard among some small serving jars, and place them in the fridge. They're almost like a fancy pudding cup.
The salted caramel sauce can be made ahead of time as well, even up to a week beforehand. When you're ready to serve, simply heat up the caramel, drizzle a bit over each budino and top them with a dollop of whipped cream and a sprinkling of pistachios.
If you sample the custard on its own, you may be surprised when you're cooking up the custard that it really doesn't seem too sweet. It's got a mild flavor, with just a hint of sweetness, that makes it easy to eat spoonful after spoonful.
It's that salted caramel sauce on the top gives it an extra oomph and makes it just so yummy without being a major sugar bomb. It's just the right balance of sweet, creamy and salty that makes it overly simple to say "yes" to seconds.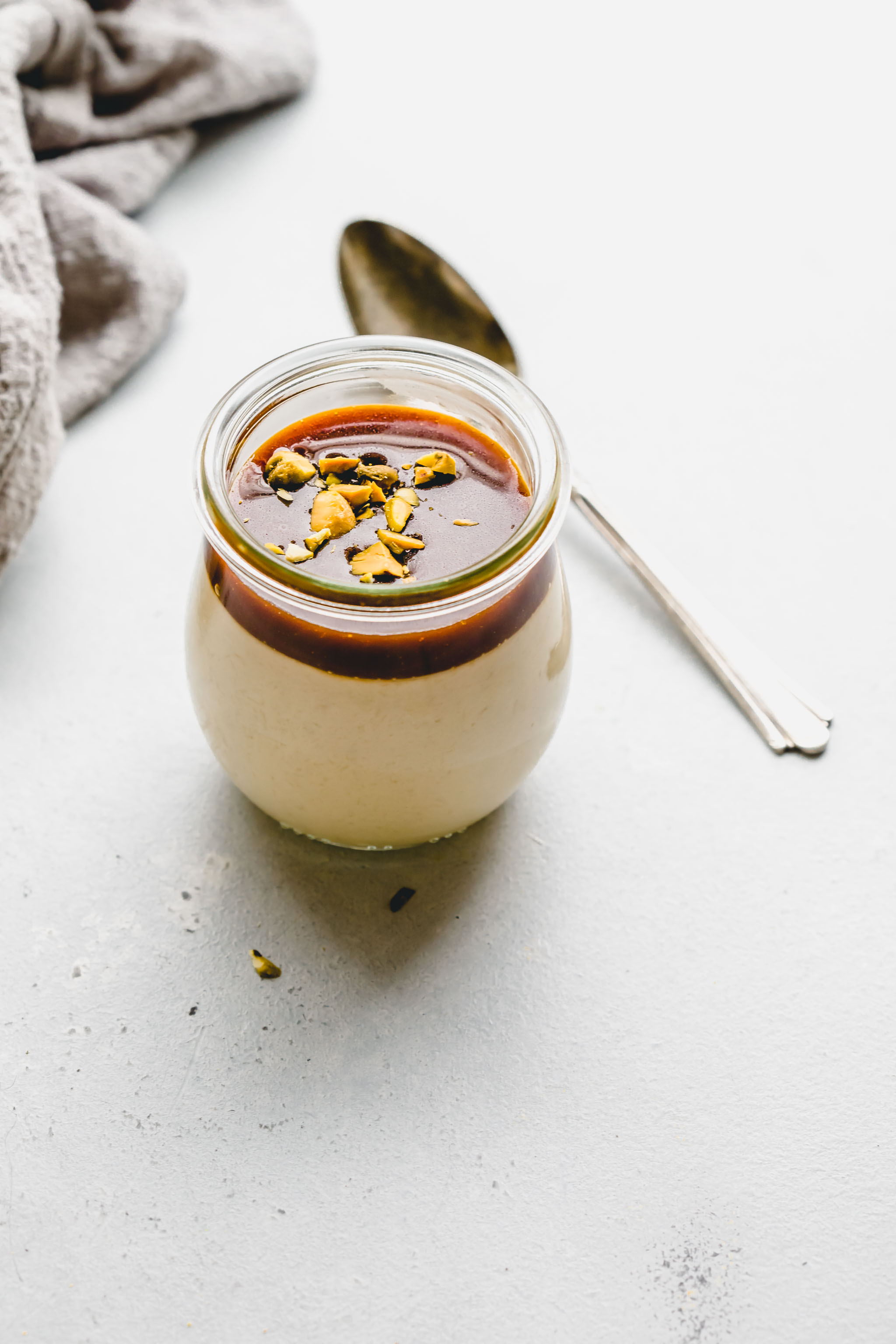 Frequently Asked Questions
Where did budino originate?
Budino originated in Italy.
What's the difference between budino and pudding?

While both are custard like desserts, pudding is typically thickened with cornstarch or gelatin. Budino is thickened primarily with eggs.

What's the difference between butterscotch and salted caramel?
Butterscotch is made using brown sugar and butter. Salted caramel is made using white sugar, butter, heavy cream, salt and vanilla.
How do you pronounce budino?
It is pronounced boo/DEE/noh.
If you loved this Butterscotch Budino recipe I would appreciate it so much if you would give this recipe a star review! Also, be sure to snap a picture of your finished dish and share it with me on Instagram using the hashtag #platingsandpairings and tagging me @platingsandpairings.
Wine pairings for Butterscotch Budino:
Tawny Port

is one of my favorite wine pairings for creamy, custard dishes – It's hints of caramel and slight nuttiness pair nicely with the flavors in this butterscotch budino.
More salted caramel recipes:
Butterscotch Budino Recipe
The jars I used are available here.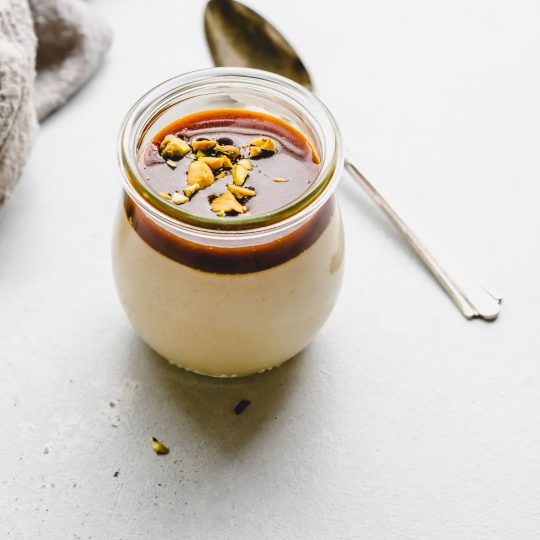 Butterscotch Bourbon Budino with Salted Caramel
This Butterscotch Bourbon Budino with Salted Caramel is like a pudding cup for grown ups. It's a rich and creamy indulgent treat that's not overly sweet.
Print
Pin
Ingredients
3

cups

heavy cream

1 1/2

cups

whole milk

1

large egg

3

large egg yolks

1/4

cup

cornstarch

1

cup

packed dark brown sugar

(plus 2 Tablespoons )

1/2

cup

water

1 1/2

teaspoons

coarse kosher salt

5

Tablespoons

unsalted butter

1 1/2

Tablespoons

bourbon

Chopped pistachios

(for topping)

15-Minute Salted Caramel Sauce

(for topping)
Instructions
Combine heavy cream and milk in a large bowl. Whisk together egg, egg yolks and cornstarch in a medium bowl.

In a large pot set over medium-low heat stir together brown sugar, water and salt until sugar dissolves. Increase heat to medium-high and allow to boil without stirring, until the mixture turns thick and dark amber in color, occasionally scraping the sides of the pot with a rubber spatula, about 7 minutes.

Immediately add in cream mixture and whisk to combine and dissolve sugary bits. Bring mixture to a boil, watching pot carefully to avoid boiling over, then reduce heat to medium.

Whisk half of this hot caramel mixture into the egg mixture. Return mixture to pot and whisk to combine until custard boils and thickens, about 2 minutes. Remove from heat and stir in butter and bourbon.

Divide custard among ten 6-ounce glasses or cups. Chill uncovered until cold, about 4 hours.

Spoon 1 tablespoon caramel sauce over each budino and top with a dollop of whipped cream. Finish with a sprinkling of chopped pistachios.
Nutrition
Calories:
439
kcal
|
Carbohydrates:
28
g
|
Protein:
4
g
|
Fat:
35
g
|
Saturated Fat:
21
g
|
Cholesterol:
191
mg
|
Sodium:
59
mg
|
Potassium:
143
mg
|
Sugar:
23
g
|
Vitamin A:
1390
IU
|
Vitamin C:
0.4
mg
|
Calcium:
117
mg
|
Iron:
0.4
mg