This Air Fryer Potstickers recipe teaches you how to easily cook store-bought frozen dumplings in the air fryer without any excess oil.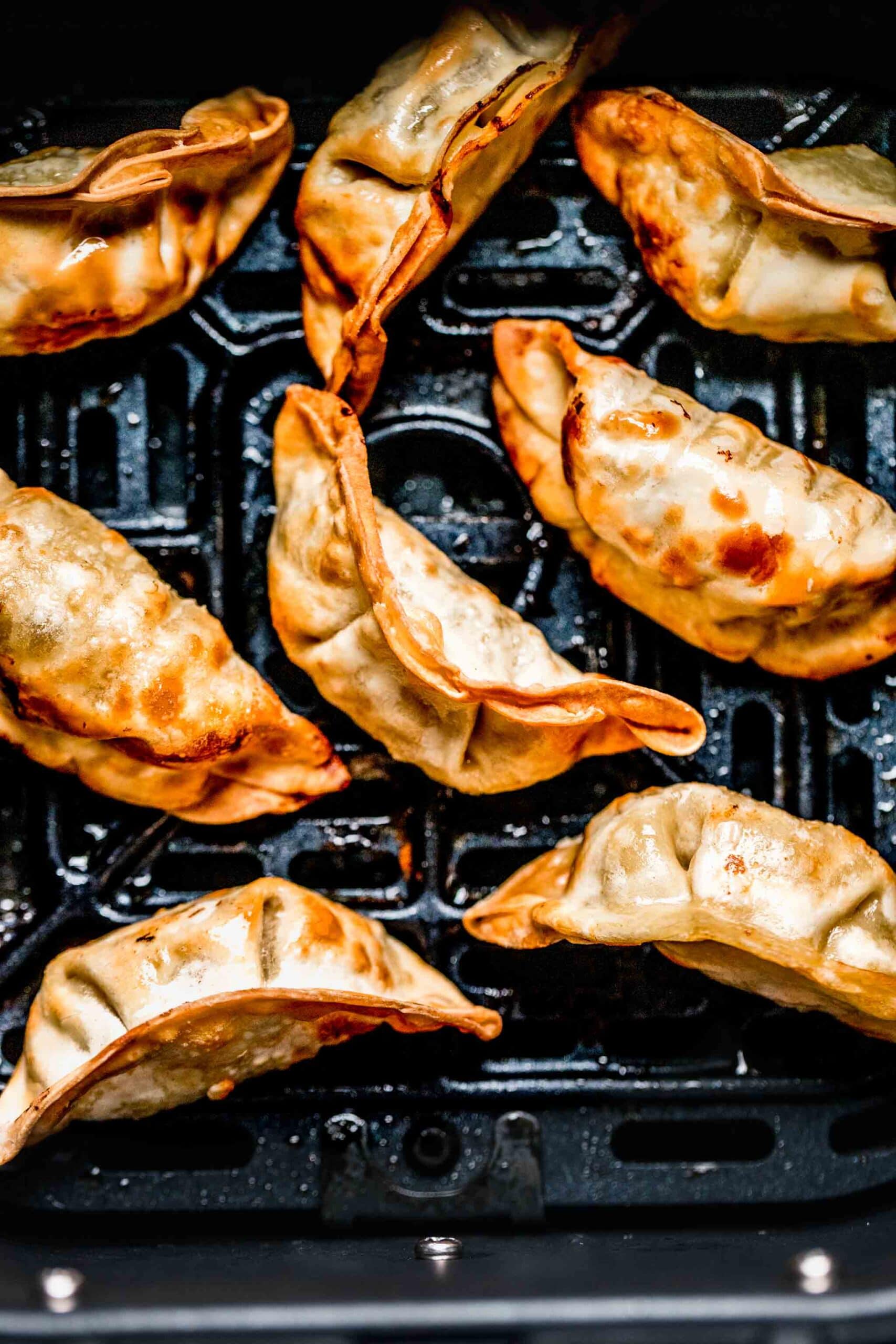 Whether you need a quick meal for a weeknight or a no-nonsense appetizer for your next party, dumplings are where it's at.
Chinese or Japanese dumplings (AKA potstickers, gyoza, or jiaozi) are made by stuffing ground meat and/or minced vegetables in a soft and pliable dough. The dough is wrapped around the filling and sealed at the edges, then steamed in a pan. Once the water evaporates, the bottoms of the dumplings become golden brown and crispy while the tops stay soft and chewy.
You can't go wrong with the classics, like these homemade Lamb Dumplings and French Onion Soup Dumplings, but what if I told you that there's an easier way?
That's where this Air Fryer Potstickers recipe comes in handy!
Thanks to the air fryer, store-bought frozen dumplings can cook in less time than it usually takes to steam and pan fry, and the results are always crispy and delicious.
Serve your air fryer dumplings with my 4-Ingredient Dumpling Sauce and voila! You have a quick and tasty meal that's perfect for lazy dinners or party snacks.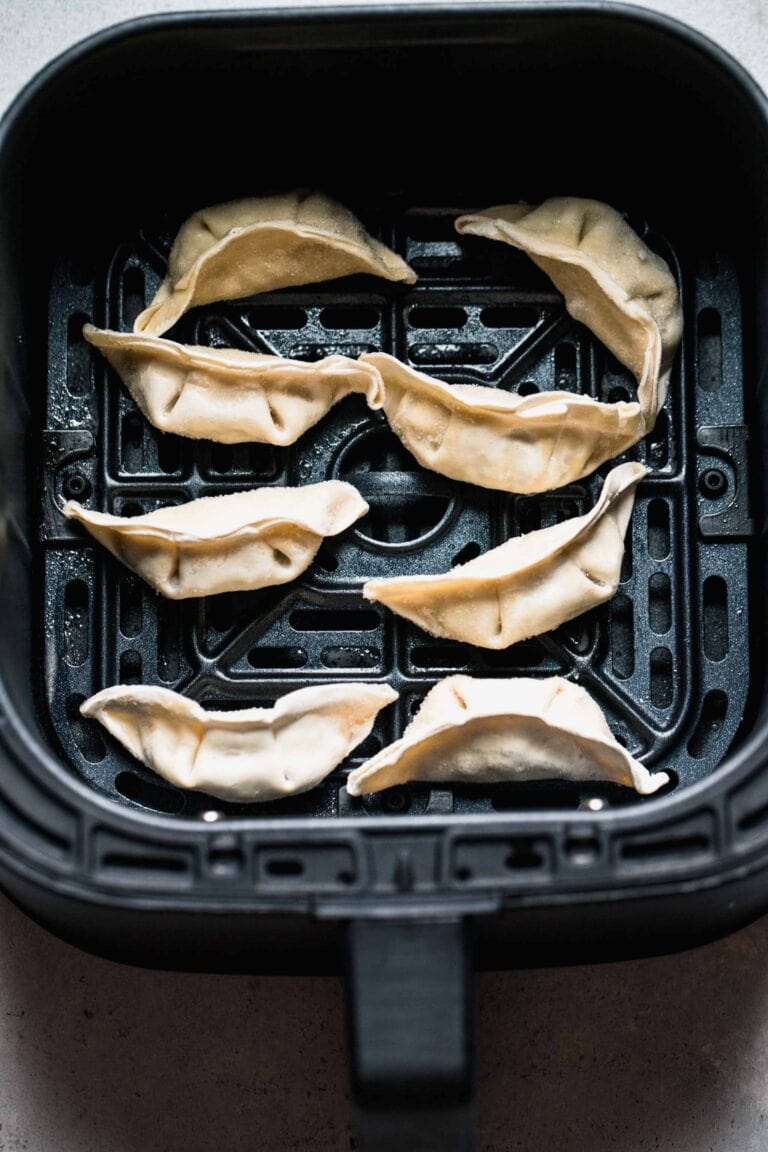 Can you cook frozen potstickers in the air fryer?
Absolutely! Typically, dumplings are steamed and fried in a hot skillet to achieve crispy bottoms and soft tops. But cooking them in the air fryer takes all the guesswork out of the process. Just lay them in the pan, spray them with oil, and cook!
How to cook potstickers in the air fryer
After preheating your air fryer, place the frozen dumplings in an even layer in the air fryer basket. Spray the tops with cooking spray.
Air fry for a few minutes, then shake the basket and spray the dumplings again with cooking spray. Air fry for a few more minutes or until the dumplings are cooked through and crispy.
Tips and tricks
This recipe works with both meat-filled and vegetarian dumplings!
You can also use the air fryer technique with frozen homemade dumplings rather than store-bought.
Always cook the dumplings in a single layer in the air fryer basket. If they're piled on top of each other, the dumplings will cook unevenly and won't crisp as nicely.
Cook the dumplings in batches if your air fryer basket isn't big enough to hold them all while still leaving space in between.
Cooking spray is the secret to crispy air fryer dumplings! Try not to leave it out.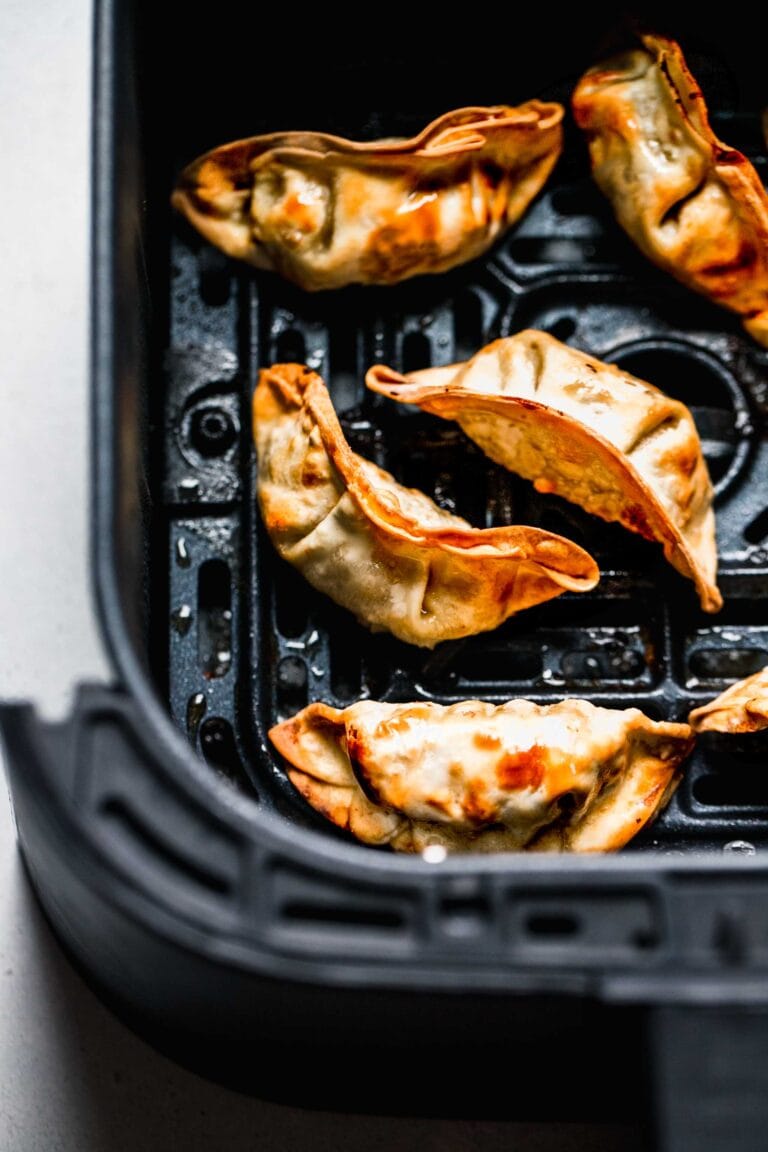 Serving suggestions
My Dumpling Dipping Sauce is the perfect match for air fryer dumplings. It's a simple 4-ingredient dipping sauce with just the right amount of savory, tangy, and spicy flavors.
Other dipping sauces you can serve with dumplings are chili oil mixed with Chinese black vinegar, potsticker sauce, gyoza sauce, ponzu sauce, or teriyaki sauce.
Want to make it a meal? Pair your dumplings with any of these restaurant-quality side dishes:
FAQS
Are potstickers, gyoza, and dumplings the same thing?
The three have very minute differences, but are essentially all the same thing: small portions of meat and/or vegetables wrapped in dough. Where they vary is in the thickness of the dough and the filling ingredients. 
How long do you cook frozen dumplings in an air fryer?
A dozen frozen dumplings should take between 12 to 16 minutes to cook in the air fryer. However, the time can vary depending on the functionality of your air fryer and the amount of dumplings you're cooking.
Do you need to thaw the dumplings before cooking?
Store-bought dumplings can be cooked in the air fryer while they're still frozen. No thawing or defrosting necessary!
Can this recipe be made without oil?
I don't recommend omitting the cooking spray/oil because it encourages the dumplings to become crispy and golden while keeping the filling moist. Without it, the dumplings may become dry, hard, or burnt.
More easy air fryer recipes
Did you make this potsticker recipe?
If you loved cooking frozen dumplings in the air fryer I would appreciate it so much if you would give this recipe a star review! Also, be sure to snap a picture of your finished dish and share it with me on Instagram using the hashtag #platingsandpairings and tagging me @platingsandpairings.
For more great Platings & Pairings recipes, be sure to follow me on Pinterest, Facebook, YouTube and Twitter.
Air Fryer Potstickers (Frozen Dumplings or Gyoza)
This Air Fryer Potstickers recipe teaches you how to easily cook store-bought frozen dumplings in the air fryer without any excess oil.
Print
Pin
Ingredients
12

frozen potstickers

(or dumplings )

Cooking oil spray
Instructions
Preheat your air fryer to 365 degrees.

Add the frozen dumplings in a single layer and spray with cooking spray.

Cook for 6 minutes, then toss, spray again with cooking spray, and cook for 6-8 minutes longer.

Enjoy with dumpling dipping sauce on the side.
Nutrition
Calories:
289
kcal
|
Carbohydrates:
48
g
|
Protein:
8
g
|
Fat:
9
g
|
Saturated Fat:
2
g
|
Cholesterol:
5
mg
|
Sodium:
557
mg
|
Fiber:
3
g
|
Sugar:
5
g
|
Vitamin C:
13
mg
|
Calcium:
43
mg
|
Iron:
2
mg