In these crazy times, I thought I would take some time out to let you know what I'm cooking and how I'm meal planning for self quarantine and the virus. Here's what my week one looks like, complete with a full shopping list.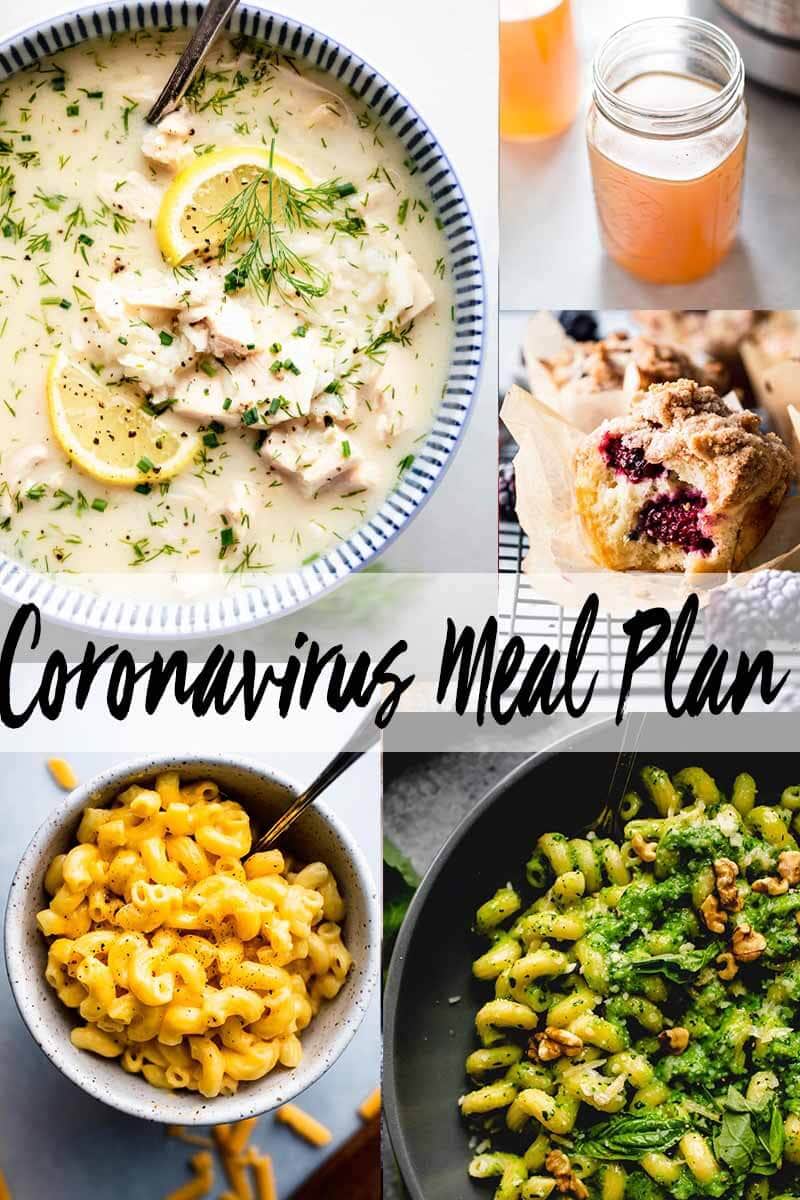 I'm hoping that you already have a lot of the ingredients on hand, so the list should be significantly shorter.
I'm also hoping you have plenty of wine on hand for these tough times! If not, I'd stock up on some Chardonnay, Pinot Noir, dry Riesling and Rosé for pairing with these yummy recipes.
I wanted to throw in a bunch of comforting recipes. I also wanted to be sure to include recipes that have ingredients that won't go bad quickly. If there are only two of you in the family, you could probably stretch out this meal plan even further.
What are you all cooking up right now? What are you stocking up on in the stores? What recipes can I provide you with to make your life easier? I'd love to hear in the comments below!
Breakfast:
Lunch:
Day 1:
Instant Pot Chickpeas

(you'll be using these for recipes throughout the week – or buy canned chickpeas)

Veggies – Carrots, Celery, Cucumber

Pita or Crackers or Pretzels (save some for pretzel crusted chicken)
Day 2:
Bone Broth

(you'll be using this in recipes throughout the week – or purchase boxed broth)
Day 3:
Day 4:
Day 5:
Day 6:
Day 7:
Dinner:
Day 1:
Day 2: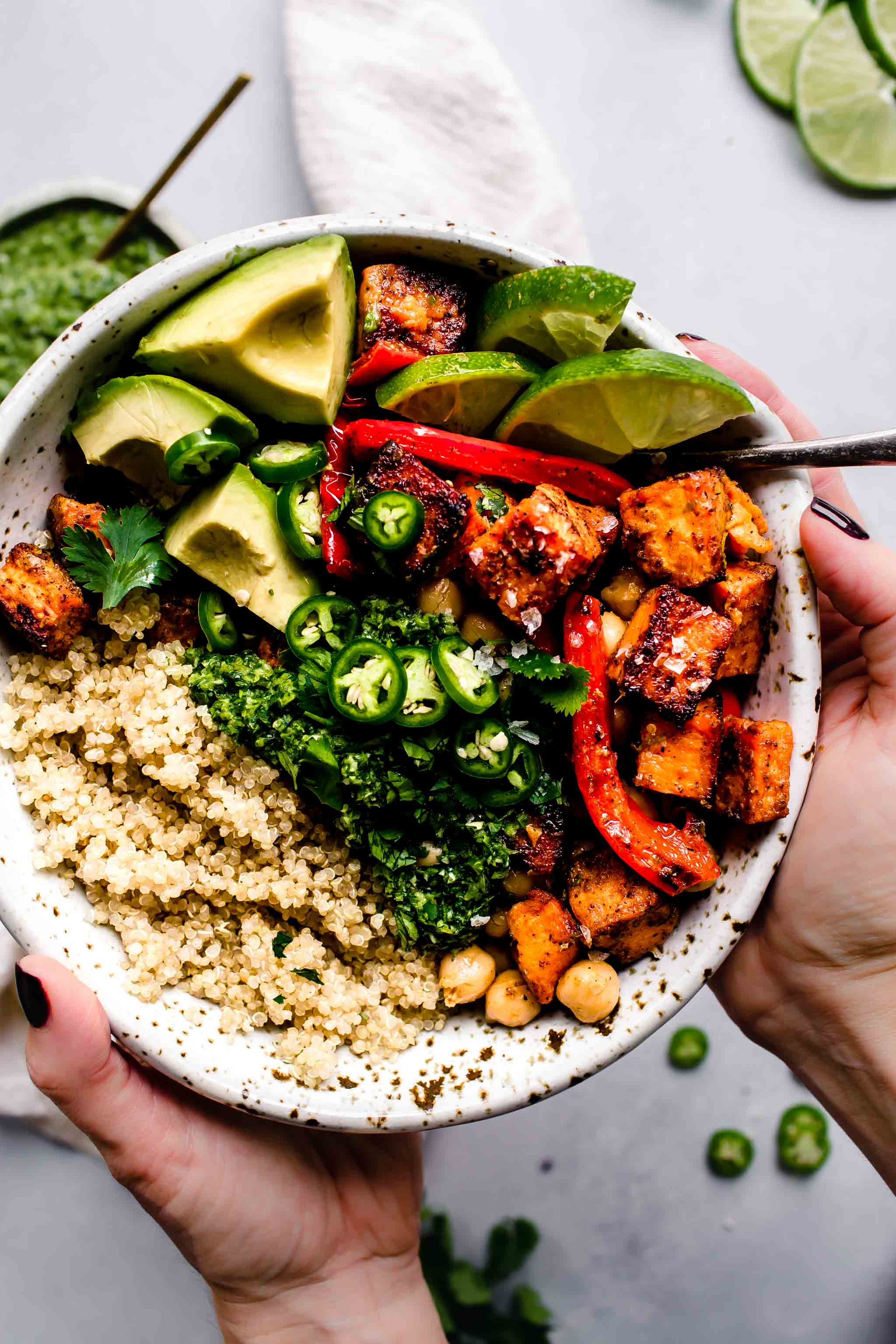 Day 3:
Day 4:
Day 5: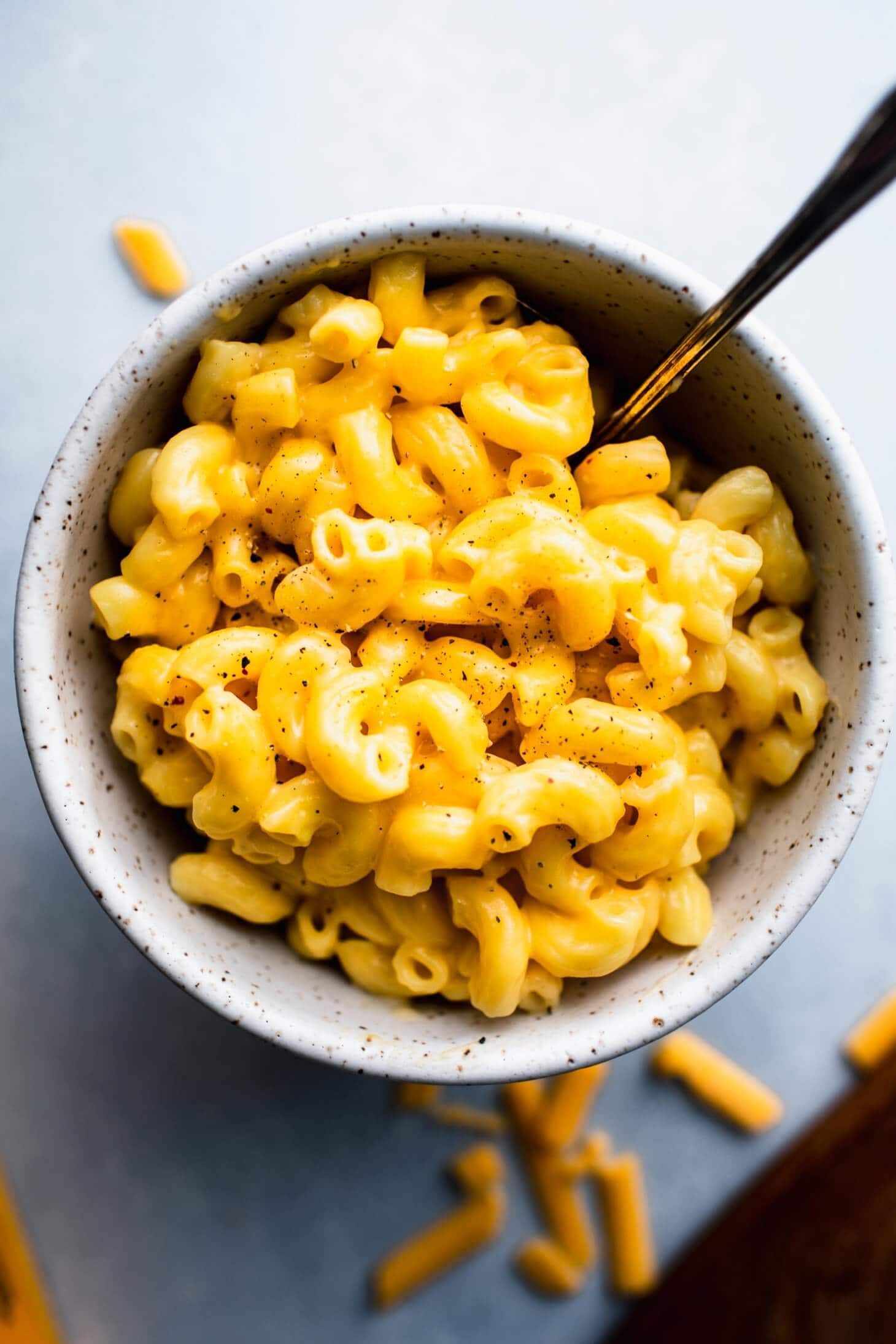 Day 6:
Day 7:
Shopping List:
Meat:
2 whole chickens (4-6 pounds)

4 pounds boneless skinless chicken breasts

6 strips bacon
Frozen:
1 cup frozen blackberries or fresh

2/3 cup frozen peas
Dairy:
2 cups butter

Greek yogurt (large container)

1 dozen eggs

2 ½ cups milk

16 ounces shredded cheddar cheese

½ cup grated Monterey jack cheese

1 ½ cups grated Parmesan cheese

½ cup cottage cheese
Produce
1 bunch green onions

2 red bell peppers

1 cucumber

Celery

1 jalapeno

2 pounds broccoli florets

1 head cauliflower

1 pound sweet potatoes

1 bunch kale

Spinach leaves (large bag)

Carrots (large bag)

3 heads garlic

2 yellow onions

1 red onion

¼ cup minced shallot

1 avocado

9 lemons

2 limes

2 bunches cilantro chopped

1 bunch parsley chopped

1 cup basil leaves tightly packed

2 Tablespoons chopped fresh dill

4-inch piece ginger
Other:
1/4 cup dry white wine or vermouth

1 Tablespoon Nutritional Yeast

½ cup walnuts

Large bag bag salted pretzels

Pita bread (optional)
Canned Goods:
12 ounce can evaporated milk

1 6-ounce can tomato paste

3 (15-ounce) cans full-fat coconut milk

Jar roasted red peppers

Olive oil, large bottle

½ cup vegetable oil
Baking & Grains:
2 cups quinoa

Rice (large package)

3 cups flour

2 cups sugar

Baking powder

Baking soda

Cornstarch

Vanilla extract

Almond extract (optional)

1 pound macaroni

1 pound pasta

1 pound dried chickpeas or 4 15-ounce cans chickpeas
Condiments:
2 teaspoons prepared yellow mustard

2 Tablespoons whole grain mustard

1 Tablespoon white wine vinegar

4 Tablespoons soy sauce or tamari

2 teaspoons oyster sauce

1 Tablespoon maple syrup

¾ cup tahini
Spices:
Cinnamon

Cardamom

Cumin

Turmeric

Thyme

Paprika

Red Pepper Flakes

Poultry seasoning or McCormick Grill Mates Montreal chicken seasoning

Onion powder

Chili powder

Garlic powder

Chipotle chili powder

Nutmeg

Cayenne Pepper

Curry Powder

Garam Masala

Salt

Pepper