Both shepherd's pie and cottage pie are comforting casseroles made with a flavorful meat filling and mashed potato topping. But what makes them different? This handy Shepherd's Pie vs. Cottage Pie guide teaches you about the subtle, yet key differences between these two comfort foods!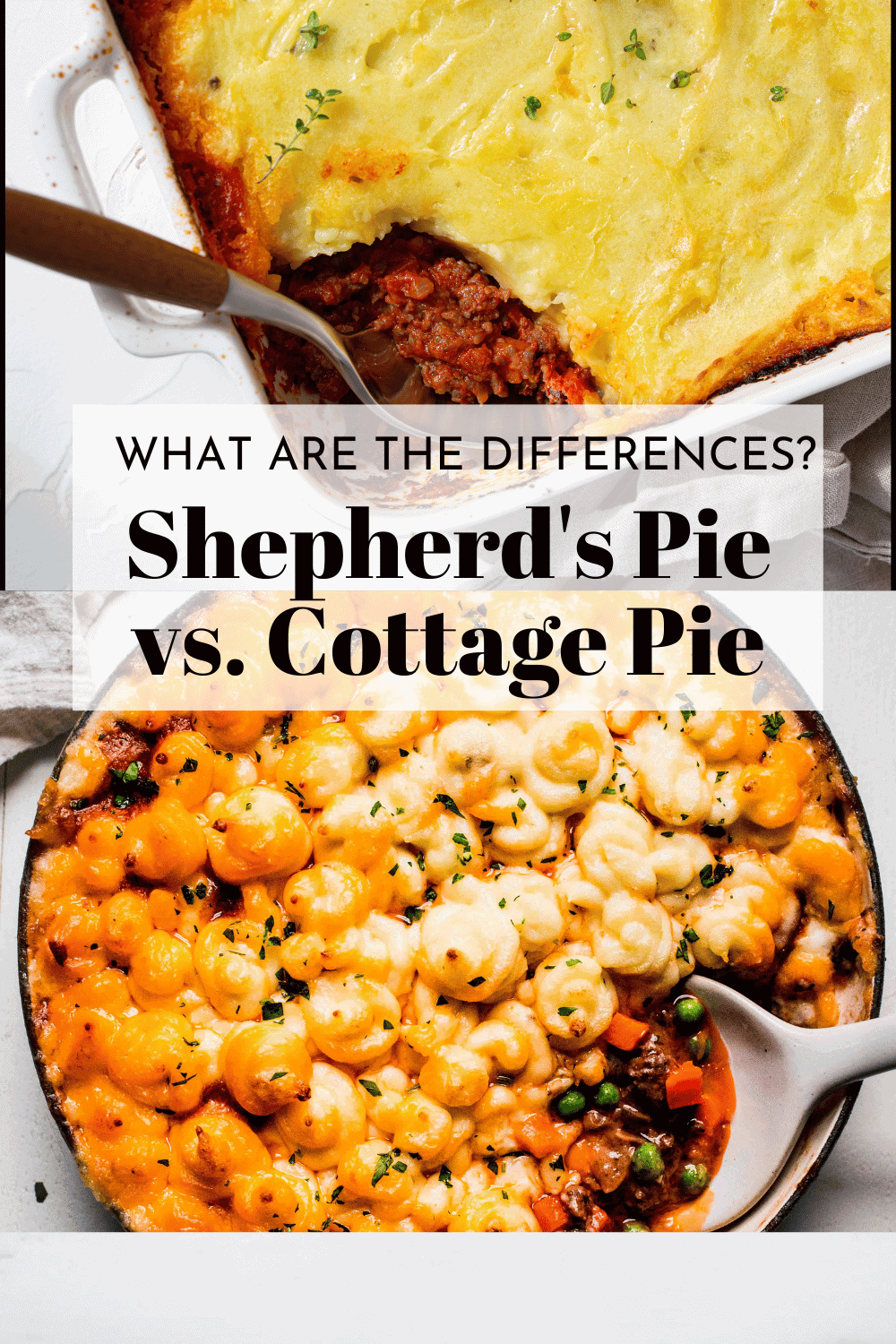 The difference between shepherd's pie and cottage pie
When thinking about the difference between shepherd's pie and cottage pie, one thing is for sure: they're both comforting, hearty, and delicious dinners! Both feature a richly flavored and simmered ground meat mixture and a mashed potato topping. But what exactly sets these two recipes apart?
Learn about what makes these two St. Patrick's Day-worthy recipes their own in this shepherd's pie vs. cottage pie guide. It goes over everything, from the difference in ingredients, flavors, and even what side dishes pair well! You'll learn all about these two meat pies, as well as which one you want to try first.
What is shepherd's pie?
If you love meat and potatoes, then you'll love shepherd's pie. It's a comforting meal made traditionally with minced lamb that's been seasoned with red wine, beef stock, herbs, and vegetables. To finish, the meat mixture is topped with mashed potatoes, then baked until the potatoes are golden and the meat filling is bubbly.
While the history of shepherd's pie is somewhat unclear, it's been said to first come about during the 1700s and 1800s in Scotland or Ireland. It was seen as a budget-friendly meal that could be made with whatever you already had on hand. Since then, shepherd's pie recipes have changed and become known for being made only with a minced lamb filling (hence the name… shepherd = a person who tends to sheep/lamb). 
From brand to brand or pub to pub, the flavors in shepherd's pie vary depending on what aromatics and vegetables were used to make it. The way in which the mashed potatoes were prepared can also affect the flavor; some are rustic and fluffy, while others are silky smooth and extra creamy thanks to additions like cheese, sour cream, or milk.
My Classic Skillet Shepherd's Pie is made the traditional way – with lamb! The flavors are rich and divine, and the lamb can easily be swapped for the ground meat of your choice.
Serving suggestions for shepherd's pie
If you're looking for side dishes, check out my entire post on what to serve with shepherd's pie! Or, try any of these easy vegetable sides instead:
What is cottage pie?
Shepherd's pie and cottage pie are often confused for one another because they're so similar. The only difference is the meat! Cottage pie uses essentially the same recipe as shepherd's pie but is made with ground beef instead of ground lamb.
Up until the 20th century, the terms "shepherd's pie" and "cottage pie" meant the same thing: minced and seasoned meat roasted with a potato topping. Nowadays, cottage pie is only referred to as a variation of shepherd's pie that is made with ground beef or mutton instead of lamb.
Serving suggestions for cottage pie
There are plenty of side dishes to pair with cottage pie, but these are my favorites:
FAQs
Can you make shepherd's pie or cottage pie with another kind of meat?
Sure. If you don't want to use ground lamb or beef, make your own version using ground turkey or ground chicken instead.
Is cottage pie made with vegetables?
Yes. Just like shepherd's pie, ground beef is simmered and flavored with a mix of vegetables, like diced carrots, onions, celery, peas, mushrooms, and more.
Why is my shepherd's pie runny? 
This can happen if the meat mixture wasn't thickened with enough flour or wasn't simmered long enough to allow it to thicken. If you haven't baked the pie yet, you can return the meat mixture to the heat, sprinkle on some more flour, and let it simmer for a few minutes or until the sauce thickens. 
Can you freeze shepherd's pie and cottage pie?
Yes, both freeze very well. After it's baked and cooled, wrap the pie in plastic wrap, then freeze for up to 3 months. Let it thaw in the fridge overnight before reheating in the oven the next day.
More comfort food recipes
Did you like this guide?
If you loved this guide on the differences between shepherd's pie and cottage pie, I would appreciate it so much if you would give this recipe a star review! Also, be sure to snap a picture of your finished dish and share it with me on Instagram using the hashtag #platingsandpairings and tagging me @platingsandpairings.
For more great Platings and Pairings recipes, be sure to follow me on  Instagram, TikTok, Pinterest and Facebook.
Shepherd's Pie (Cottage Pie)
This classic take on skillet shepherd's pie (or cottage pie) with lamb features savory meat and vegetable filling topped with cheesy mashed potatoes for the ultimate winter comfort food.
Print
Pin
Ingredients
2

pounds

russet potatoes

(peeled and quartered (about 3 large))

5

Tablespoons

unsalted butter

(divided)

1/2

cup

heavy cream

2/3

cup

shredded sharp cheddar cheese

Salt and pepper

(to taste)

1

onion

(diced)

1 ½

pounds

American ground lamb

4

cloves

garlic

(minced)

1

teaspoon

dried thyme

1

teaspoon

dried rosemary

1

cup

dry red wine

1

Tablespoon

Worcestershire sauce

2

Tablespoons

all-purpose flour

⅓

cup

tomato paste

1

cup

beef stock

1

12-ounce bag

frozen mixed peas & carrots

(2 cups)

¼

cup

fresh parsley

(minced)
Instructions
Bring a large pot of salted water to a boil over high heat. Add potatoes to boiling water and cook for 15-20 minutes, until they can be pierced easily with a fork.

In a small saucepan, heat 4 TBSP of the butter and cream together until the butter melts.

Drain the cooked potatoes well and return them to the pot. Mash the potatoes until smooth. Then, add in the butter-cream mixture, just until blended. Stir in the cheese and season to taste with salt and pepper. Set aside.

Preheat the oven to 375 degrees.

Melt the remaining 1 TBSP butter in a large oven-safe skillet over medium-high heat. Add the onions, and cook for 5 minutes, stirring occasionally, until translucent.

Add the ground lamb, garlic, thyme, rosemary, and a pinch of salt, and pepper. Cook, breaking the meat up as it browns, for 6-8 minutes, until cooked through. USDA recommends ground lamb reach an internal temperature of 160F.

Add the red wine, Worcestershire sauce, flour and tomato paste. Stir to combine and cook for 2-3 minutes, until thickened.

Add the stock and peas and carrots. Bring the liquid to a boil then reduce to simmer. Simmer for 5 minutes, stirring occasionally. Stir in the parsley, and season with additional salt and pepper, to taste.

Top the meat mixture with the mashed potatoes then spread them evenly, or use a piping bag to create a swirl pattern.

Place the skillet on a baking sheet (to catch any spill over) and bake for 30 minutes, until the potatoes begin to brown. Let sit for 10 minutes before enjoying.
Notes
To make meal prep more manageable, make and store any part of this recipe ahead of time or assemble and refrigerate or freeze before baking. 
To prepare the mashed potatoes ahead 
Make them as directed and let them cool. Store in an airtight container in the refrigerator for up to 3 days. 

Before spreading the potatoes on top of the meat mixture, you may need to warm them slightly by covering the bowl tightly with plastic wrap and poking a few holes in the top. Microwave in 30-second increments until they are easily stirred and spreadable. 
To prepare the meat mixture ahead 
Prepare the meat mixture as directed and let it cool in the skilled. Cover the skillet tightly with aluminum foil and store it in the refrigerator for up to 3 days. 

When ready to assemble, spread the mashed potatoes on top, and bake as directed. 
Meal prepping an assembled shepherd's pie (freezer instructions included)
If you want to make your shepherd's pie to make later in the week or even after a month or two, you can easily do so. 

Instead of assembling the pie in a skillet, transfer the meat mixture to a casserole dish that's oven and freezer safe. Spread the mashed potatoes on top, and let the mixture cool.

Cover tightly in foil and store in the refrigerator for up to 3- 5 days before baking as directed. 

You can store assembled shepherd's pie in the freezer for up to 3 months. Take it out of the freezer the night before and let it thaw in the refrigerator. 

Bake at 375 degrees for 30 minutes with the foil on top, then remove the foil and bake for another 15-25 minutes or until the center is warmed through to 165 degrees and the potatoes are lightly browned.
Nutrition
Calories:
715
kcal
|
Carbohydrates:
38
g
|
Protein:
28
g
|
Fat:
48
g
|
Saturated Fat:
25
g
|
Polyunsaturated Fat:
3
g
|
Monounsaturated Fat:
16
g
|
Trans Fat:
0.4
g
|
Cholesterol:
143
mg
|
Sodium:
397
mg
|
Potassium:
1211
mg
|
Fiber:
3
g
|
Sugar:
5
g
|
Vitamin A:
1168
IU
|
Vitamin C:
18
mg
|
Calcium:
169
mg
|
Iron:
4
mg