Learn how to cook crispy air fryer salmon with this foolproof guide. This almost hands-off method gives you flaky and tender salmon in about 10 minutes, making it the ultimate protein for weeknight dinners, salads, grain bowls, tacos, and more.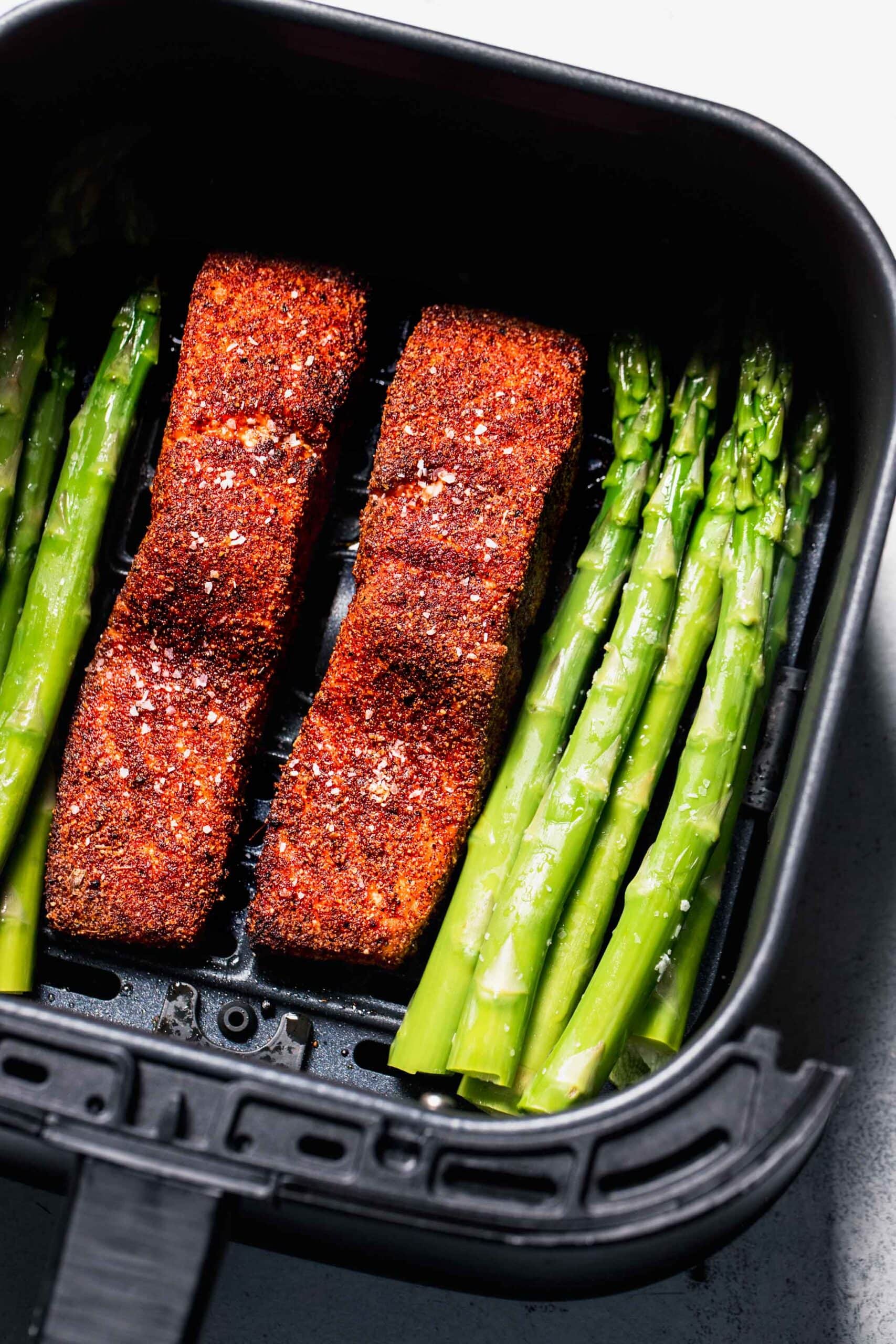 It's no secret that salmon is one of my favorite proteins. Other than its mouthwatering flavor, I love that it's incredibly easy to cook using countless different methods. I'll sous vide, roast, grill, and pressure cook salmon and it always ends up with the most delectable textures and flavors.
Another easy way to cook crisp on the outside and buttery on the inside salmon is in the air fryer!
In this Air Fryer Salmon recipe, you'll learn how to cook perfect salmon without barely lifting a finger. It takes less than 10 minutes and has layers of complex, smoky flavors thanks to the easy dry rub. Pair this fantastic protein with endless side dishes and wine pairings for dinner and dig in!
Why you'll love it
The air fryer is the ultimate tool when you want fish that's crispy on the outside and flaky on the inside. Its dry heat circulates around every inch of the salmon in less than 10 minutes and there's no flipping needed.
You can serve air fryer salmon for simple weeknight dinners, incorporate it into other recipes, or take it on the go as part of your healthy meal prep! I love it with air fryer asparagus, mashed sweet potatoes, in grain bowls, and much more.
Ingredients needed
Salmon filets – I made this recipe with two 6-ounce skinless salmon filets but you can use more if you're serving your whole family or a crowd.
Olive oil spray
Salmon dry rub – I seasoned the salmon filets with a homemade spice blend made from paprika, garlic powder, onion powder, brown sugar, cumin, salt, pepper, and cayenne. Just like in my Salmon Dry Rub recipe, the blend works its magic to give the salmon more dimension and a smoky-spicy flavor profile.
How to cook salmon in the air fryer
Make the dry rub by whisking the sugar and spices together in a small bowl.
Pat the salmon filets dry with a paper towel, then sprinkle the dry rub over top. Rub in the spices with your hands, ensuring there's a generous layer on all sides.
Spray the air fryer basket with oil and place the seasoned fillets in a single layer inside.
Air fry the salmon until it's cooked through and easily flakes when scraped with a fork. Enjoy!
To make this a meal, you can air fry asparagus at the same time as the salmon filets. Just add the asparagus to the air fryer after 3 minutes, then cook for 5 minutes more.
Tips and tricks
Always pat the salmon filets dry with paper towels before sprinkling the seasonings over top. The spices will have an easier time sticking to a dry surface!
Take the time to preheat the air fryer before cooking the salmon. This helps the fish cook evenly and quickly.
Leave space in between each filet in the air fryer or cook the salmon in batches if you need to. Overcrowding or overlapping the salmon filets will cause them to steam instead of crisp.
Variations
FAQs
How long does it take to air fry salmon?
Two skinless salmon filets took around 8 minutes to cook in the air fryer. Note that the cooking time will vary depending on your air fryer model and the thickness of your filets.
At what temperature should I air fry salmon?
The best temperature to air fry salmon is 400ºF.
How can you tell the salmon is done air frying?
You'll know the salmon is cooked perfectly when it flakes easily after being scraped with a fork. The USDA also recommends cooking fish to an internal temperature of 145ºF, which you can check using a meat thermometer.
Can I use skin-on salmon instead?
Yes, you can air fry salmon with skin if that's what you already have on hand.
Does this recipe work with frozen salmon?
Absolutely! If you already have frozen salmon filets at home, let them thaw completely in the fridge before seasoning and air frying as normal.
How do you store cooked salmon?
Once it's cool, transfer the leftover salmon to a shallow airtight container and store it in the fridge for 3 to 4 days or in the freezer for 2 to 3 months. 
Serving suggestions
For simple weeknight dinners or a healthy weekday lunch, air fryer salmon is best served with approachable, yet flavor-rich side dishes, like:
Another great way to enjoy your flaky salmon is to incorporate it into other meals. Cut up the filets and use them as a protein-packed topping on salads and grain bowls, layer them into tacos with this Fish Taco Sauce and Mango Salsa, or layer them on crackers or crostini for easy appetizers. The options are endless!
More salmon recipes
More air fryer recipes
​​​​Did you make this crispy air fryer salmon recipe?
If you love cooking salmon in the air fryer, I would appreciate it so much if you would leave a ⭐️star review⭐️! Also, be sure to snap a picture of your finished dish and share it with me on Instagram using the hashtag #platingsandpairings and tagging me @platingsandpairings.
For more great Platings & Pairings recipes, be sure to follow me on Pinterest, Facebook, YouTube and Twitter.
Crispy Air Fryer Salmon and Asparagus
Learn how to cook crispy air fryer salmon with this foolproof guide. This EASY method gives you flaky and tender salmon in about 10 minutes!
Print
Pin
Ingredients
2

6-ounce

salmon filets

(skinless )
Salmon Dry Rub
1

Tablespoon

paprika

(sweet or smoked)

1

teaspoon

garlic powder

1

teaspoon

brown sugar

1

teaspoon

onion powder

½

teaspoon

cumin

½

teaspoon

salt

¼

teaspoon

black pepper

1/2

teaspoon

dried cayenne pepper
Instructions
In a small bowl, whisk together the dry rub ingredients.

Pat the salmon dry with paper towels. Sprinkle the salmon with the dry rub and coat it on all sides.

Preheat your air fryer to 400-degrees.

Spray the basket with oil and add the salmon in a single layer (you may need to work in batches).

Cook the salmon for 8 minutes. If desired, add the asparagus after 3 minutes and allow it to cook for 5 minutes.

Enjoy!
Nutrition
Calories:
75
kcal
|
Carbohydrates:
15
g
|
Protein:
6
g
|
Fat:
1
g
|
Saturated Fat:
0.2
g
|
Polyunsaturated Fat:
0.4
g
|
Monounsaturated Fat:
0.2
g
|
Cholesterol:
1
mg
|
Sodium:
592
mg
|
Potassium:
582
mg
|
Fiber:
6
g
|
Sugar:
7
g
|
Vitamin A:
3433
IU
|
Vitamin C:
13
mg
|
Calcium:
75
mg
|
Iron:
6
mg