Possibly the best-ever sauce for grilled chicken, jerk sauce is jam-packed with spice and an incredible blend of sweet, savory, herbaceous, and warm flavors. Each taste will transport you to the beaches of the Caribbean!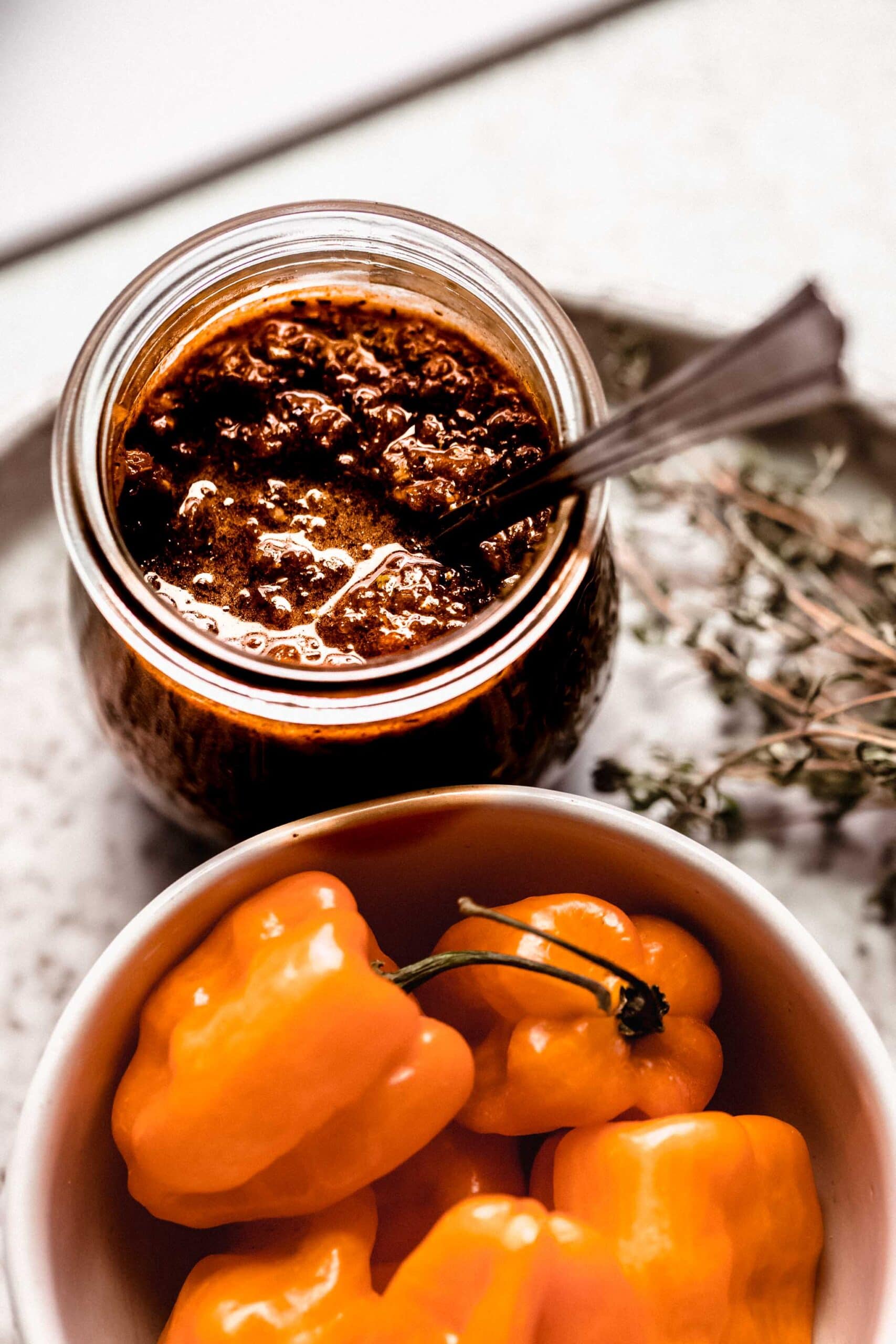 What is jerk sauce?
If you love spicy salsa or sauces with bold flavors, like aji amarillo, then you'll absolutely love jerk sauce.
It's commonly used as a marinade or sauce for grilled chicken or pork in Jamaica and throughout the Caribbean. The meat is grilled over an open flame until it's cooked through, crispy and charred on the outside, and loaded with spicy flavors.
Jerk sauce recipes vary from region to region and chef to chef, but it's typically made with blended scotch bonnet peppers, allspice, onions, ginger, citrus, sugar, and warm spices. This bold blend of ingredients creates a sauce or paste with a wide range of bold and well-balanced flavors.
One thing is true of all jerk sauce recipes, though: it's a fiery, spicy sauce! Blended scotch bonnet peppers are the main source of heat in jerk sauce. Boasting 100,000 to 350,000 Scoville Heat Units, they give the sauce a distinct bold flavor that will make your eyes water!
Why you'll love it
Store-bought jerk sauce doesn't come close to the homemade stuff. By blending spicy peppers with warm spices, tangy vinegar, and brown sugar, you're left with a mouthwatering sauce that's bursting with rich and spicy flavors. There's nothing like it!
It just happens to be one of the best sauces to use on grilled chicken recipes. As the traditional sauce for Jamaican jerk chicken, the balance of heat, sweetness, and warmth in the sauce complements every bite of meat.
Lastly, it's a sauce you can easily make a lot of and store in your fridge or freezer for later. Once you source all of the ingredients, simply throw them in a food processor or blender, blend, and you're done.
Sauce ingredients
Scotch bonnet peppers: Traditional Caribbean jerk sauce is made with scotch bonnet peppers because they're so common on the islands. However, they aren't as easy to find here in North America. If you can't find scotch bonnets, use habanero peppers instead.
Yellow onion, green onions, and garlic: These savory aromatics are necessary for jerk BBQ sauce.
Soy sauce: Or you can use tamari for a gluten free version.
Apple cider vinegar: White vinegar works, too.
Lime juice and zest: For a hit of balancing acidity.
Olive oil: A necessary ingredient for emulsion.
Fresh ginger: Do not substitute this for ground ginger! Fresh ginger packs a punch that plays a crucial role in balancing the high heat.
Brown sugar: To tone down and balance the heat. Coconut sugar also works well.
Thyme: Dried thyme works, but fresh thyme is best when you want floral, herbaceous notes.
Allspice: Ground allspice (otherwise known as Jamaica pepper or pimento) is essential in jerk sauce and jerk seasoning. It wouldn't taste like Jamaican jerk sauce without it.
Ground spices: You need a warm and herbaceous blend of cinnamon, nutmeg, salt, and pepper.
How to make jerk sauce
Add all of the ingredients to a food processor. Pulse until you have a completely smooth sauce or a sauce with some texture left behind (the consistency is up to you). Enjoy!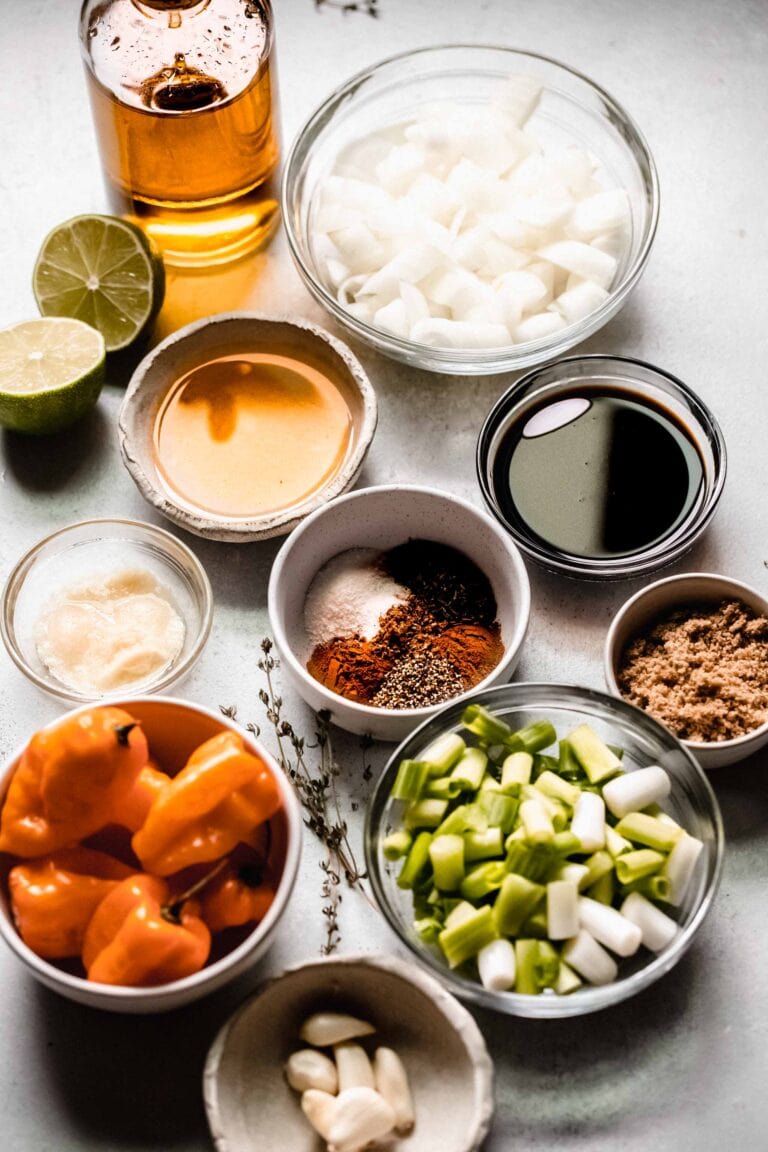 Tips and tricks
Use gloves when handling the spicy peppers. If you don't have gloves, wash your hands before and after making the sauce. You don't want to accidentally rub your eyes with the residue still on your hands!
As it blends or cooks, the capsaicin in the spicy peppers will go into the air. Be careful of this! Don't stick your head over the blender or food processor as the sauce is blending or else your eyes will water and your throat will feel irritated.
Blend the sauce to your desired consistency. Jamaican jerk sauce is slightly chunky but you can make it as smooth or chunky as you like.
Ways to use jerk sauce
Jerk sauce and chicken go hand in hand. Any cut works! Brush the sauce on chicken thighs, breasts, drumsticks, tenders, or wings, then grill until they're nicely charred. Or, when you want to make traditional Jamaican jerk chicken, cook the chicken over an open flame (using pimento wood, if you can find it).
A great way to use up leftover Jamaican jerk chicken is to slice it and serve it in tortillas. No one can resist jerk chicken tacos, burritos, quesadillas, and more.
Jerk sauce isn't just for chicken, though. It's a flavor-rich sandwich spread and marinade or sauce for steak, pork, seafood, tofu, and veggies. Try it on any of these recipes:
And however you choose to use your homemade jerk sauce, make sure it's paired with these side dishes:
Variations
Jerk sauce is known for being fiery with notes of herbs, onions, flowers, and citrus. There are ways to adjust the flavors to your liking but I don't recommend going overboard so you don't change the recipe (and potentially miss out on the true Jamaican flavors).
Check out these variation ideas to find your perfect balance:
Add fresh fruit juice – To brighten the flavors and balance the heat, use pineapple juice or orange juice in addition or instead of the lime juice.
Instead of lime zest – Use lemon zest, orange zest, or any citrus zest you like.
For less heat – Remove the seeds and veins from the spicy peppers before blending.
How to make ahead and store
Jerk sauce can be blended, then stored in an airtight jar in the fridge for up to 1 week.
It can also be frozen for up to 3 months (I like to freeze sauces like this in ice cube trays or silicone molds). Let it thaw in the fridge and give it a good stir before serving.
More delicious sauces for chicken
Did you make this jerk sauce?
If you loved this jerk chicken sauce, I would appreciate it so much if you would leave a star review! Also, be sure to snap a picture of your finished dish and share it with me on Instagram using the hashtag #platingsandpairings and tagging me @platingsandpairings.
For more great Platings & Pairings recipes, be sure to follow me on Pinterest, Facebook, YouTube and Twitter.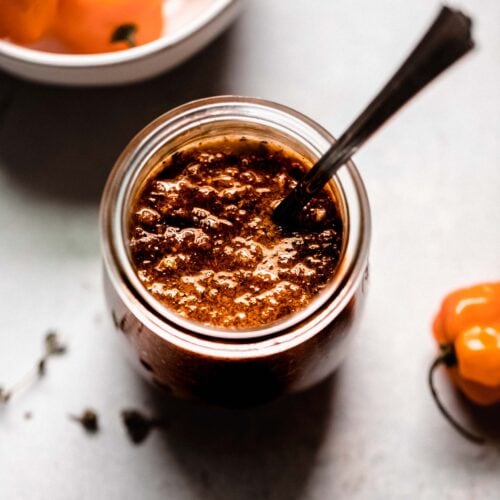 Jamaican Jerk Sauce
This authentic jerk sauce recipe is jam-packed with spice and an incredible blend of sweet, savory, herbaceous, and warm flavors. Each taste will transport you to the beaches of the Caribbean!
Print
Pin
Ingredients
4 to 6

Scotch bonnet or habanero peppers

(seeded and cored (leave some seeds in for more heat))

1

small

yellow onion

(chopped)

6

cloves

garlic

5

green onions

(rough chopped)

1/4

cup

soy sauce

3

Tablespoons

apple cider vinegar

(or white vinegar)

3

Tablespoons

lime juice

(freshly squeezed, plus the zest of 1 lime)

2

Tablespoons

olive oil

1

Tablespoon

fresh ginger

(grated )

2

Tablespoons

brown sugar

1

teaspoon

ground allspice

(also known as pimento)

1

teaspoon

cinnamon

1

teaspoon

dried thyme

(or 1 Tablespoon fresh)

1/2

teaspoon

nutmeg

1

teaspoon

kosher salt

(plus more to taste)

1

teaspoon

ground black pepper

(plus more to taste)
Instructions
Add all of the ingredients to a food processor or blender and process until your desired consistency is reached.

Use immediately, or store in the refrigerator for up to one week.
Equipment
Blender or Food Processor
Nutrition
Calories:
64
kcal
|
Carbohydrates:
7
g
|
Protein:
1
g
|
Fat:
4
g
|
Saturated Fat:
1
g
|
Polyunsaturated Fat:
0.4
g
|
Monounsaturated Fat:
3
g
|
Sodium:
700
mg
|
Potassium:
101
mg
|
Fiber:
1
g
|
Sugar:
4
g
|
Vitamin A:
134
IU
|
Vitamin C:
12
mg
|
Calcium:
26
mg
|
Iron:
1
mg