There are so many delicious baked potato toppings to choose from! This extensive list of the 50+ BEST toppings includes meats, cheeses, veggies, sauces and more.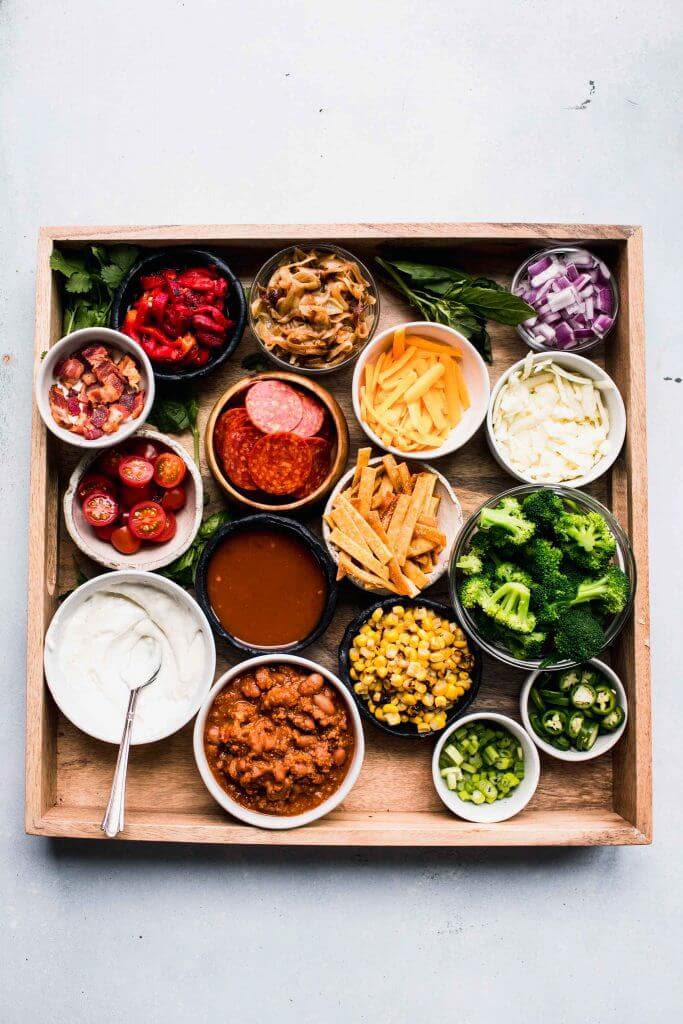 I'm a fan of self-serve food boards and bars for parties. And baked potatoes are perfect for pleasing a crowd!
The best part of a baked potato bar is all the toppings…
And, I've got "loads" of loaded baked potato topping ideas for you here.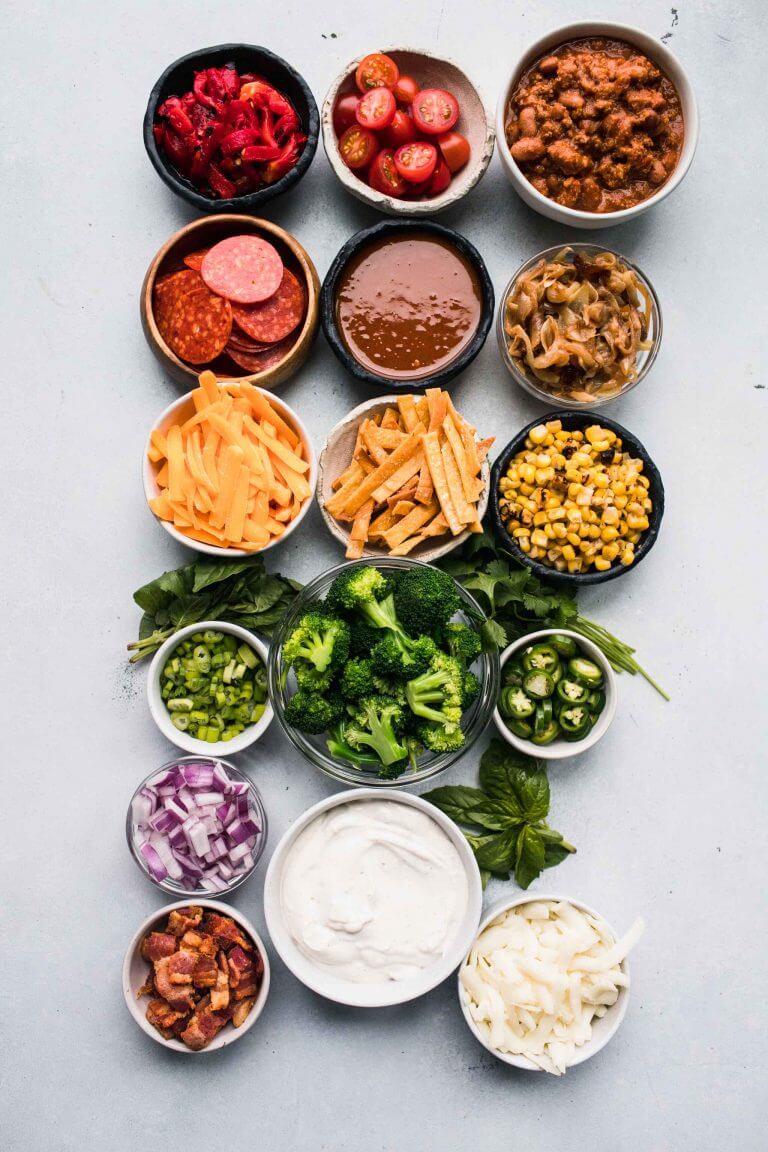 From the classic toppings like sour cream, chives and bacon. To more unique toppings like pepperoni, pot roast, and buffalo sauce.
You're guaranteed to find some favorite topping ideas here! I've even got 10 themed baked potato topping ideas to choose from below, in case you're feeling in a baked potato rut.
🥔 The BEST Potatoes to Use
You can use any type of potato that you prefer. Here are some great options:
🥣 Baked Potato toppings
Cheese
Cheddar Cheese
Pepper Jack
Swiss
Goat Cheese
Mozzarella Cheese
Cream Cheese
Feta Cheese
Queso
Meats & Proteins
Ground Beef or Chicken seasoned with Taco Seasoning
Pulled Pork
Rotisserie Chicken
Bacon
Pepperoni
Sauces
Veggies
Steamed Broccoli
Grilled Corn Kernels
Jalapenos
Avocado
Green Onions
Tomatoes
Herb, Seasonings, & More
Chives
Basil
Dill
Cilantro
Seasoning Salt
Ground Cumin
Make the potatoes: You can make slow cooker baked potatoes, Instant Pot baked potatoes, or even air fryer baked potatoes if you like crispier skin. You could even switch things up and make an Instant Pot Potato Soup instead!
Prepare your toppings: Depending on which topping ideas you choose, you can place them in small bowls and bottles. I like to use a variety of sizes to make the display interesting.
Assemble the bar: You can assemble your bar on a large tray, a cookie sheet, or right on the counter. I suggest placing the potatoes in the middle first, then arranging the bowls of toppings around it. A little fresh greenery (parsley is great!) is a nice element to add too.
PS – I've got a full post on how to create the ultimate baked potato bar!
✔️ Baked Potato Themes
Want to hit the easy button? Just choose one of these topping combinations for your baked potato:
Cheddar Broccoli Baked Potato
Chili Cheese Baked Potato
Cheddar Cheese
Sour Cream
Red Onions
Cuban Baked Potato
Mediterranean Baked Potato
Goat Cheese
Fresh Basil
Red Onion
Mexican Baked Potato
Taco Meat
Pepperjack Cheese
Jalapenos
Avocado
Cilantro
Sour Cream
Jalapeno Popper Baked Potato
Cream Cheese
Mozzarella Cheese
Jalapenos
Bacon
Barbecue Baked Potato
Pulled Pork
Grilled Corn
Green Onions
Buffalo Baked Potato
Rotisserie Chicken
Celery
Pizza Baked Potato
Mozzarella
Pepperoni
Fresh Basil
Red Pepper Flakes
Poutine Baked Potato
Brown Gravy
Mozzarella Cheese
Seasoning Salt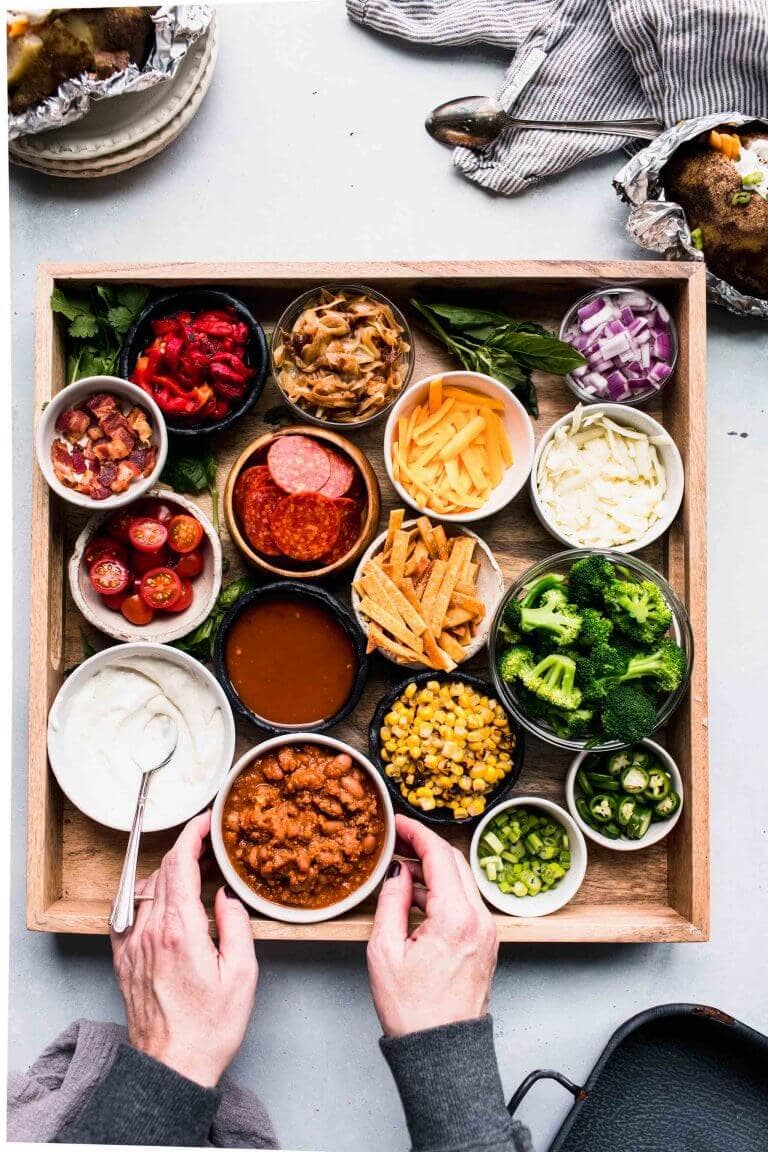 ⭐️ More Potato Recipes
Did you try any of these toppings out?
If you loved this roundup of baked potato topping ideas I would appreciate it so much if you would give this recipe a star review! Also, be sure to snap a picture of your finished dish and share it with me on Instagram using the hashtag #platingsandpairings and tagging me @platingsandpairings.
For more great Platings and Pairings recipes, be sure to follow me on Instagram, TikTok, Pinterest and Facebook.
50+ Baked Potato Toppings
There are so many delicious baked potato toppings to choose from! This extensive list of the 50+ BEST toppings includes meats, cheeses, veggies, sauces and more.
Print
Pin
Servings:
1
or more people
Instructions
Scrub potatoes under cold running water. Dry with a towel, then use a fork to poke holes all over the potato.

Using your hands, rub oil over each of the potatoes. Sprinkle with kosher salt and wrap each potato in two layers of foil.

Place on grill and let cook for one hour, turning over at the 30 minute mark.

Remove from grill and let cool for 10-15 minutes. Serve with desired toppings.
Nutrition
Calories:
326
kcal
|
Carbohydrates:
67
g
|
Protein:
8
g
|
Fat:
4
g
|
Saturated Fat:
3
g
|
Sodium:
600
mg
|
Potassium:
1539
mg
|
Fiber:
5
g
|
Sugar:
2
g
|
Vitamin C:
21
mg
|
Calcium:
48
mg
|
Iron:
3
mg